Heart of beauty in everyone Don't let scars affect your beauty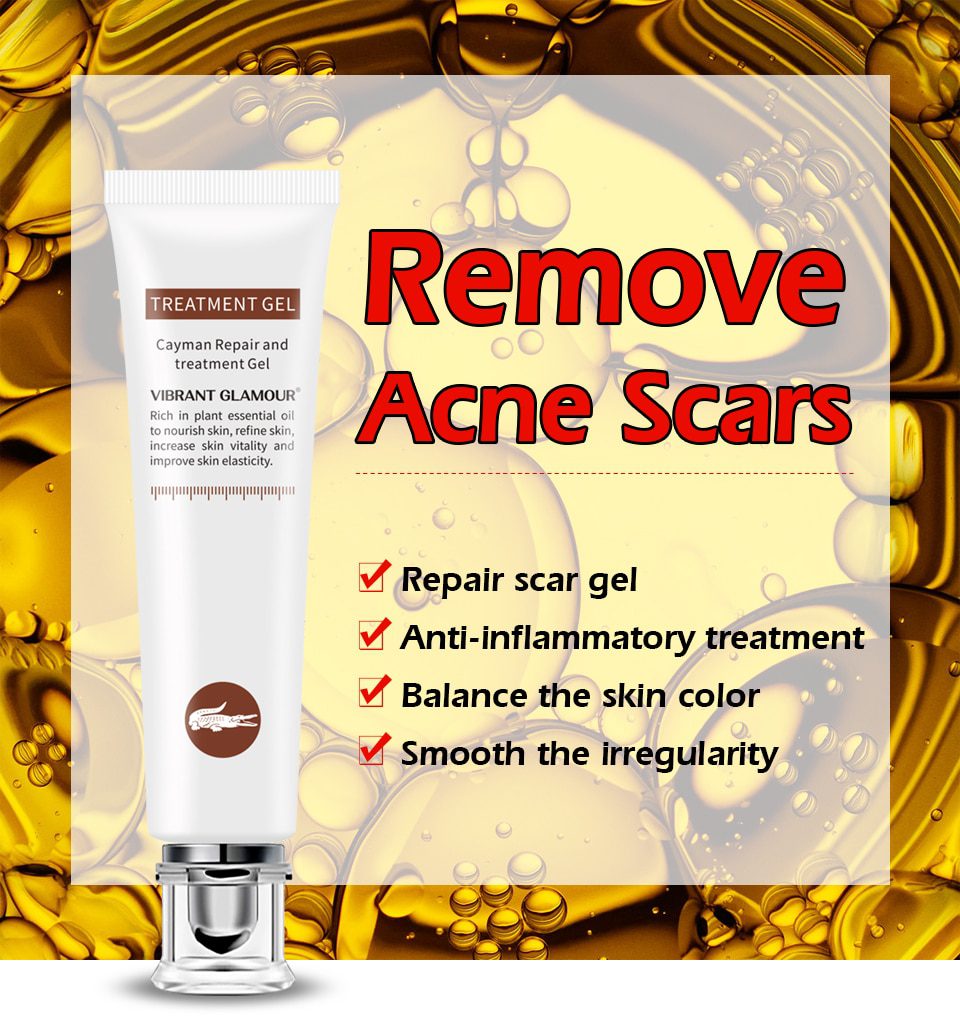 Remove acne scars
☑Repair scar gel
☑Anti-inflammatory treatment
☑Balance the skin color
☑Smooth the irrgularity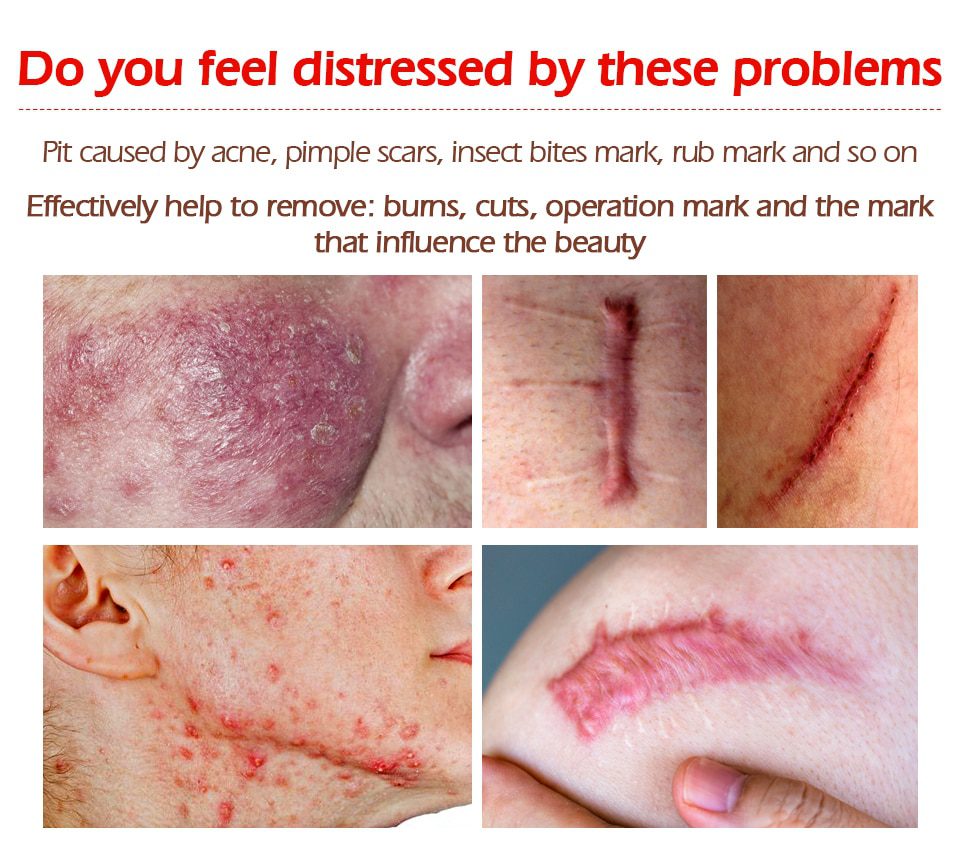 Do youfeeldistressed bythese problems
Pit caused by acne, pimplescars, insect bites mark, rub mark and so on
Effectively help to remove : burns, cuts, operation markand the mark that influence the beauty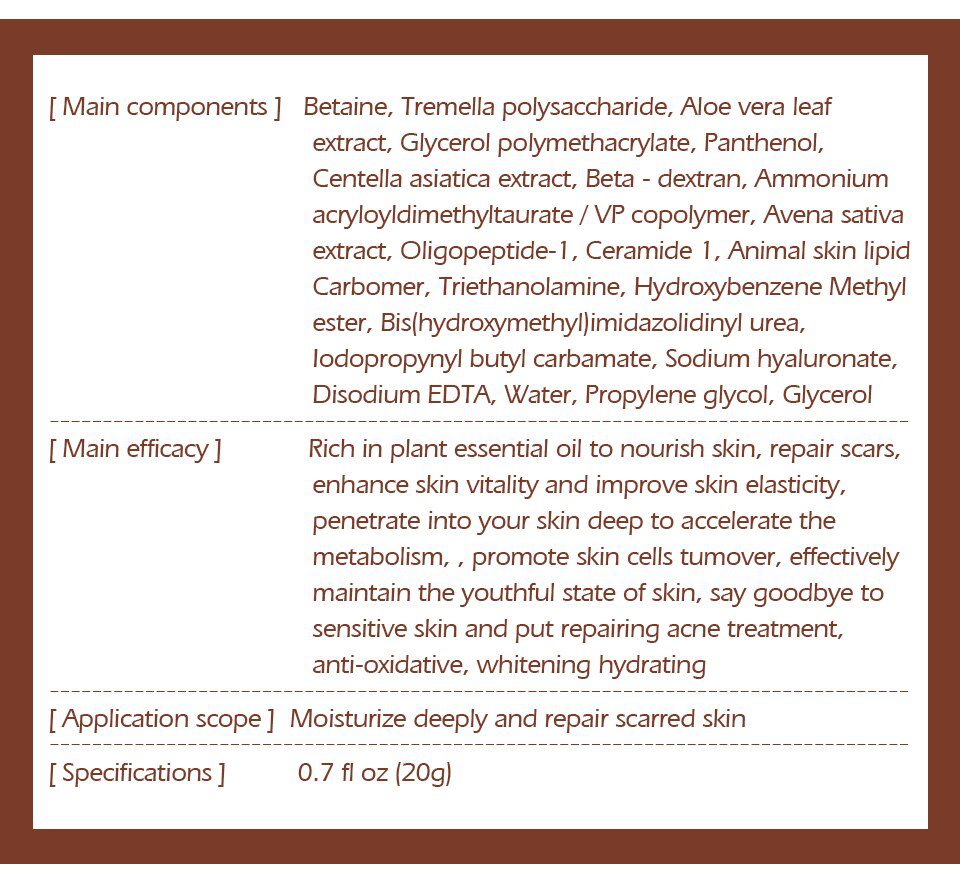 [ Main components ] Betaine, Tremella polysaccharide, Aloe vera extract, Glycerol polymethacrylate, Panthenol,Centella asiatica extract, Beta – dextran, Ammoniumacryloyldimethyltaurate / VP copolymer, Avena sativaextract, Oligopeptide-1, Ceramide 1, Triethanolamine, Hydroxybenzene Methylester, Bis(hydroxymethyl)imidazolidinyl urea,odopropynyl butyl carbamate, Sodium hyaluronate,Disodium EDTA, Water, Propylene glycol, Glycerol
[ Main efficacy ] Rich in plant essential oil to nourish skin, repair scars, enhance skin vitality and improve skin elasticity,penetrate into your skin deep to accelerate the metabolism, , promote skin cells tumover, effectivelymaintain the youthful state of skin, say goodbye tosensitive skin and put repairing acne treatment,anti-oxidative, whitening hydrating
[ Application scope ] Moisturize deeply and repair scarred skin
[ Specifications ] 0.7 fl oz (20g)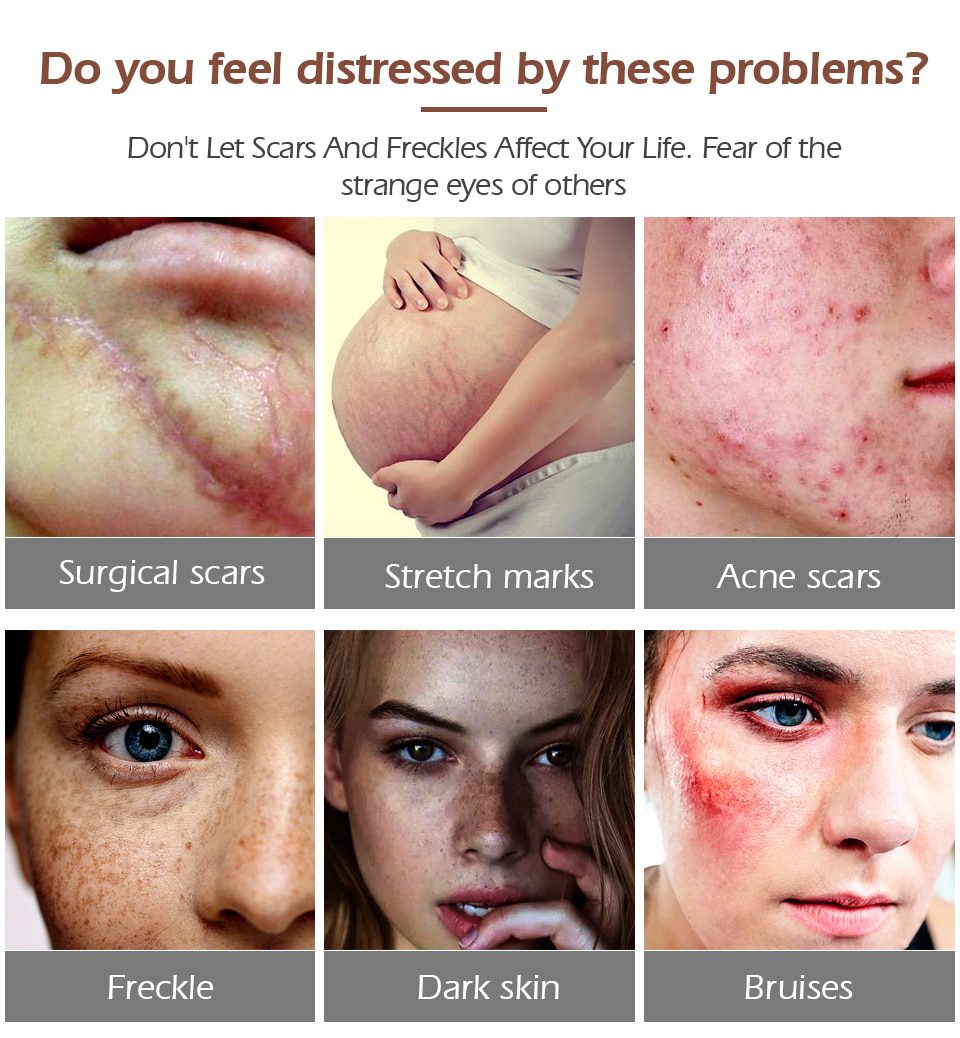 Do you feel distressed by these problems?
Don't Let Scars And Freckles Affect Your Life. Fear of the strange eyes of others
Surgical scars ;Stretch marks;Acne scars;Freckle;
Dark skin;Bruises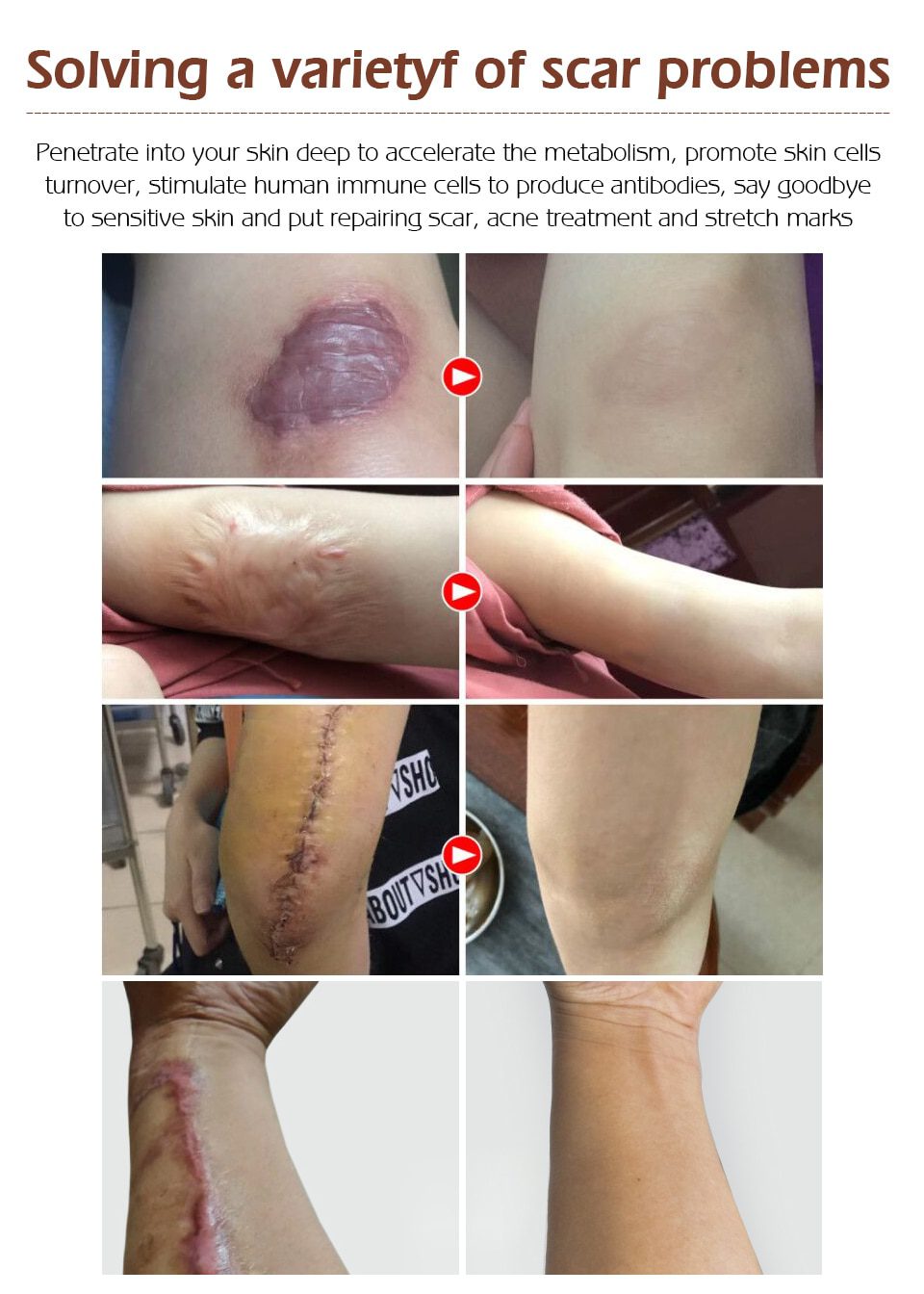 Solving a varietyf of scar problems
Penetrate into your skin deep to accelerate the metabolism, promote skin cellsturnover, stimulate human immune cells to produce antibodies, say goodbyeto sensitive skin and put repairing scar, acne treatment and stretch marks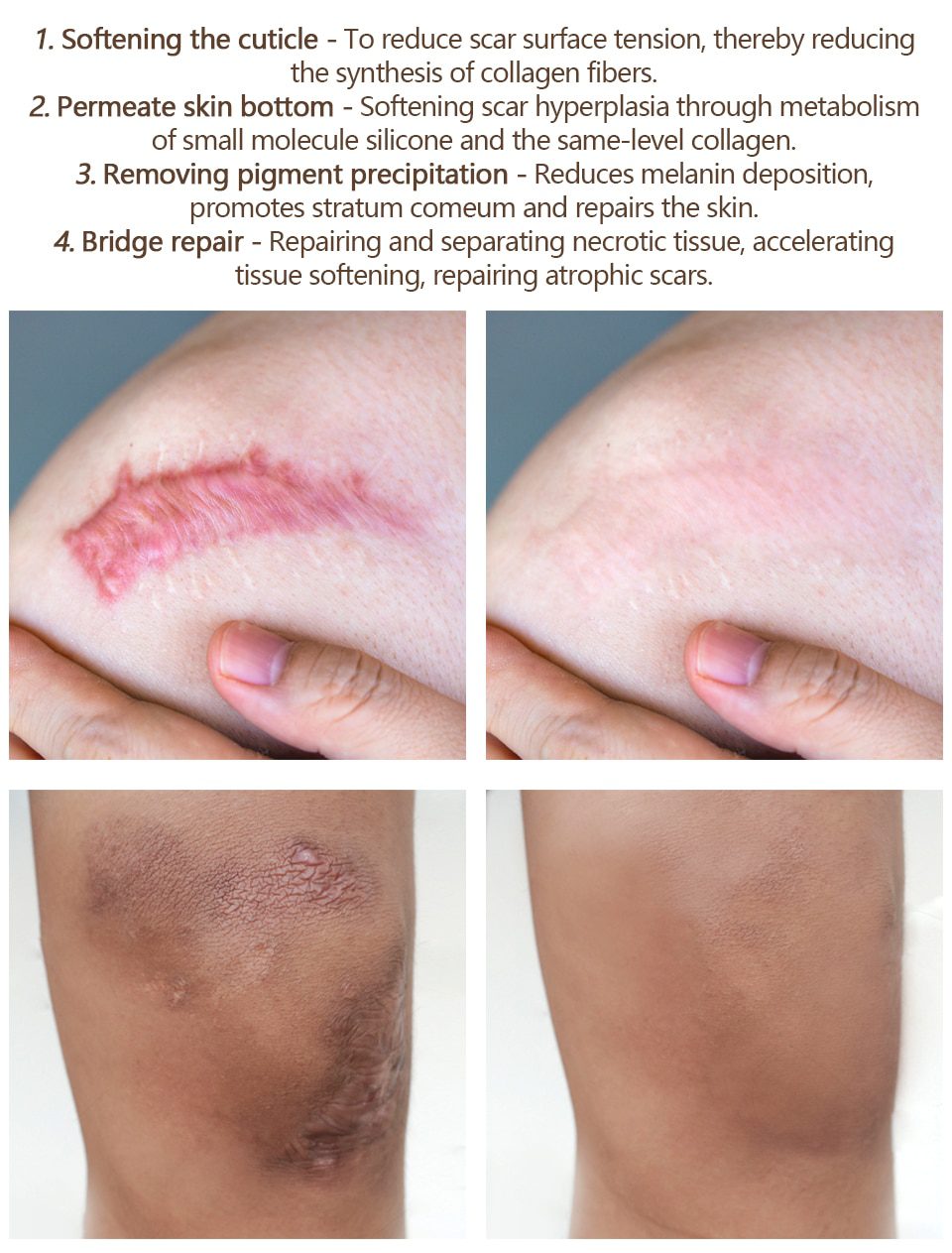 1. Softening the cuticle – To reduce scar surface tension, thereby reducing the synthesis of collagen fibers.
2. Permeate skin bottom – Softening scar hyperplasia through metabolism of small molecule silicone and the same-level collagen.
3. Removing pigment precipitation – Reduces melanin deposition, promotes stratum comeum and repairs the skin.
4. Bridge repair – Repairing and separating necrotic tissue, accelerating tissue softening, repairing atrophic scars.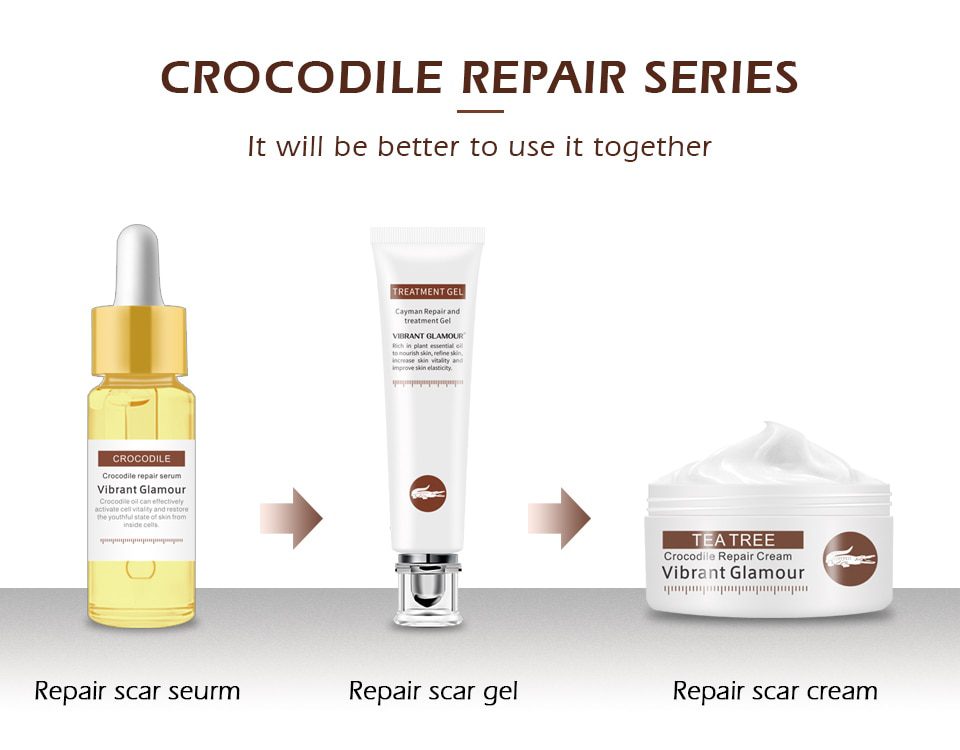 Crocodile Repair Series
It will be better to use it together.
Repair scar essence
Repair scar gel
Repair scar cream
The repair period of a scar is at least 28 days. The crocodile scar removal gel is 20g in 1 box, and 3 boxes can be used in one cycle. Apply 2 or 3 times a day to meet a repair cycle and give you better scar reduction.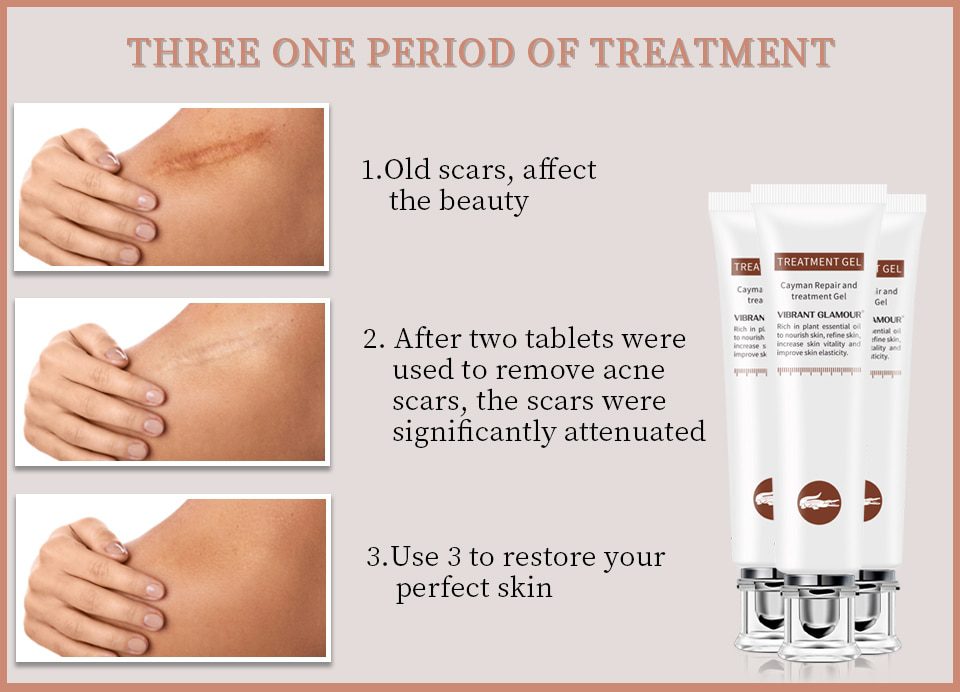 THREE ONE PERIOD OF TREATMENT
1.old scars, affect the beauty
2. After two tablets were used to remove acne scars, the scars were significantly attenuated
3.Use 3 to restore your Perfect skin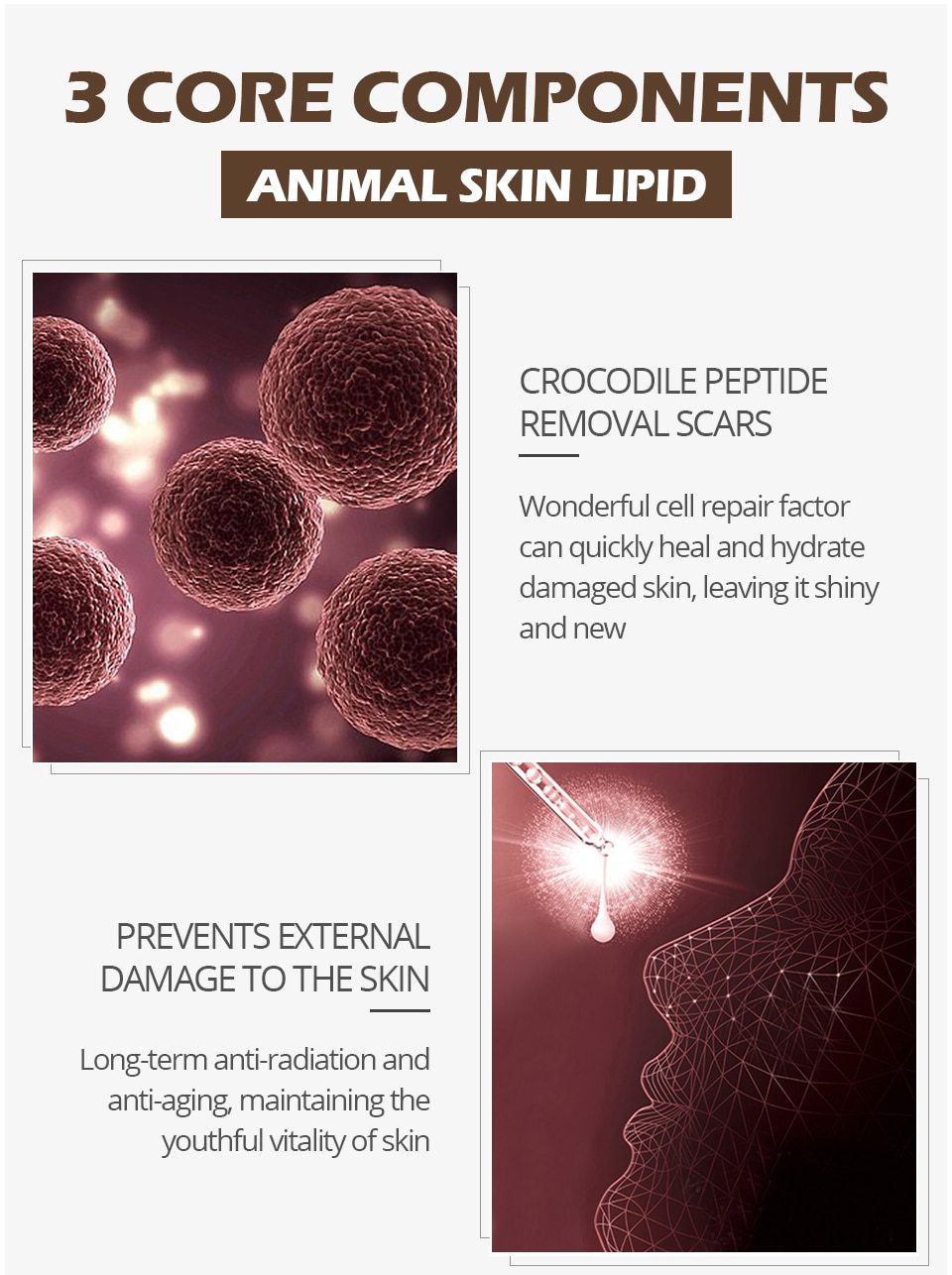 3CORE COMPONENTS
CROCODILE PEPTID REMOVAL SCARS Wonderful cell repair factorcan quickly heal and hydratedamaged skin, leaving it shinyand new
PREVENTS EXTERNALDAMAGE TO THE SKIN Long-term anti-radiation and anti-aging, maintaining the youthful vitality of skin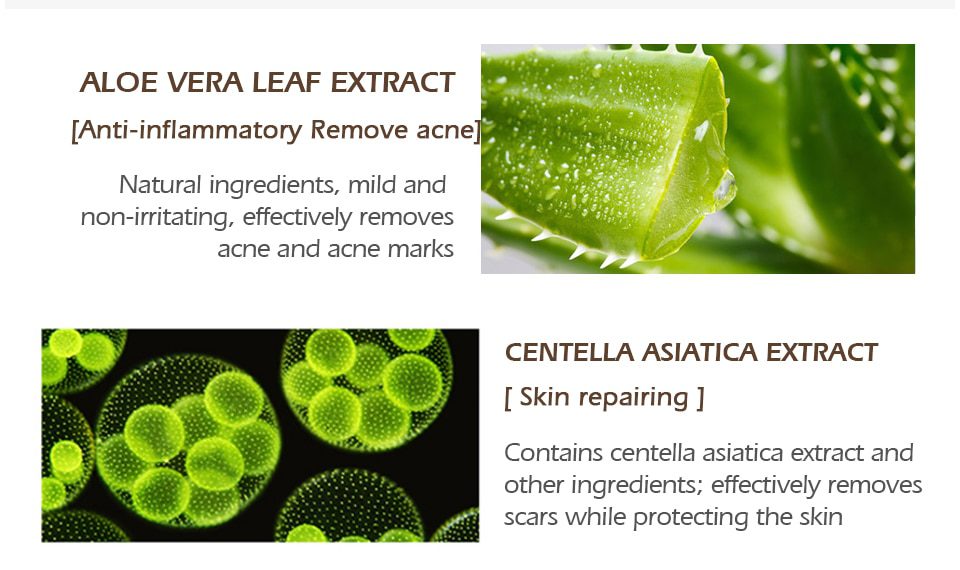 ALOE VERA LEAF EXTRACT
[Anti-inflammatory Remove acne]
Natural ingredients, mild and non-iritating, effectively removes acne and acne marks
CENTELLA ASIATICA EXTRACT
[ Skin repairing ]
Contains centella asiatica extract and other ingredients; effectively removes scars while protecting the skin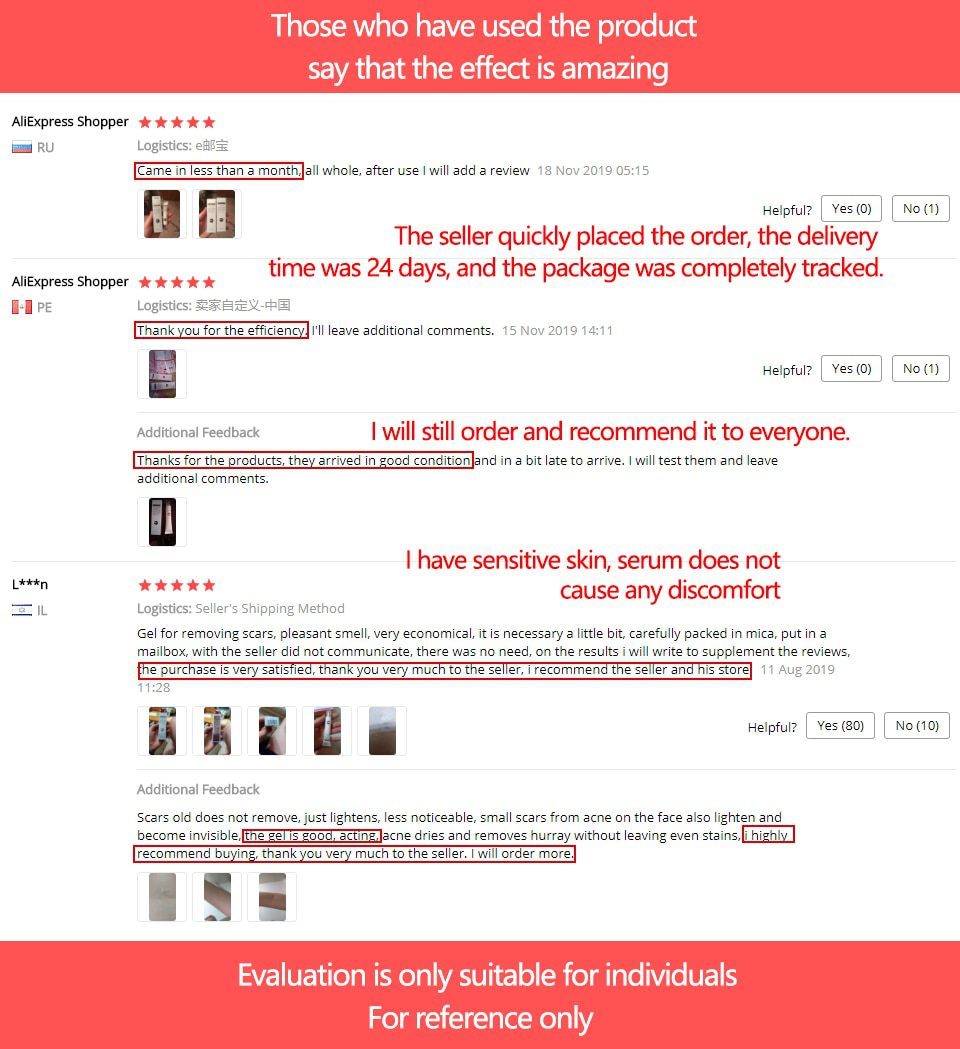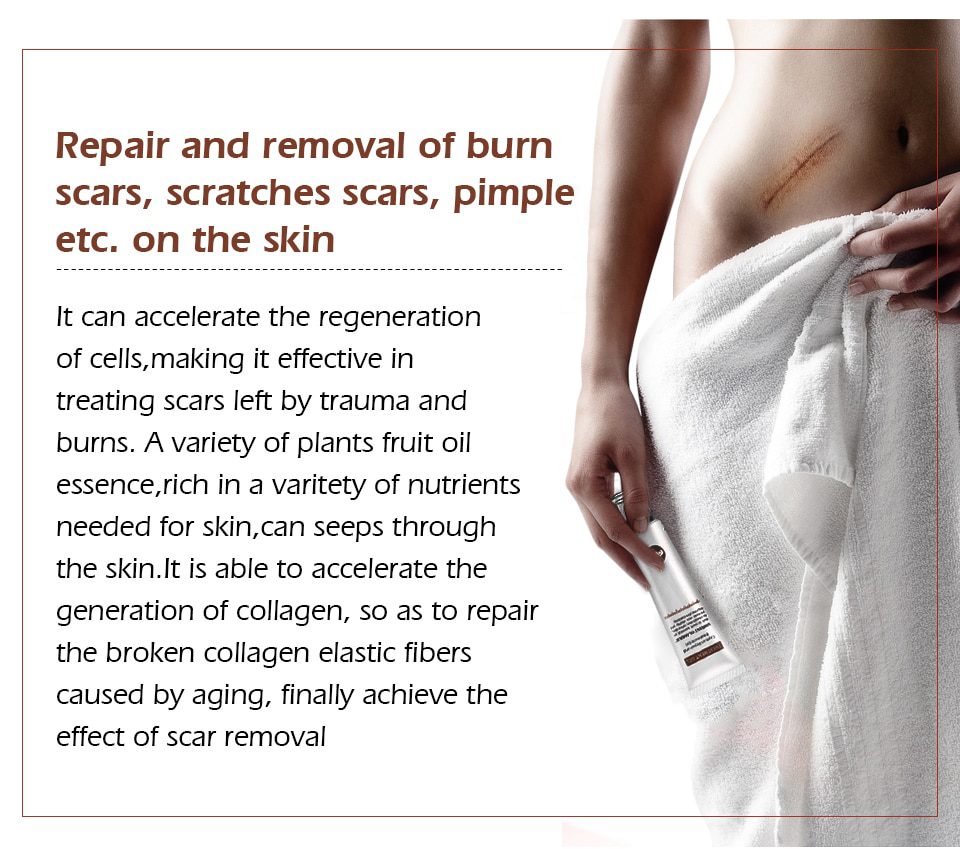 Repair and removal of burnscars, scratches scars, pimple etc. on the skin
lt can accelerate the regenerationof cells,making it effective in treating scars left by trauma andburns. A variety of plants fruit oil essence,rich in a varitety of nutrientsneeded for skin,can seeps through .the skin.It is able to accelerate the generation of collagen, so as to repairthe broken collagen elastic fiberscaused by aging, finaly achieve theeffect of scar removal
Scar formation? "Scar" is physical
Harmful effects of biological and chemical factors
On human skin and soft tissues, resulting in soft skin
The tissue is severely damaged and cannot be repaired normally on its own.
Cell regeneration, active repair
Starting from the deep layer, replace the necrotic tissue and cells. Remove the old necrotic cells to damage the cells and grow new flesh. The old one disappears and the new one appears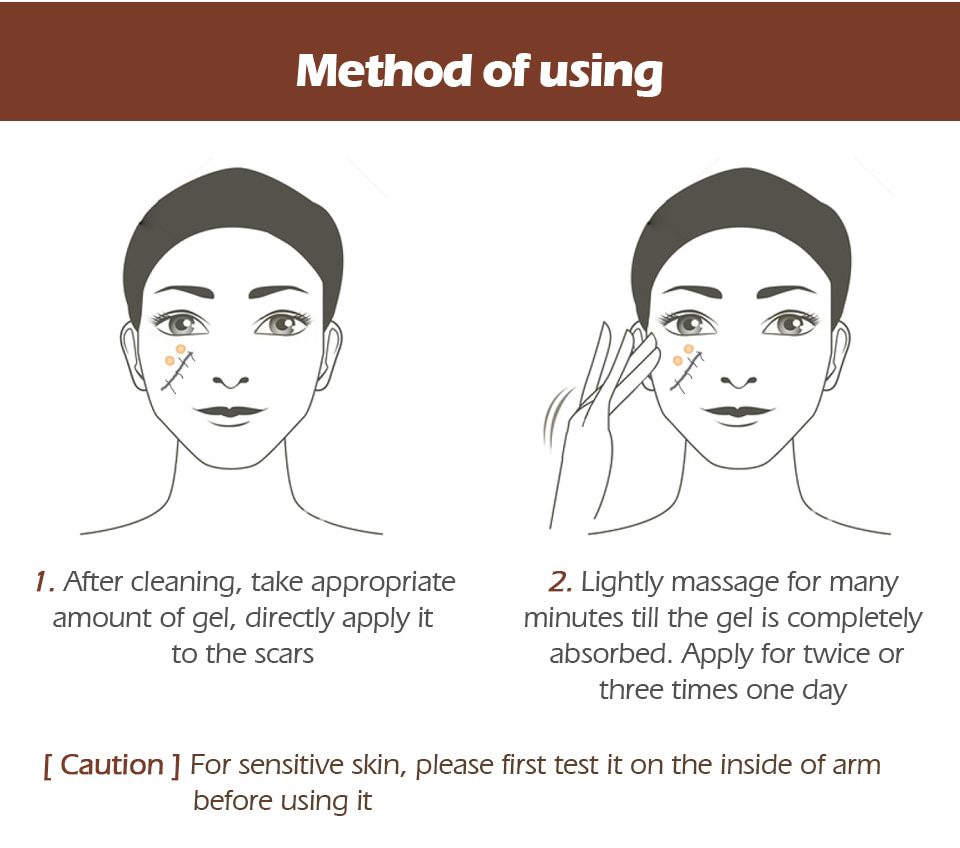 Method of using
1. After cleaning, take appropriateamount of gel, directly apply it to the scars
2. Lightly massage for manyminutes till the gel is completely absorbed. Apply for twice or three times one day
[ Caution ] For sensitive skin, please first test it on the inside of arm before using it
Certification Safe and reliable