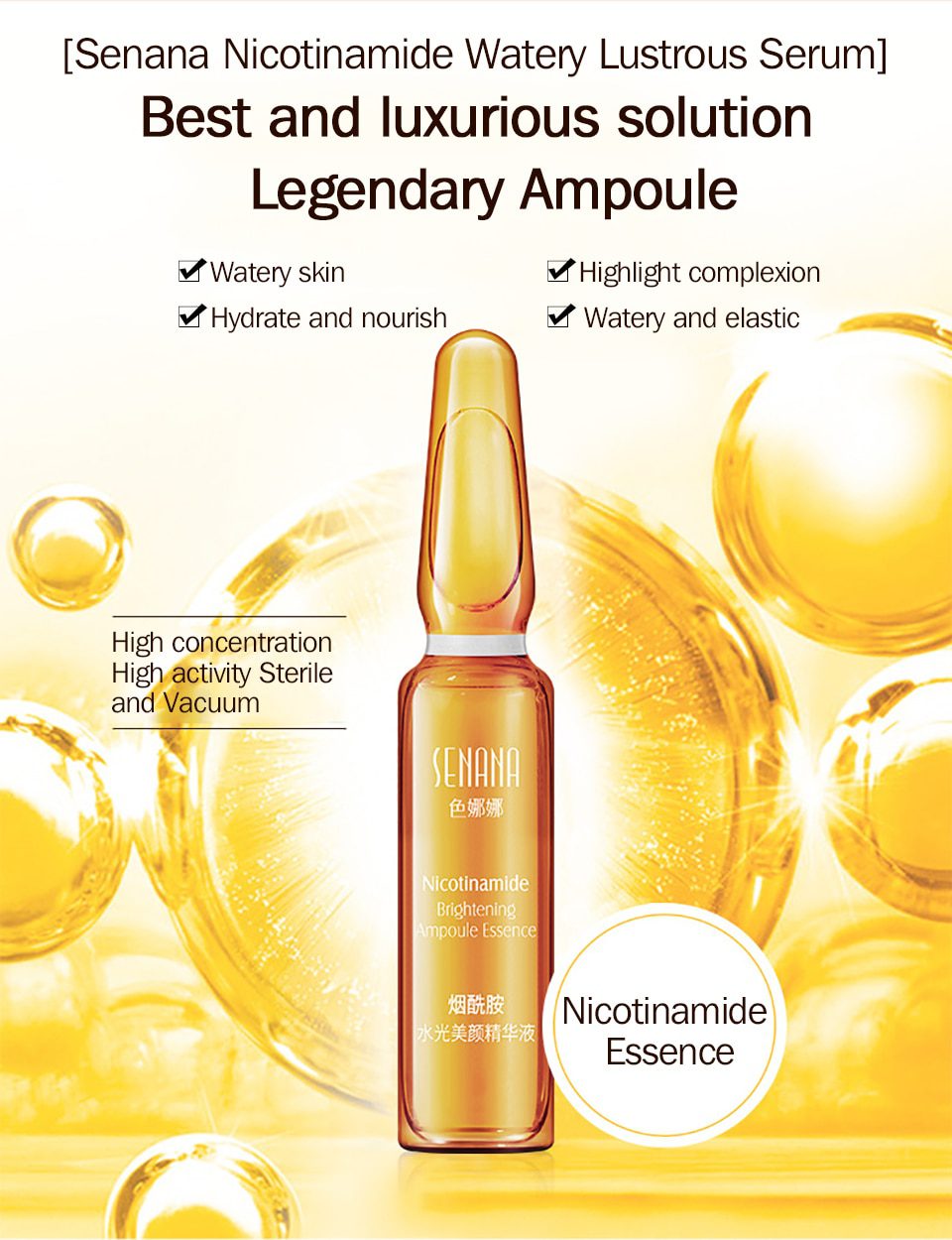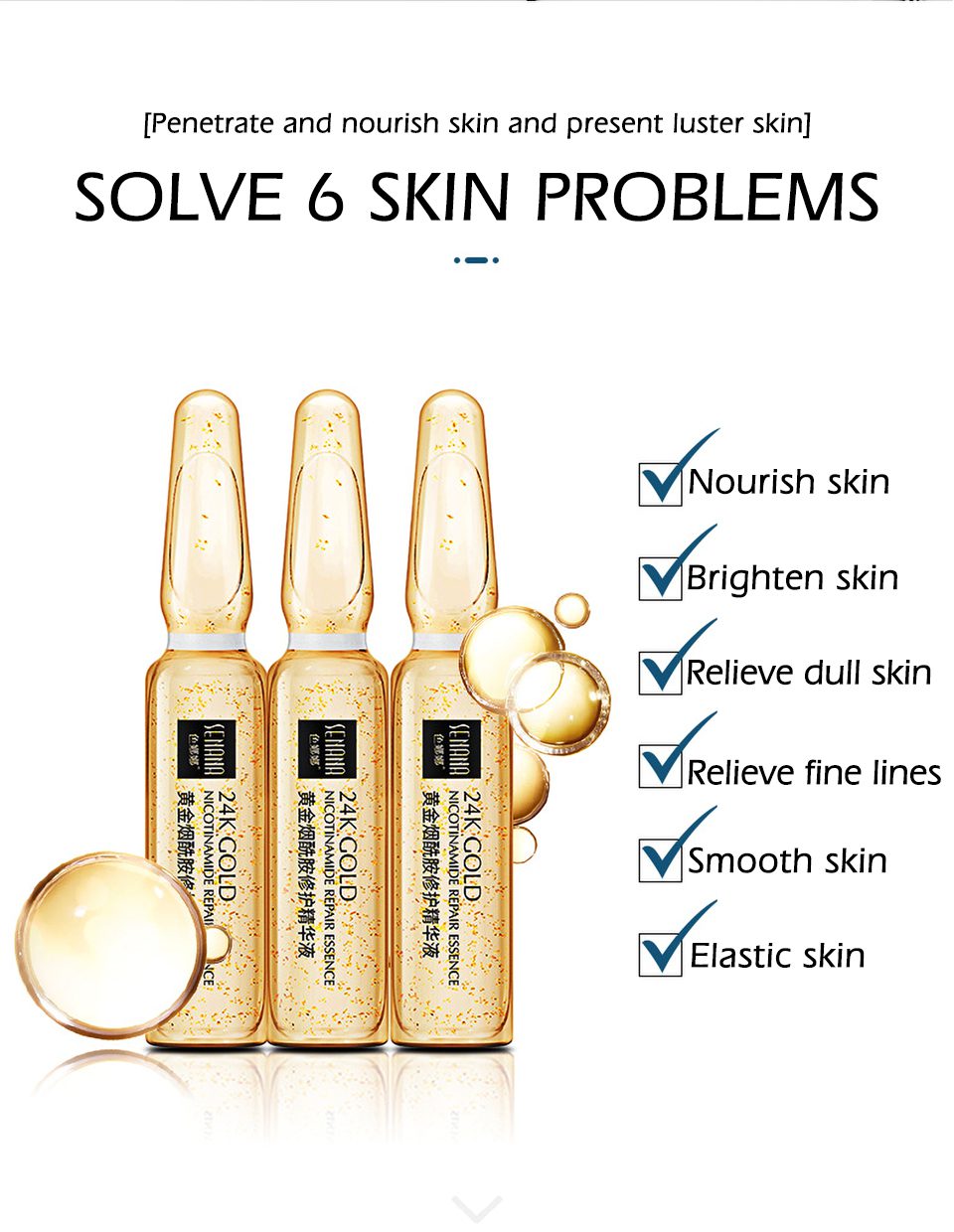 □Watery skin
□Highlight complexion
□Hydrate and nourish
□Watery and elastic
Penetrate and nourish skin and present luster skin
□Nourish skin
□Brighten skin
□Relieve dull skin
□Relieve fine lines
□Smooth skin
□Elastic skin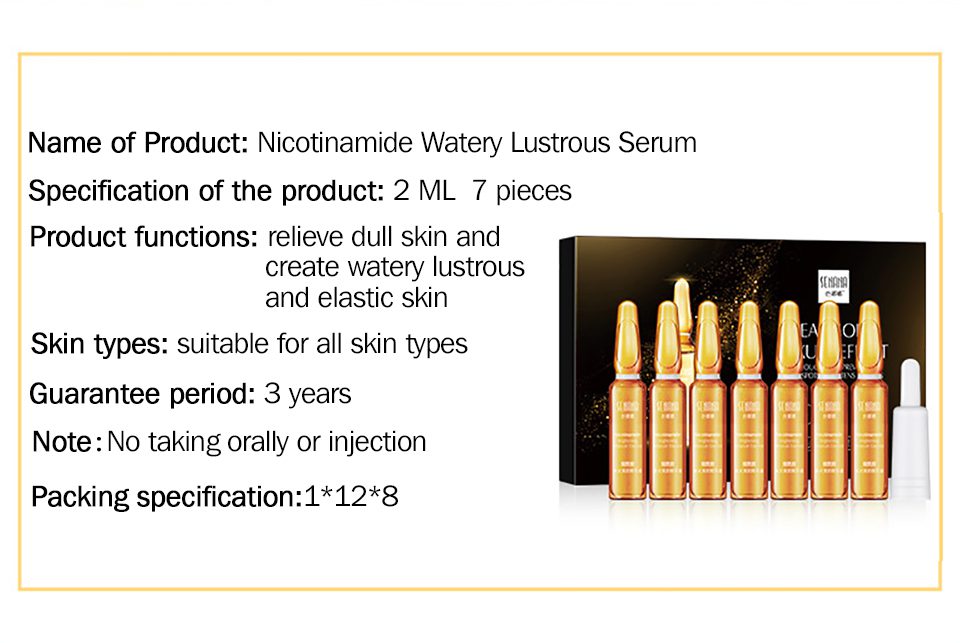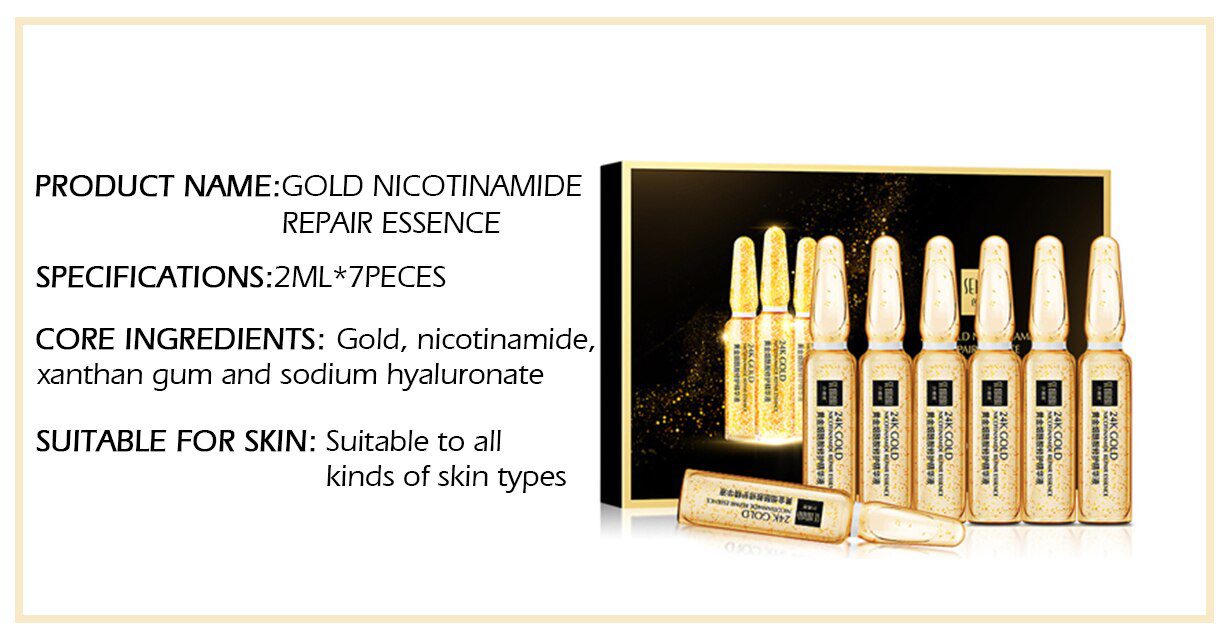 Name of Product: Nicotinamide Watery Lustrous Serum
Specification of the product: 2 ML 7 pieces
Product functions: relieve dull skin and create watery, lustrous and elastic skin
Skin types: suitable for all skin types
Guarantee period: 3 years
Note:No taking orally or injection.
Packing specification
Name of Product:Gold Nicotinamide Repair Essence
Core ingredients:Gold, nicotinamide, xanthan gum and sodium hyaluronate
Suitable to all kinds of skin types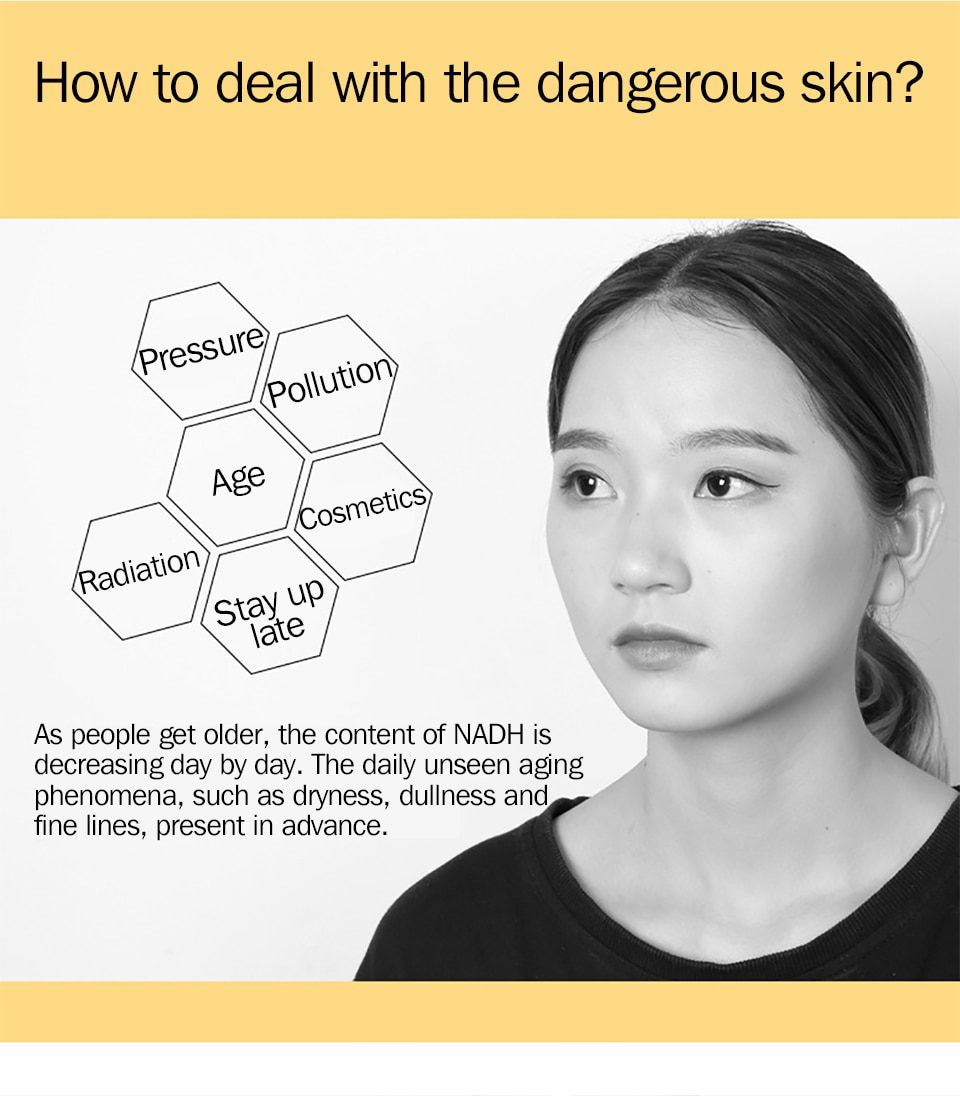 How to deal with the dangerous skin?
Pressure
Pollution
Age
Cosmetics
Radiation
Stay up late
As people get older, the content of NADH is decreasing day by day. The daily unseen aging phenomena, such as dryness, dullness and fine lines, present in advance.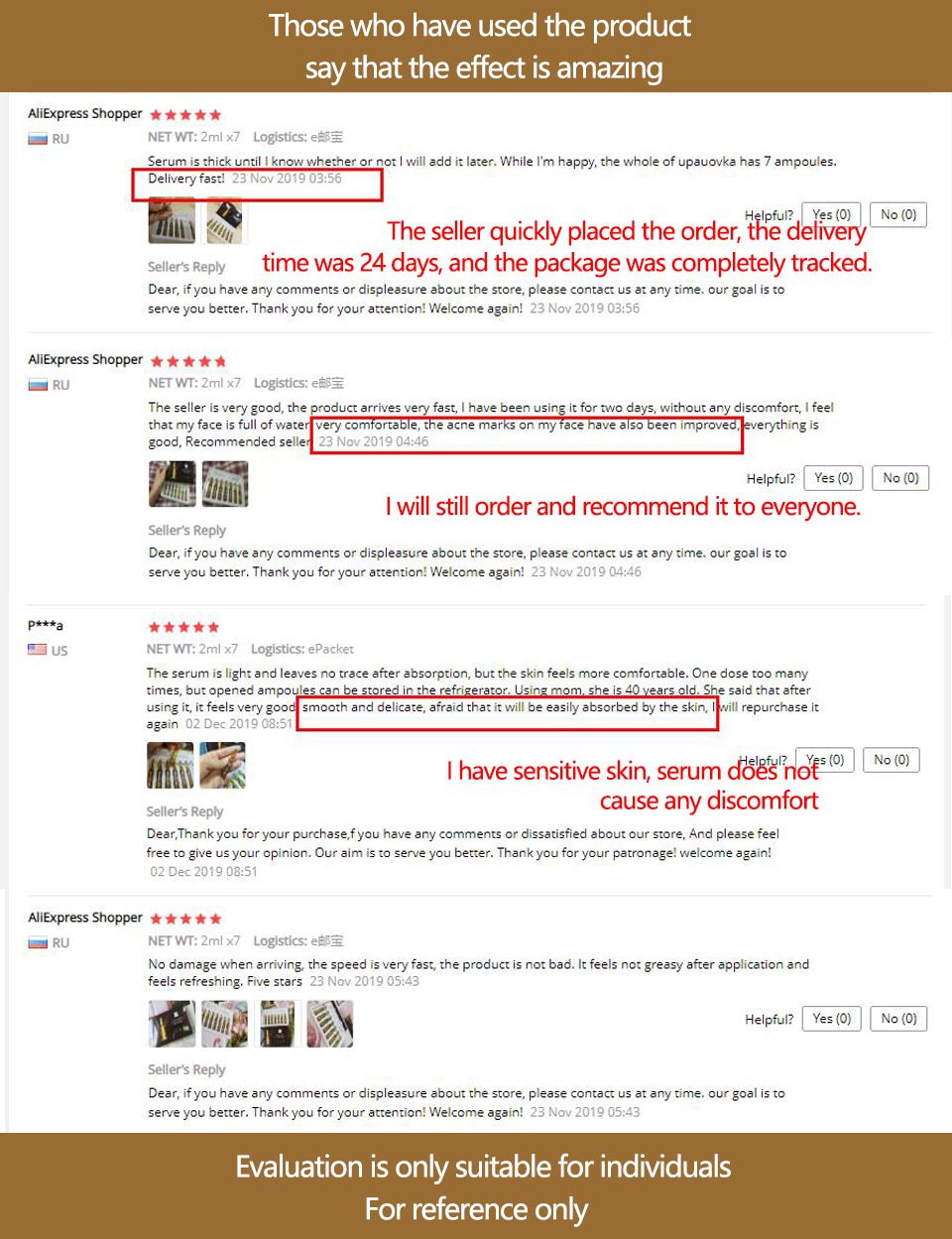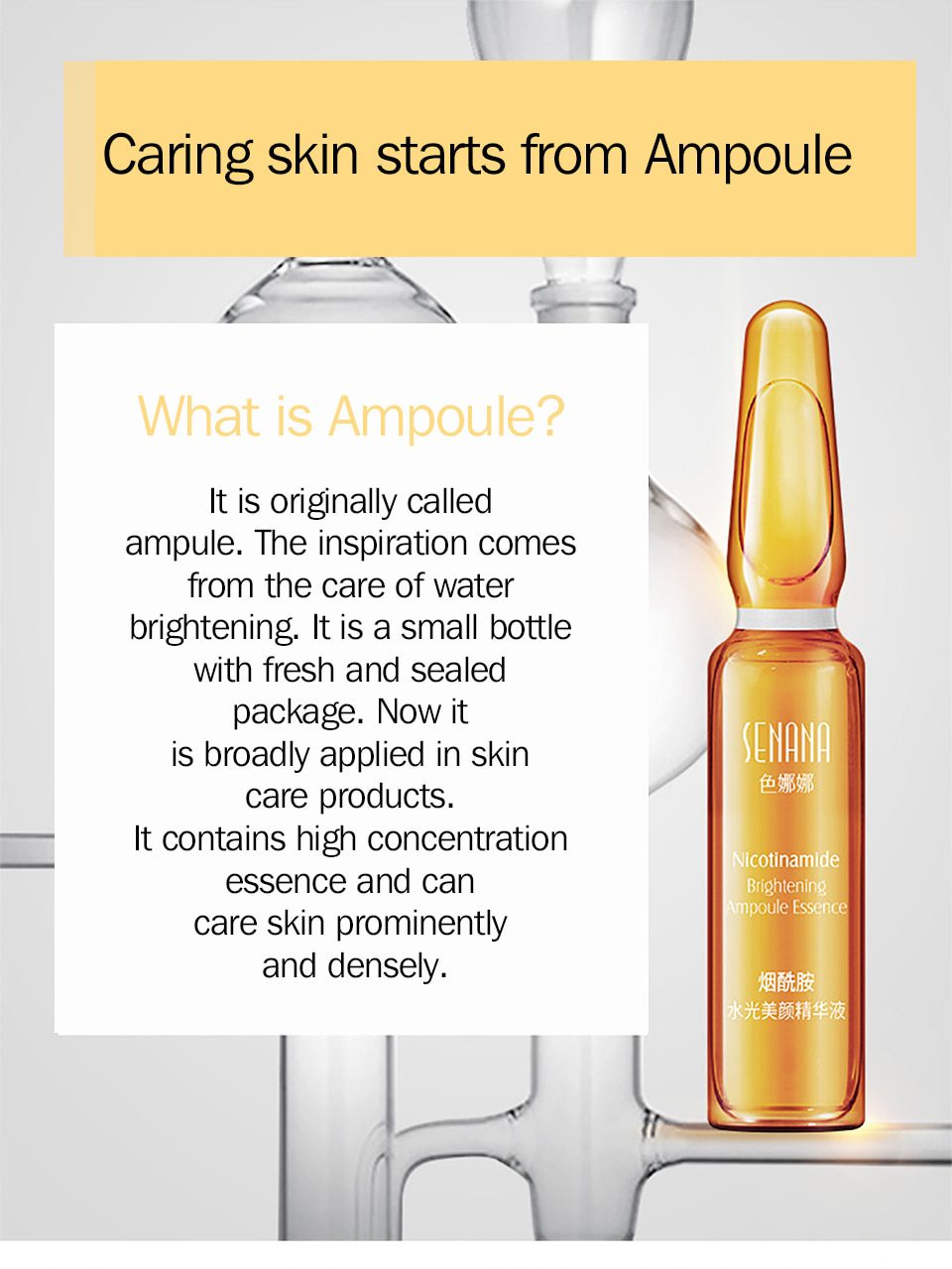 Caring skin starts from Ampoule
What is Ampoule?
It is originally called ampule. The inspiration comes from the care of water brightening. It is a small bottle with fresh and sealed package. Now it is broadly applied in skin care products. It contains high concentration essence and can care skin prominently and densely.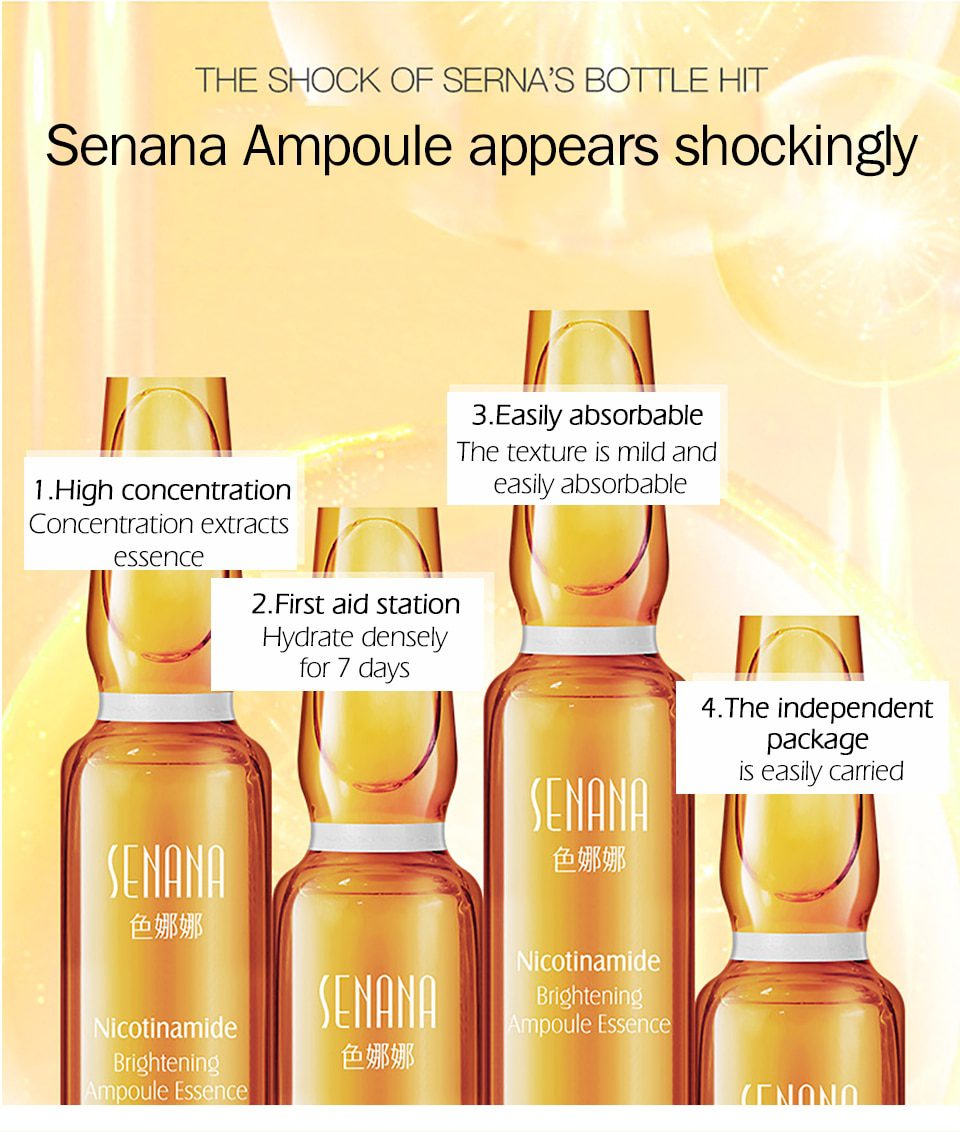 Luxury and beauty components
Watery, tender and nourishing
Ceramide 3
Lock moisture and hydrate, solidify the barrier of skin, improve the capacity of keeping the moisture and compact skin
Nicotinamide
Effectively hydrate and lock moisture, effectively control oil, shrink pores and improve skin and present young and beautiful skin.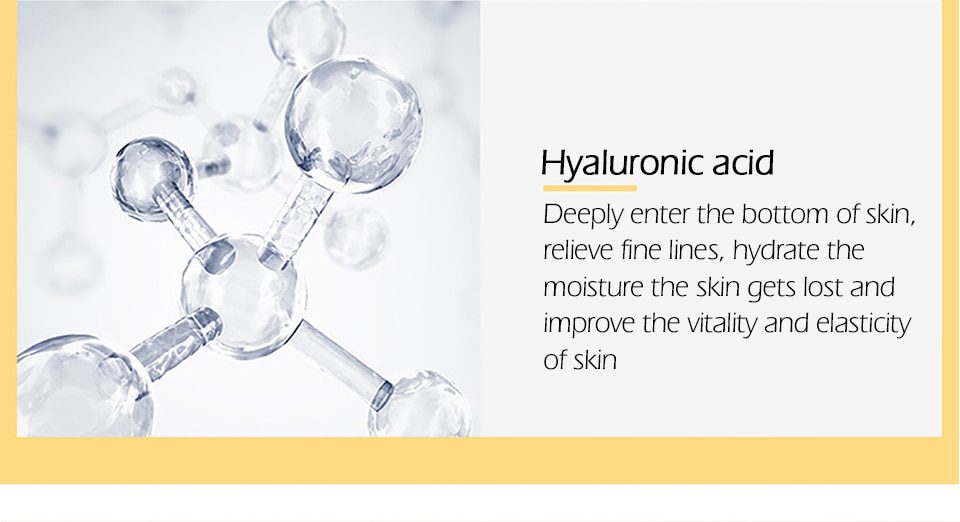 Hyaluronic acid
Deeply enter the bottom of skin, relieve fine lines, hydrate the moisture the skin gets lost and improve the vitality and elasticity of skin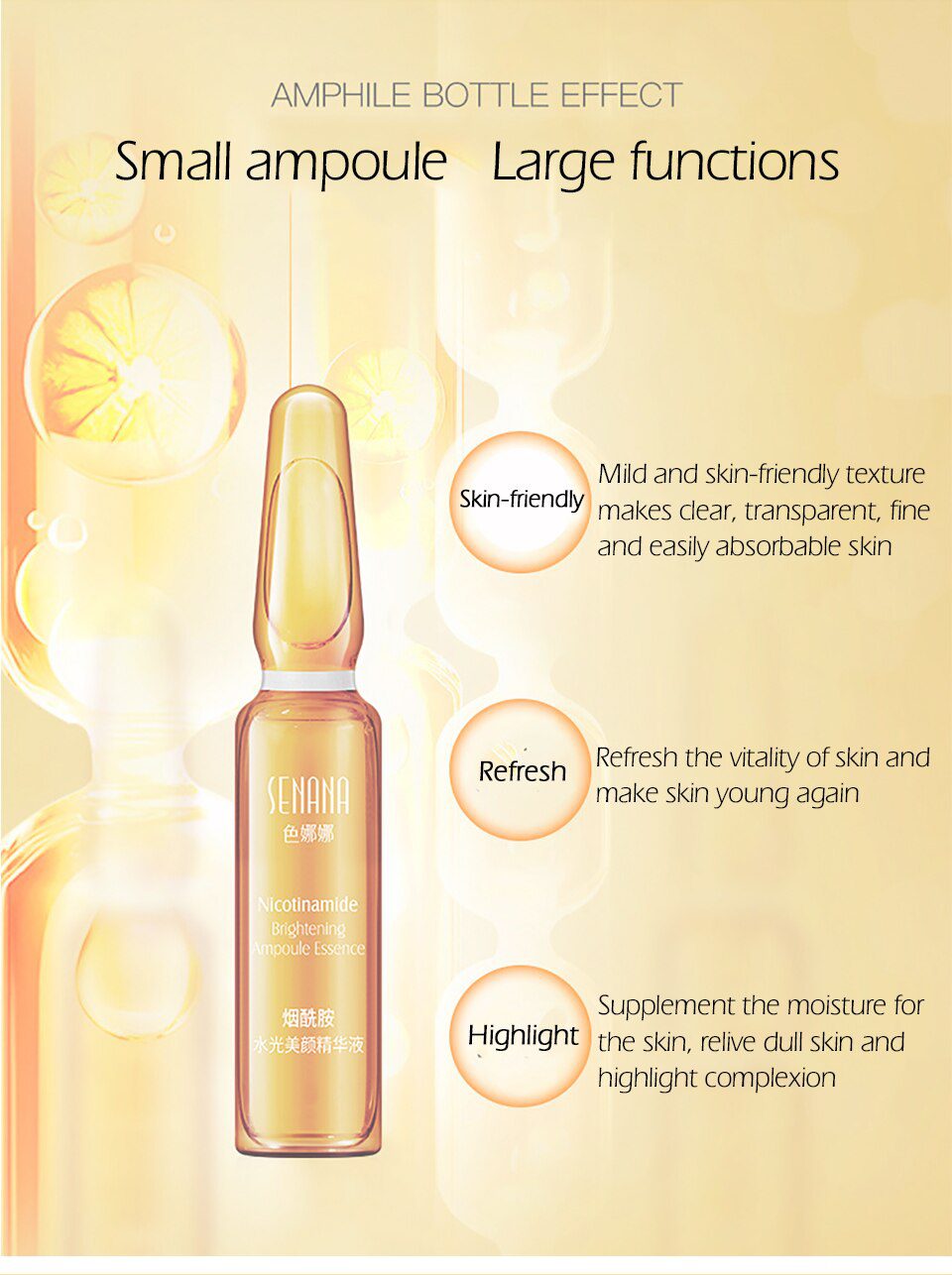 Small ampoule  Large functions
Skin-friendly
Mild and skin-friendly texture makes clear, transparent, fine and easily absorbable skin
Refresh
Refresh the vitality of skin and make skin young again
Highlight
Supplement the moisture for the skin, relive dull skin and highlight complexion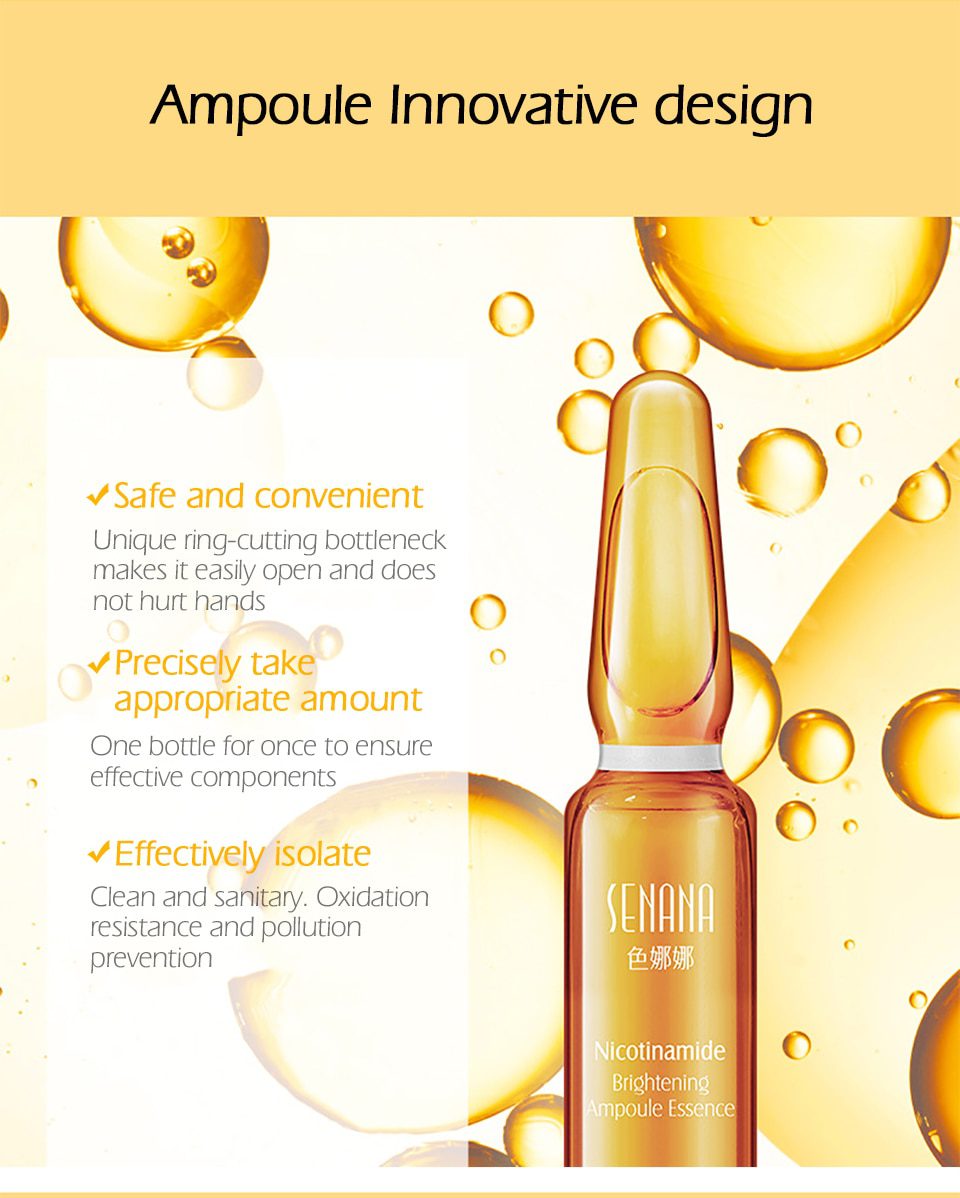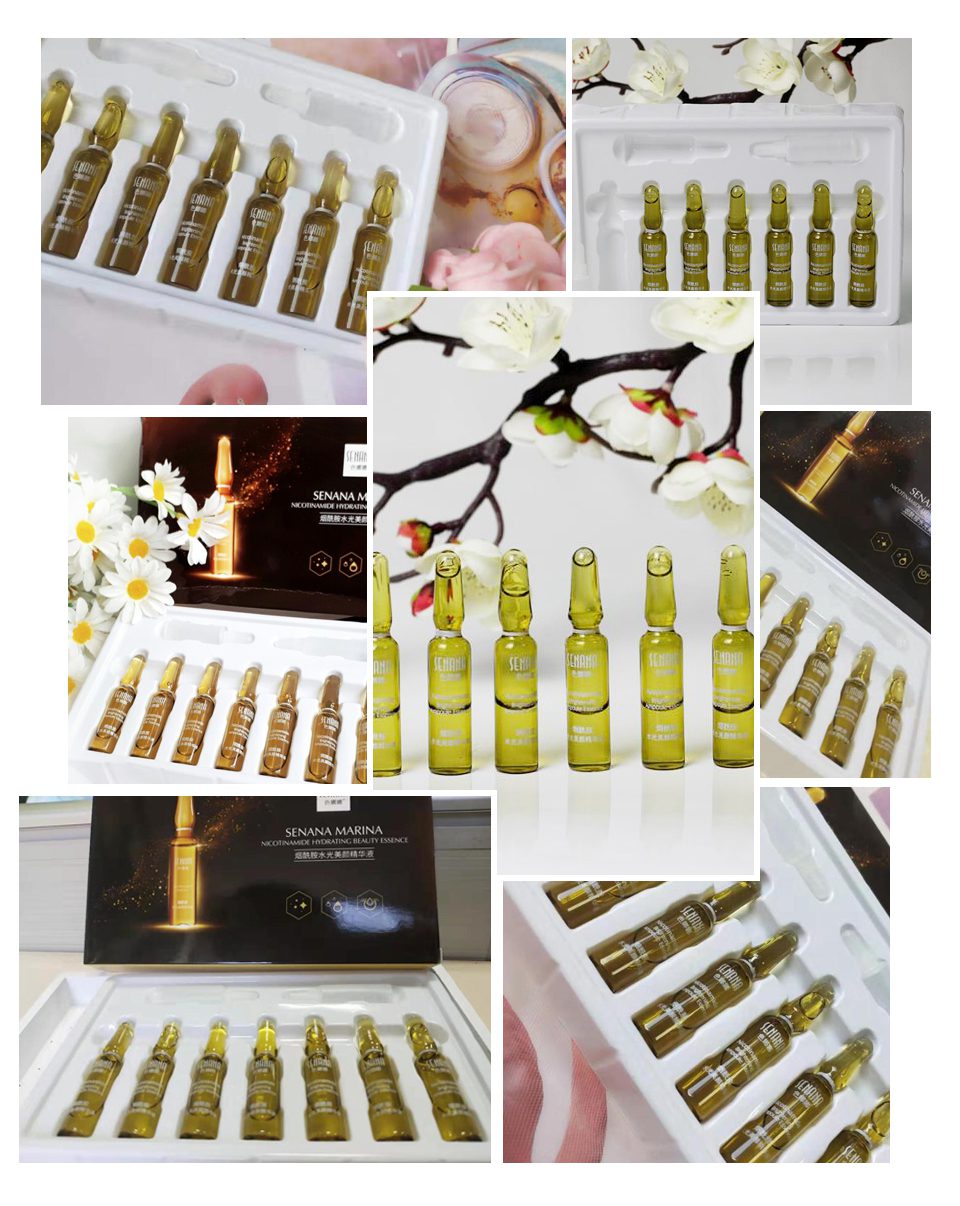 Ampoule Innovative design
Safe and convenient
Unique ring-cutting bottleneck makes it easily open and does not hurt hands.
Precisely take appropriate amount
One bottle for once to ensure effective components
Effectively isolate
Clean and sanitary. Oxidation resistance and pollution prevention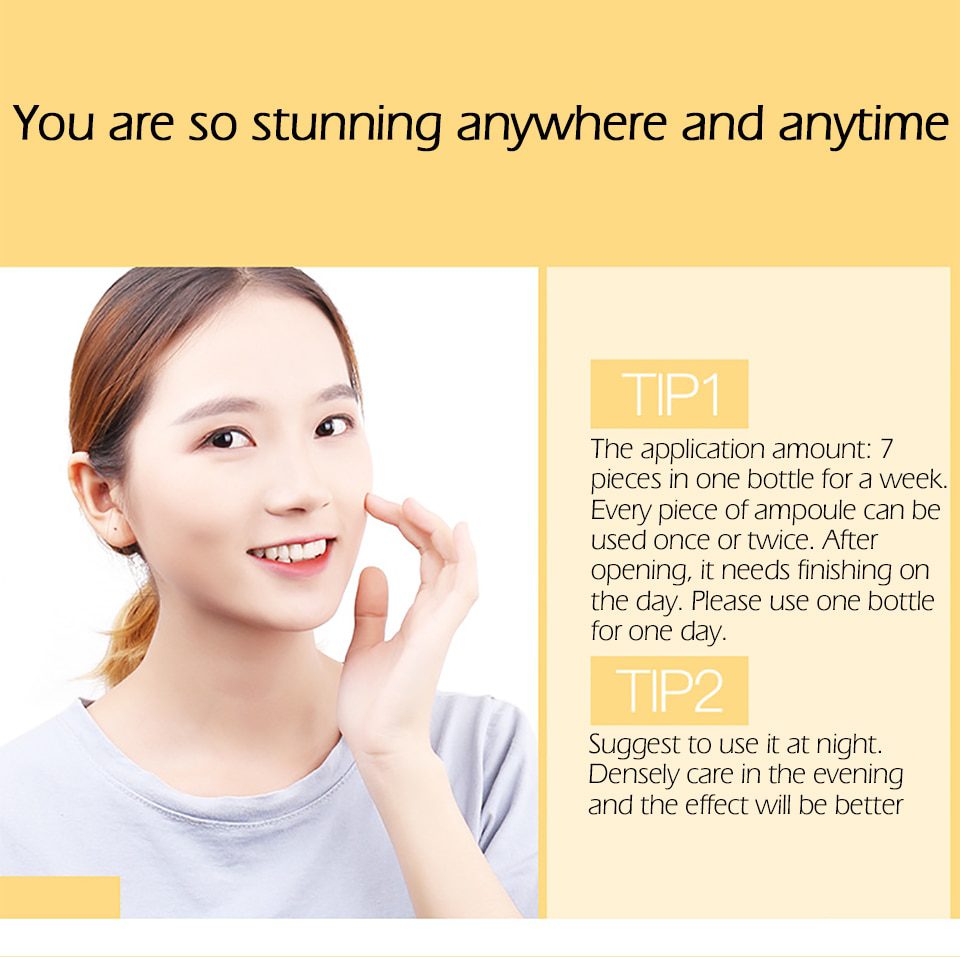 You are so stunning anywhere and anytime
TIP1
The application amount: 7 pieces in one bottle for a week. Every piece of ampoule can be used once or twice. After opening, it needs finishing on the day. Please use one bottle for one day.
TIP 2
Suggest to use it at night. Densely care in the evening and the effect will be better.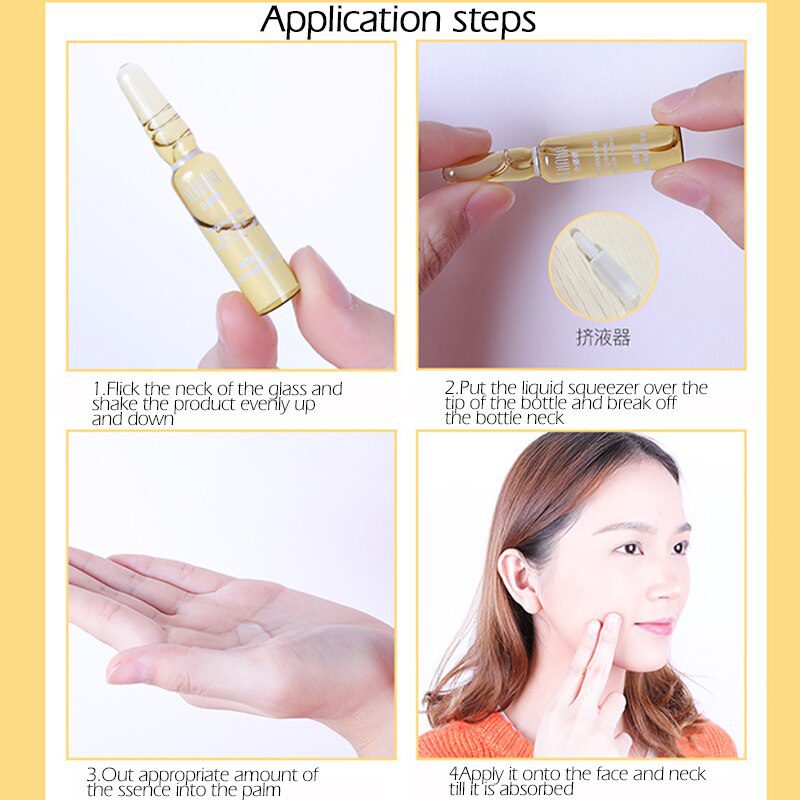 Opening and usage of Ampoule
Note: (tear apart the Ampoule and pay attention to check if there is any remaining glass slag at the bottleneck. If there is, please clean it)
Step 1: Flip lightly and make the essence fall to the bottom of the bottle
Step 2: Force to break it by covering the lid.
Step 3: Recover the lid
Step 4:Drip and apply
In the morning and in the evening, 1/2 of Ampoule is dripped in the palm. Massage with two hands and when the hands are hot, apply it onto the skin of the face and neck. Massage lightly till it is fully absorbed.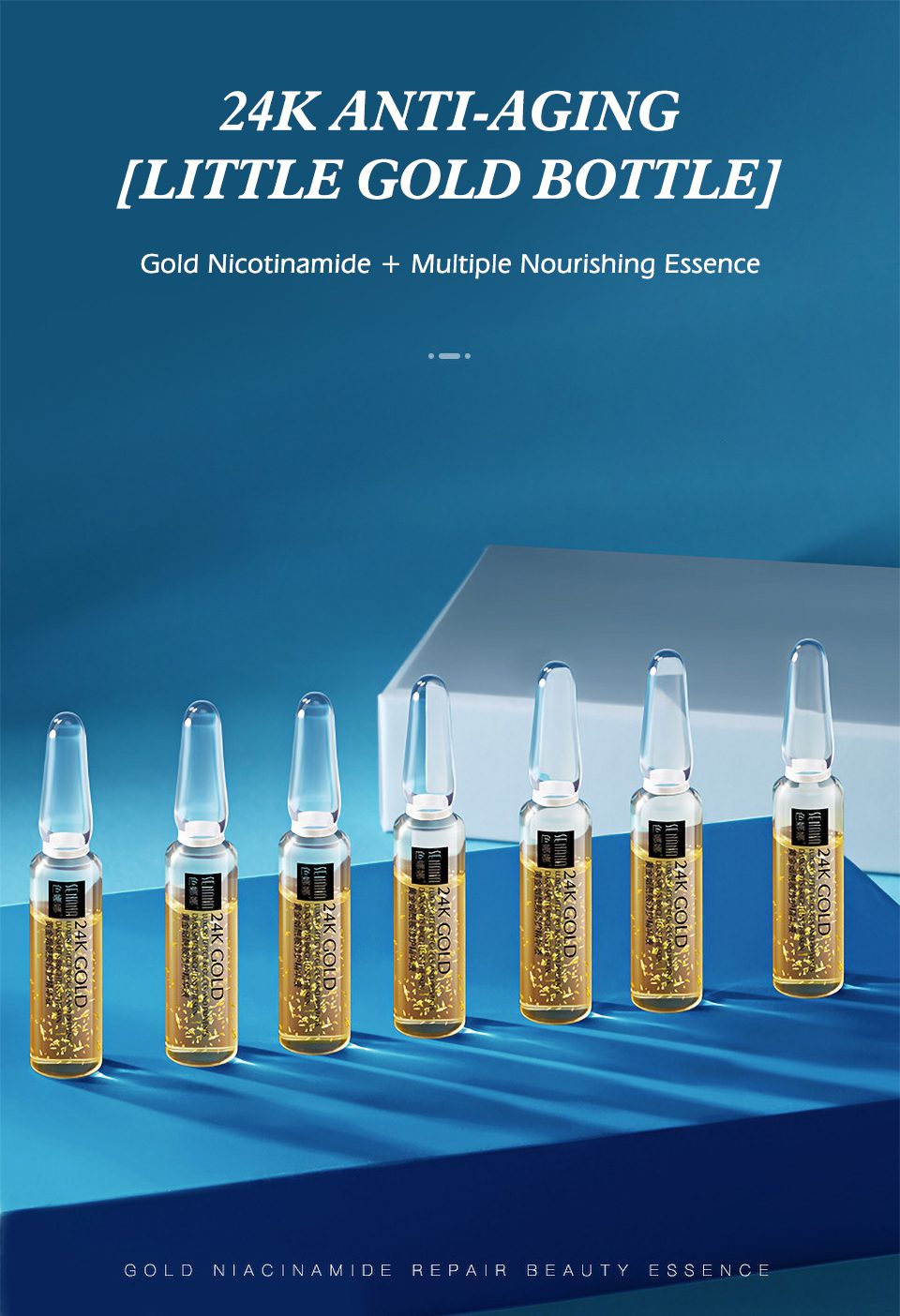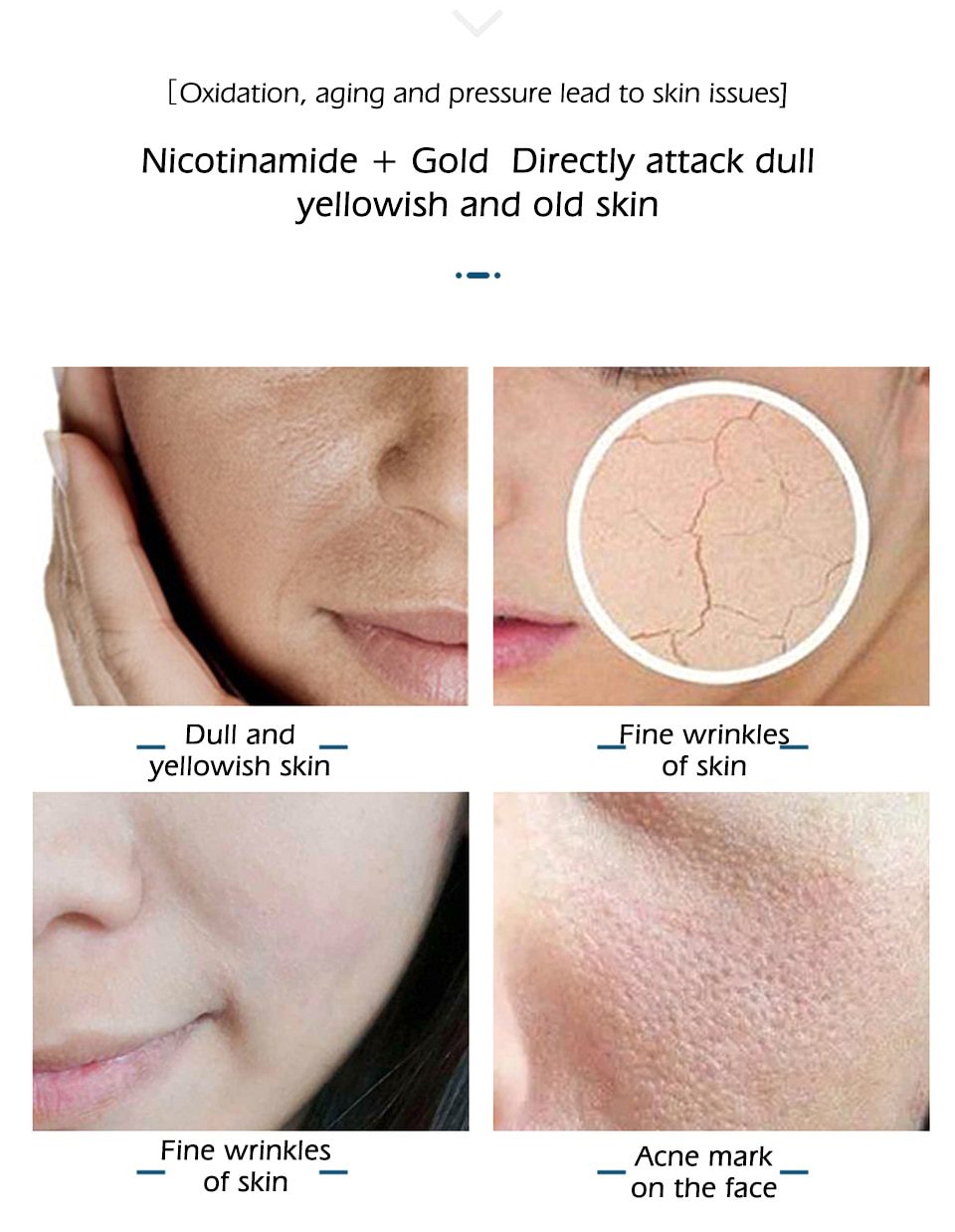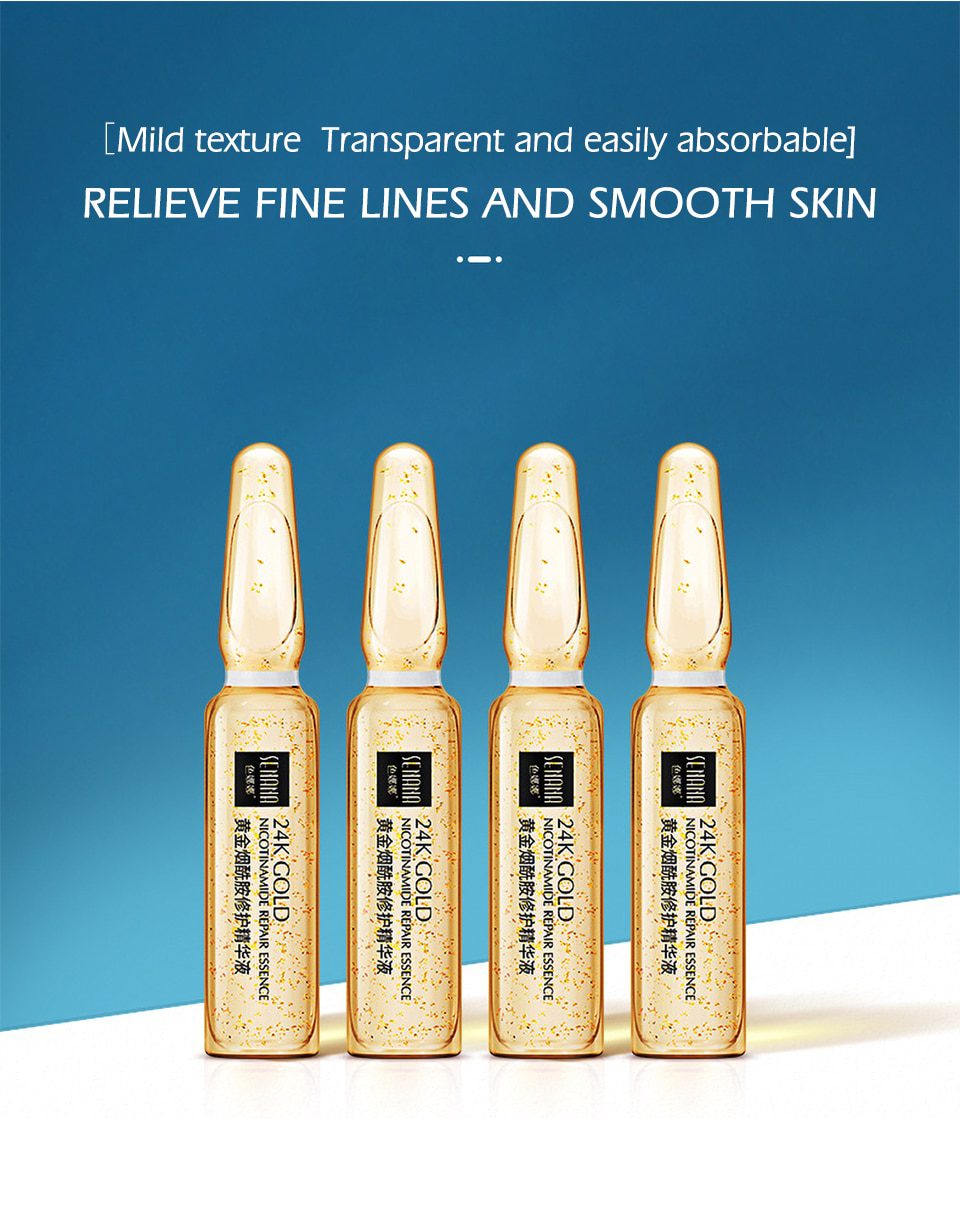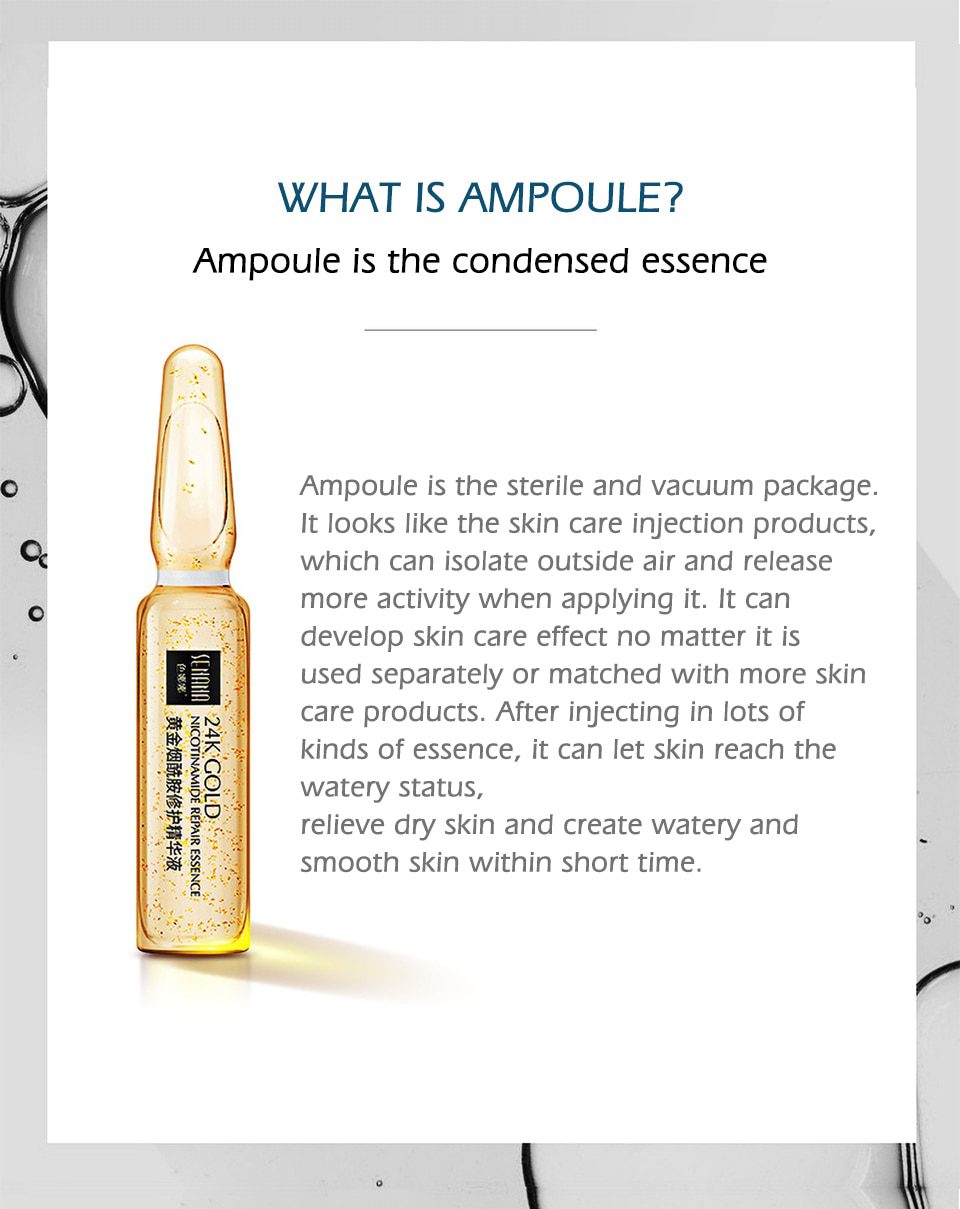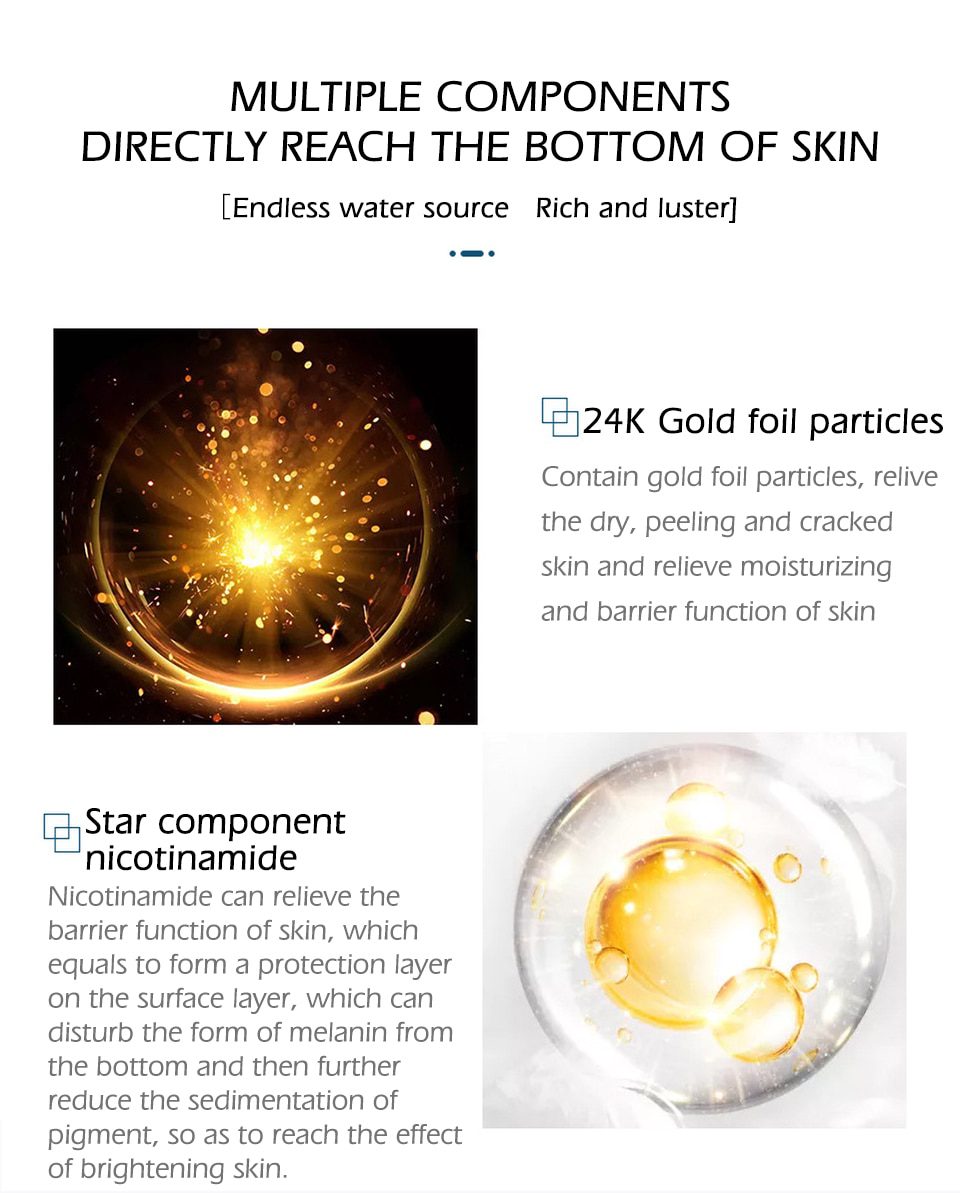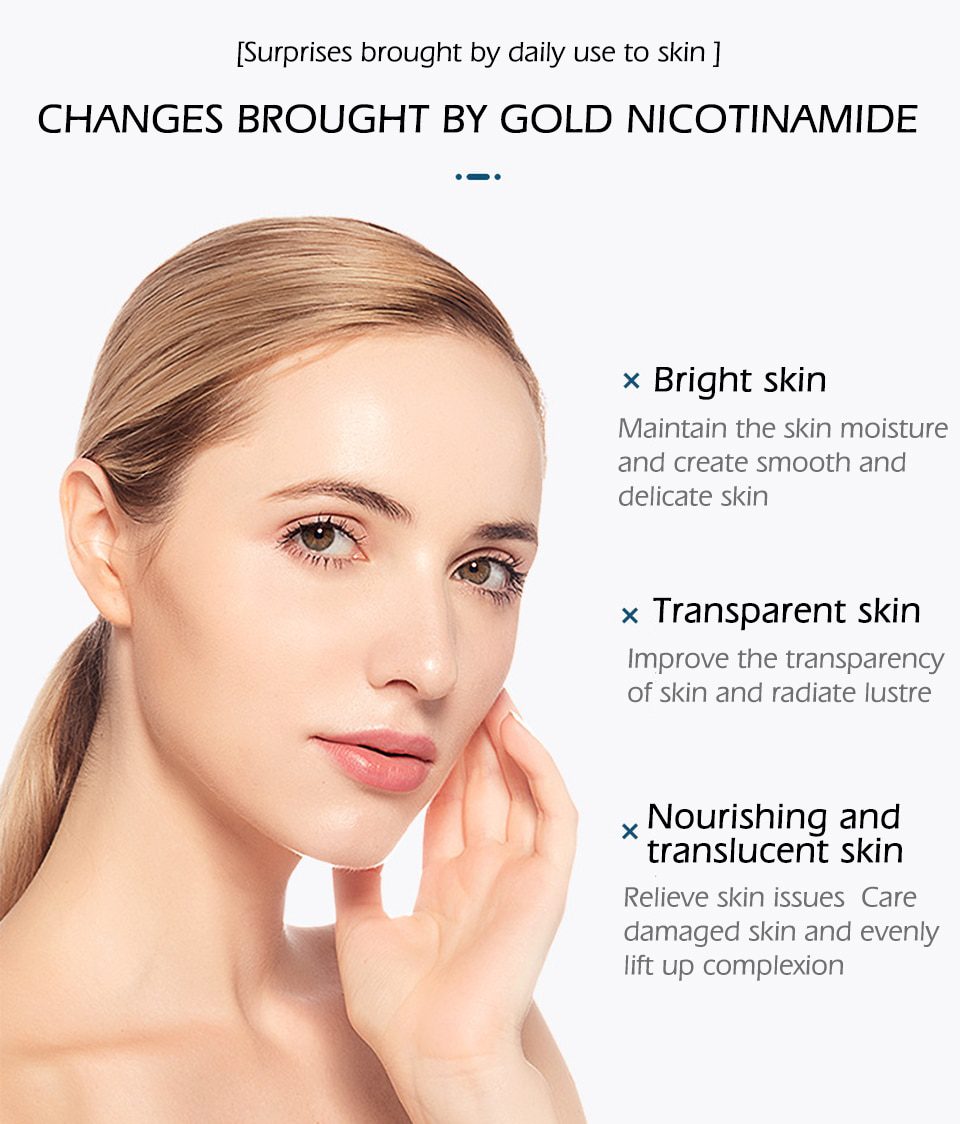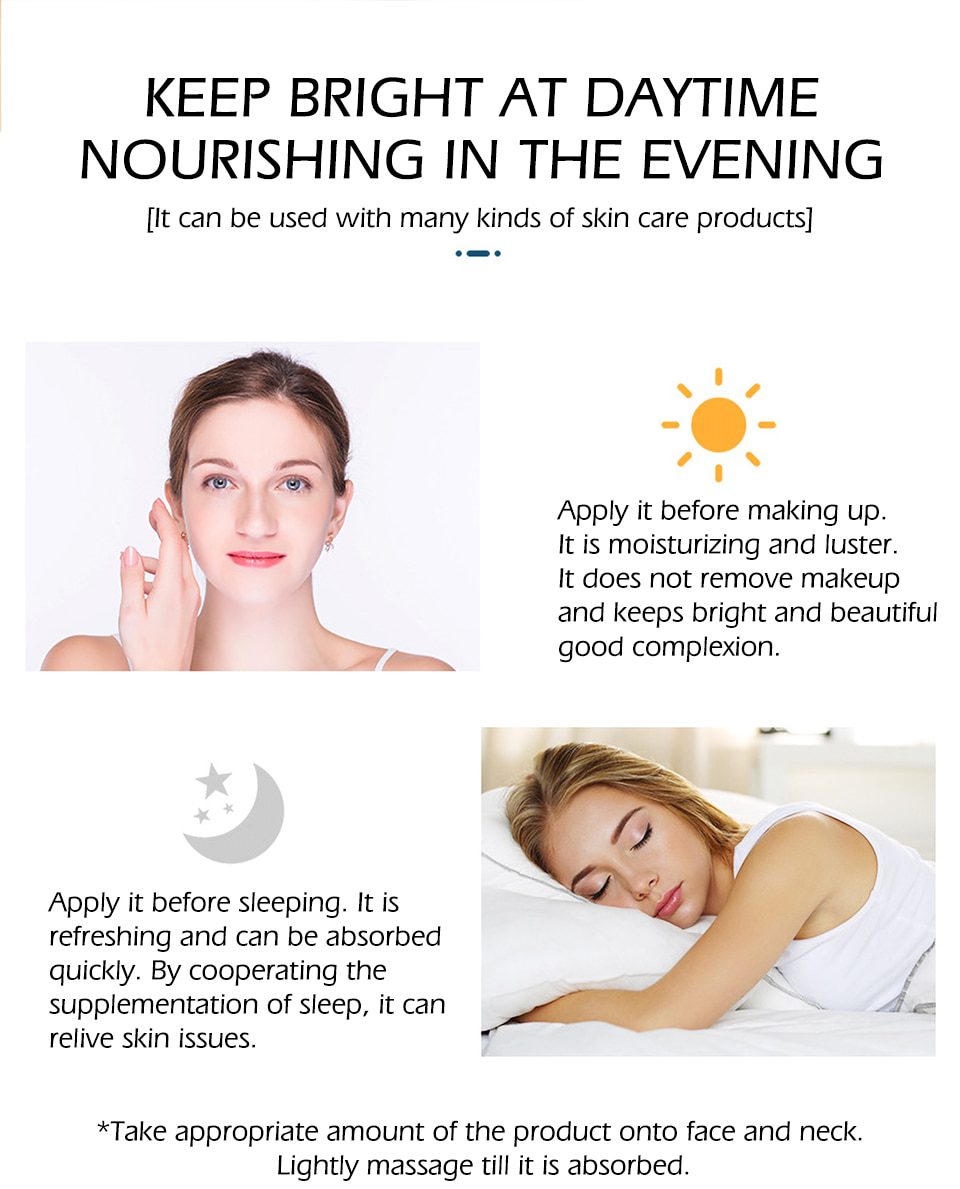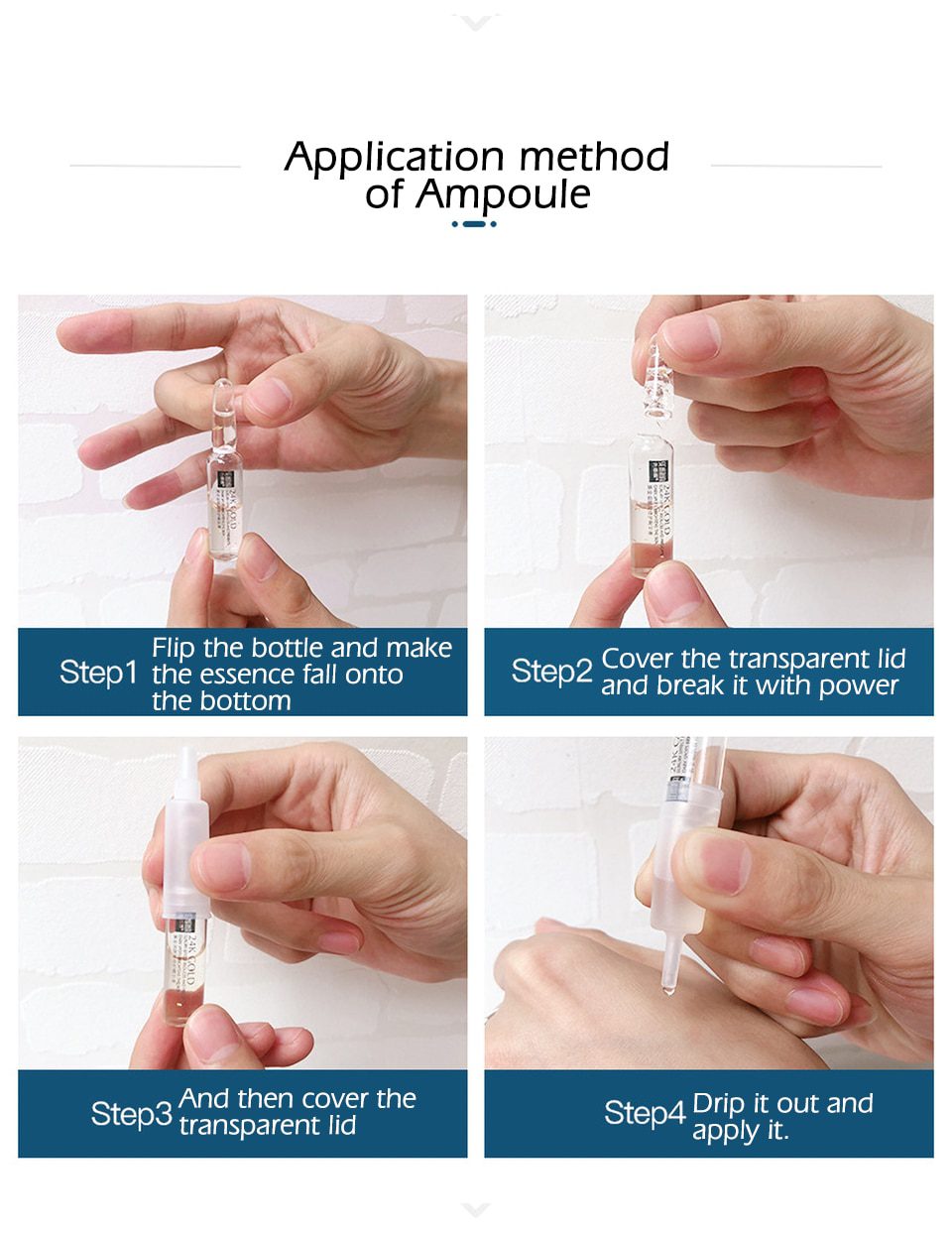 Oxidation, aging and pressure lead to skin issues
Nicotinamide + Gold Directly attack dull, yellowish and old skin
Dull and yellowish skin
Dry wrinkles of skin
Fine wrinkles of skin
Acne mark on the face
Mild texture Transparent and easily absorbable
Relieve fine lines and smooth skin
Endless water source Rich and luster
Multiple components Directly reach the bottom of skin
Gold foil particles
Contain gold foil particles, relive the dry, peeling and cracked skin and relieve moisturizing and barrier function of skin
Star component – nicotinamide
Nicotinamide can relieve the barrier function of skin, which equals to form a protection layer on the surface layer, which can disturb the form of melanin from the bottom and then further reduce the sedimentation of pigment, so as to reach the effect of brightening skin