SENANA Niacinamide Ampoule
Niacinamide Ampoule Essence 7ml*7
24k gold ampoule essence 7ml*7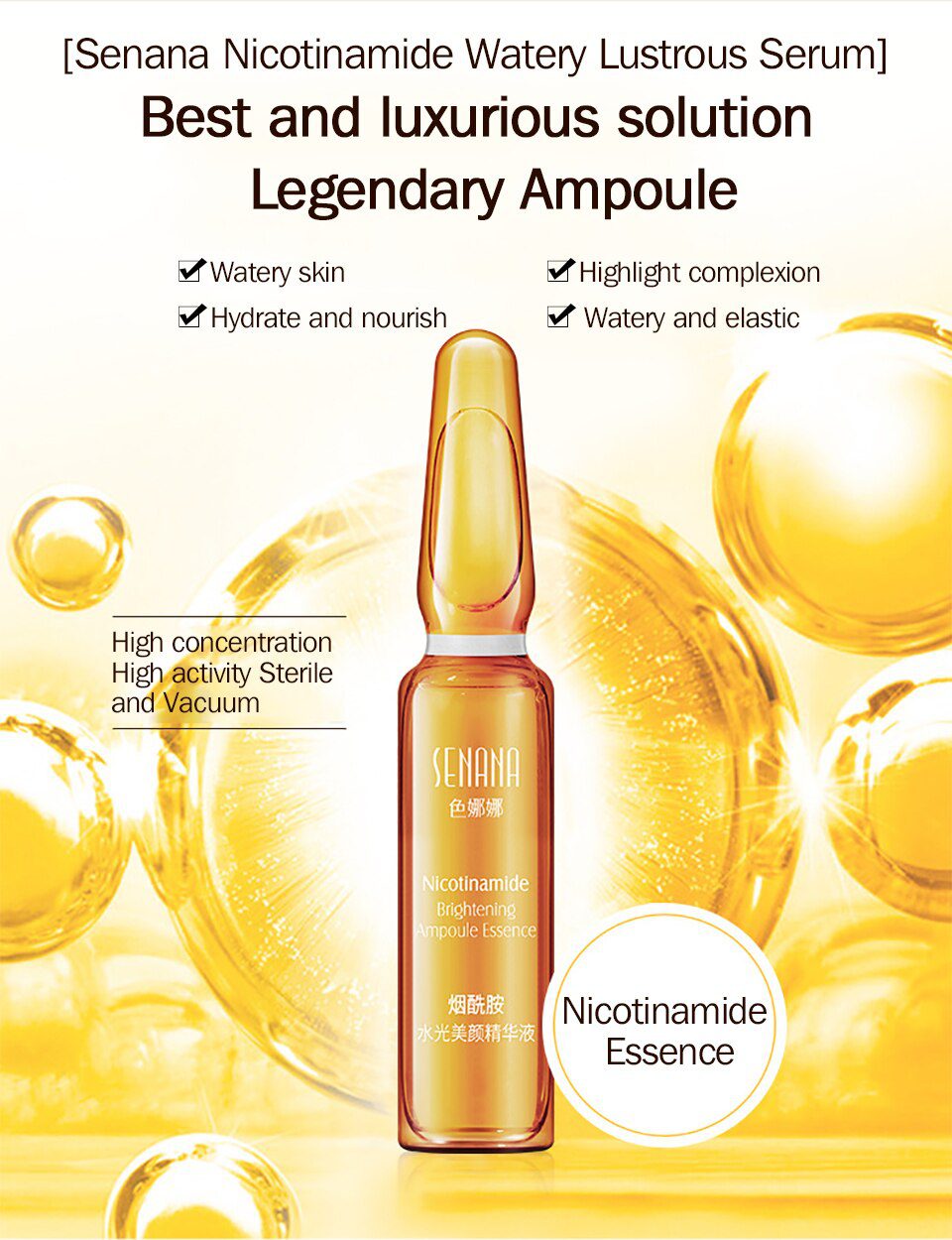 Senana Nicotinamide Watery Lustrous Serum
Best and luxurious solution
Legendary Ampoule
☑Watery skin
☑Highlight complexion
☑Hydrate and nourish
☑Watery and elastic
High concentration
High activity Sterile and Vacuum
Nicotinamide Essence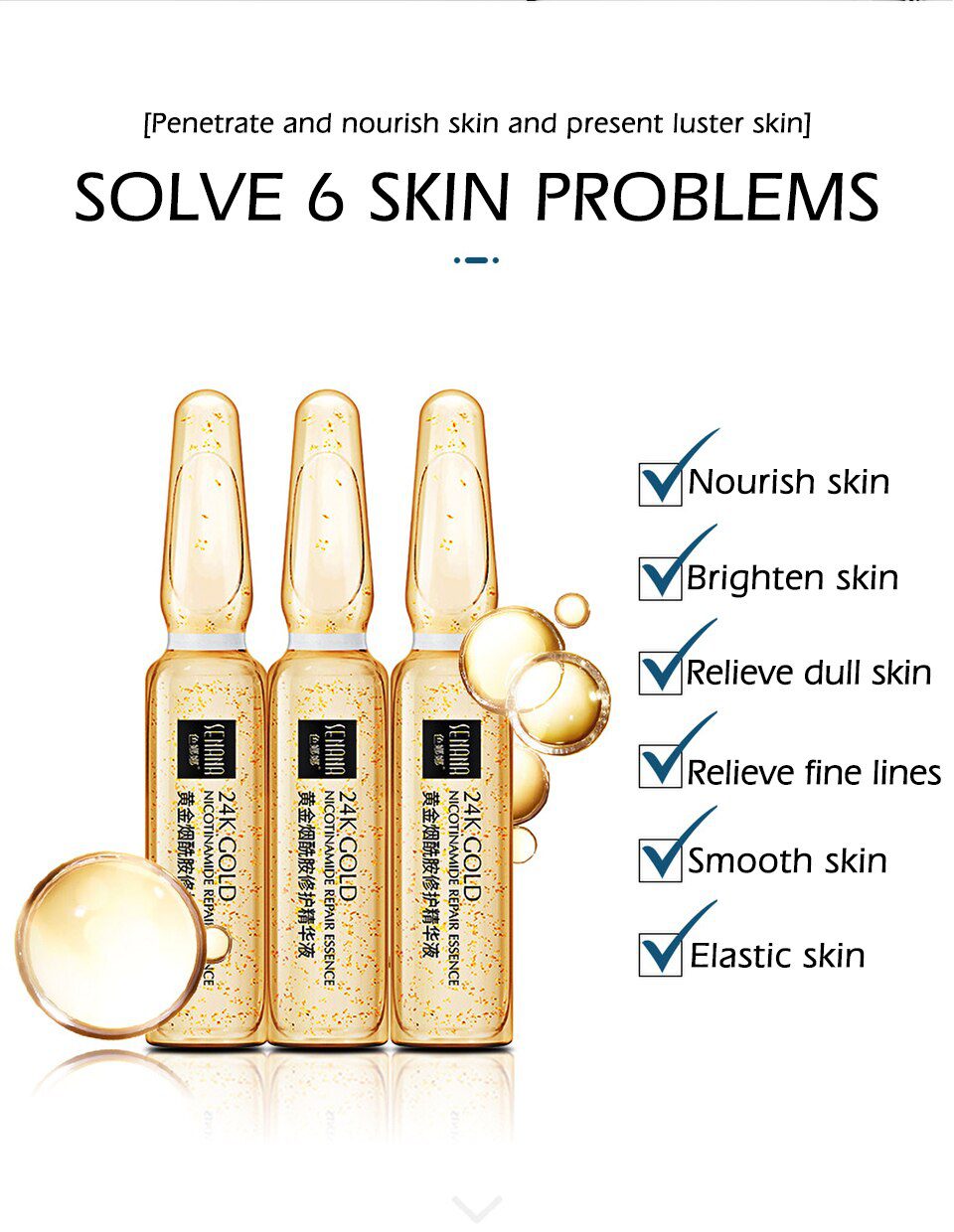 Penetrate and nourish skin and present luster skin
Nourish skin
Brighten skin
Relieve dull skin
Relieve fine lines
Smooth skin
Elastic skin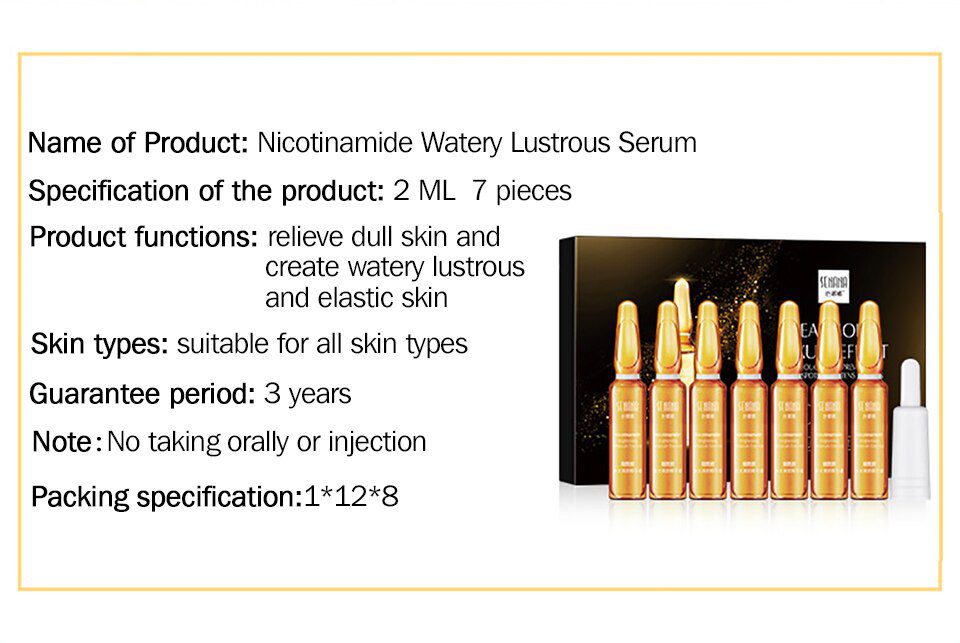 [Name of Product]: Nicotinamide Watery Lustrous Serum
[Specification of the product]: 2 ML*7 pieces
[Product functions]: relieve dull skin and create watery, lustrous and elastic skin
[Skin types]: suitable for all skin types
[Guarantee period]: 3 years
❤Note:No taking orally or injection.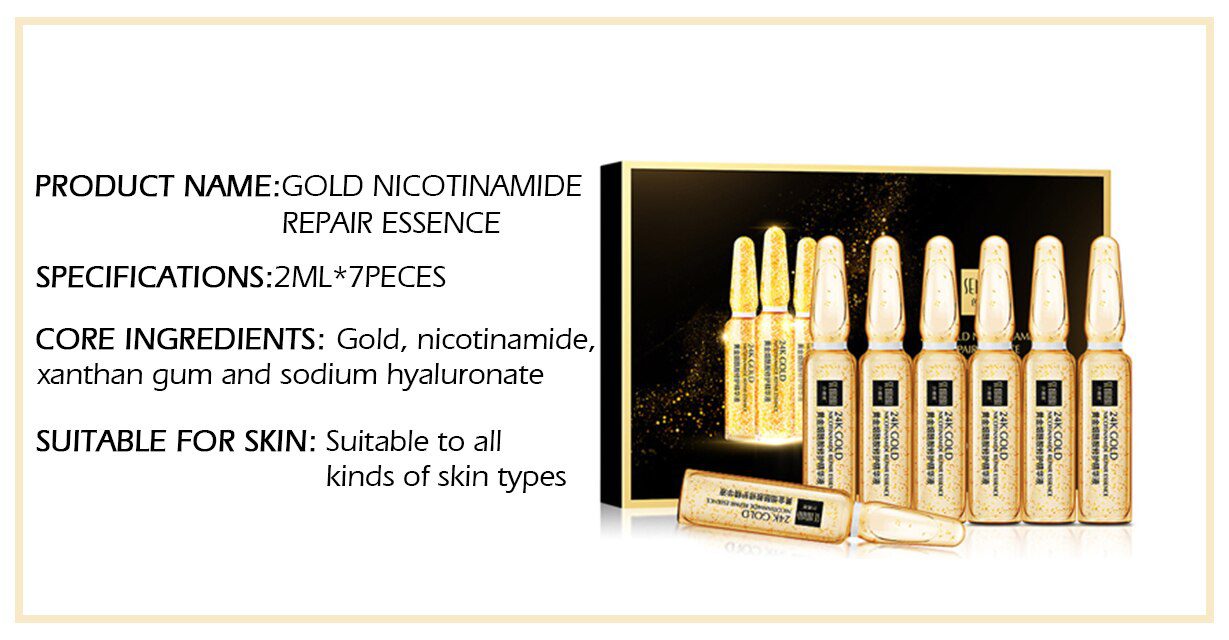 product name:Gold Nicotinamide Repair Essence
Product core ingredients:Gold, nicotinamide, xanthan gum and sodium hyaluronate
Suitable for skin: Suitable to all kinds of skin types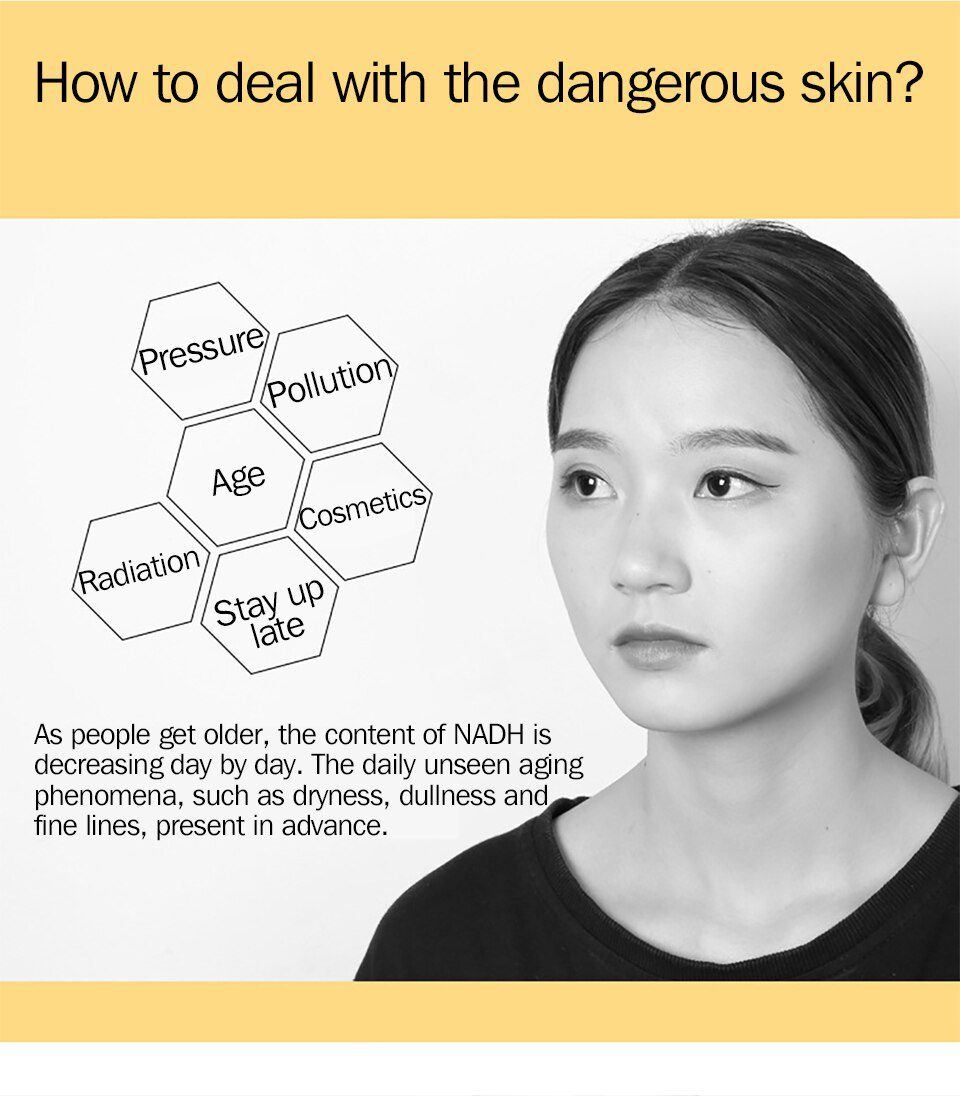 How to deal with the dangerous skin?
✔Pressure
✔Pollution
✔Age
✔Cosmetics
✔Radiation
✔Stay up late
As people get older, the content of NADH is decreasing day by day. The daily unseen aging phenomena, such as dryness, dullness and fine lines, present in advance.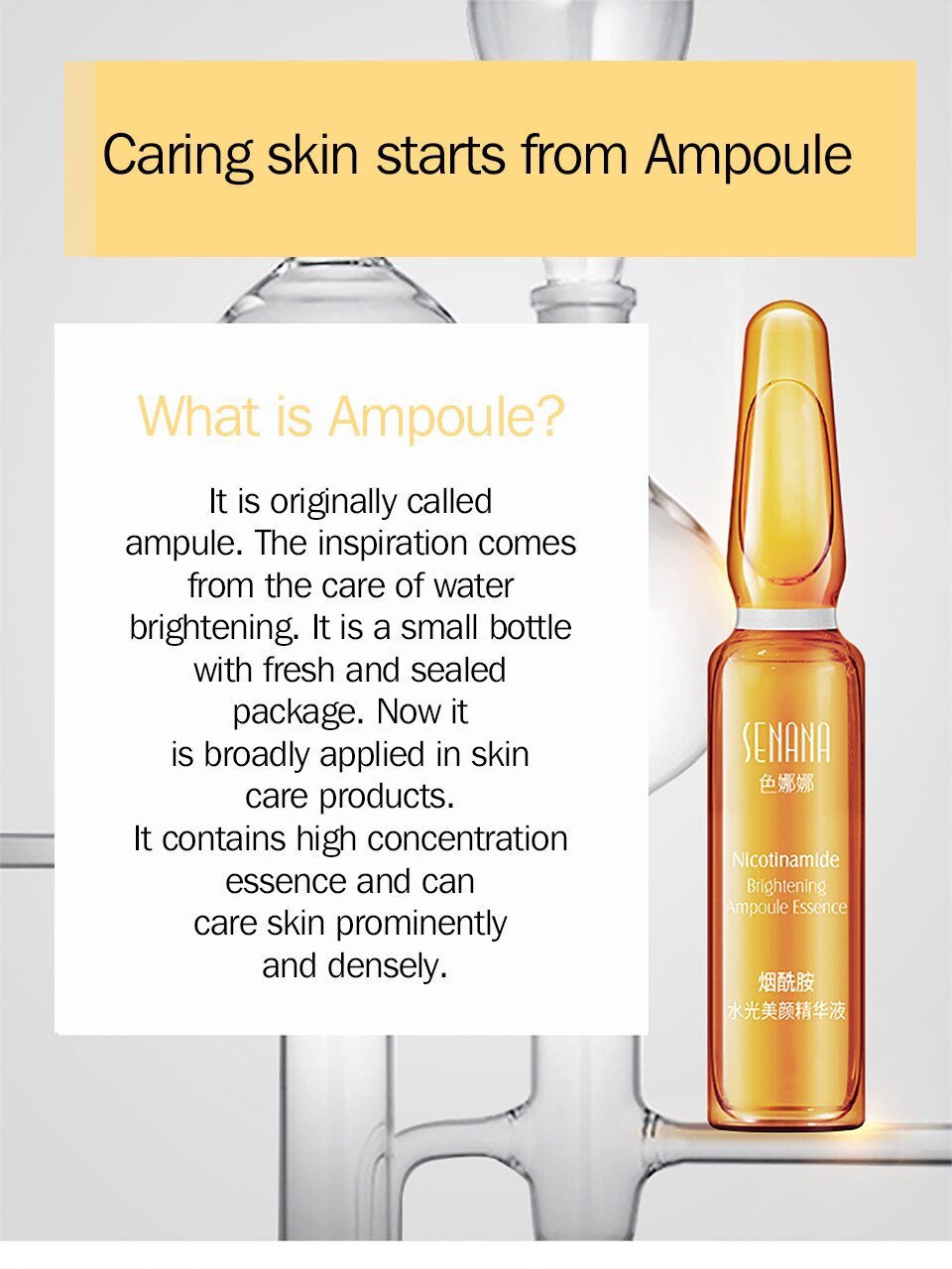 Caring skin starts from Ampoule
❤What is Ampoule?
It is originally called ampule. The inspiration comes from the care of water brightening. It is a small bottle with fresh and sealed package. Now it is broadly applied in skin care products. It contains high concentration essence and can care skin prominently and densely.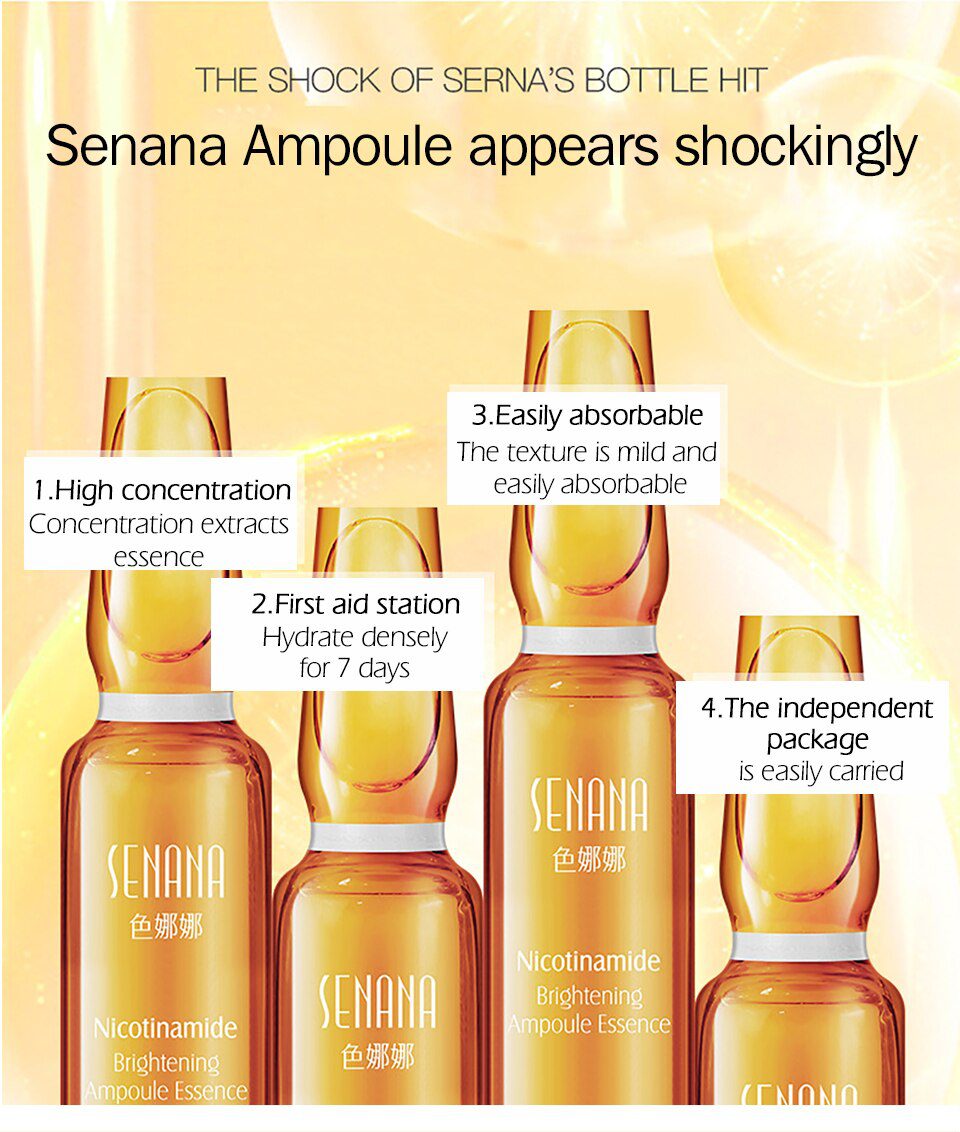 Senana Ampoule appears shockingly
1.High concentration
Concentration extracts essence
2.First aid station
Hydrate densely for 7 days
3.Easily absorbable
The texture is mild and easily absorbable.
4.The independent package is easily carried.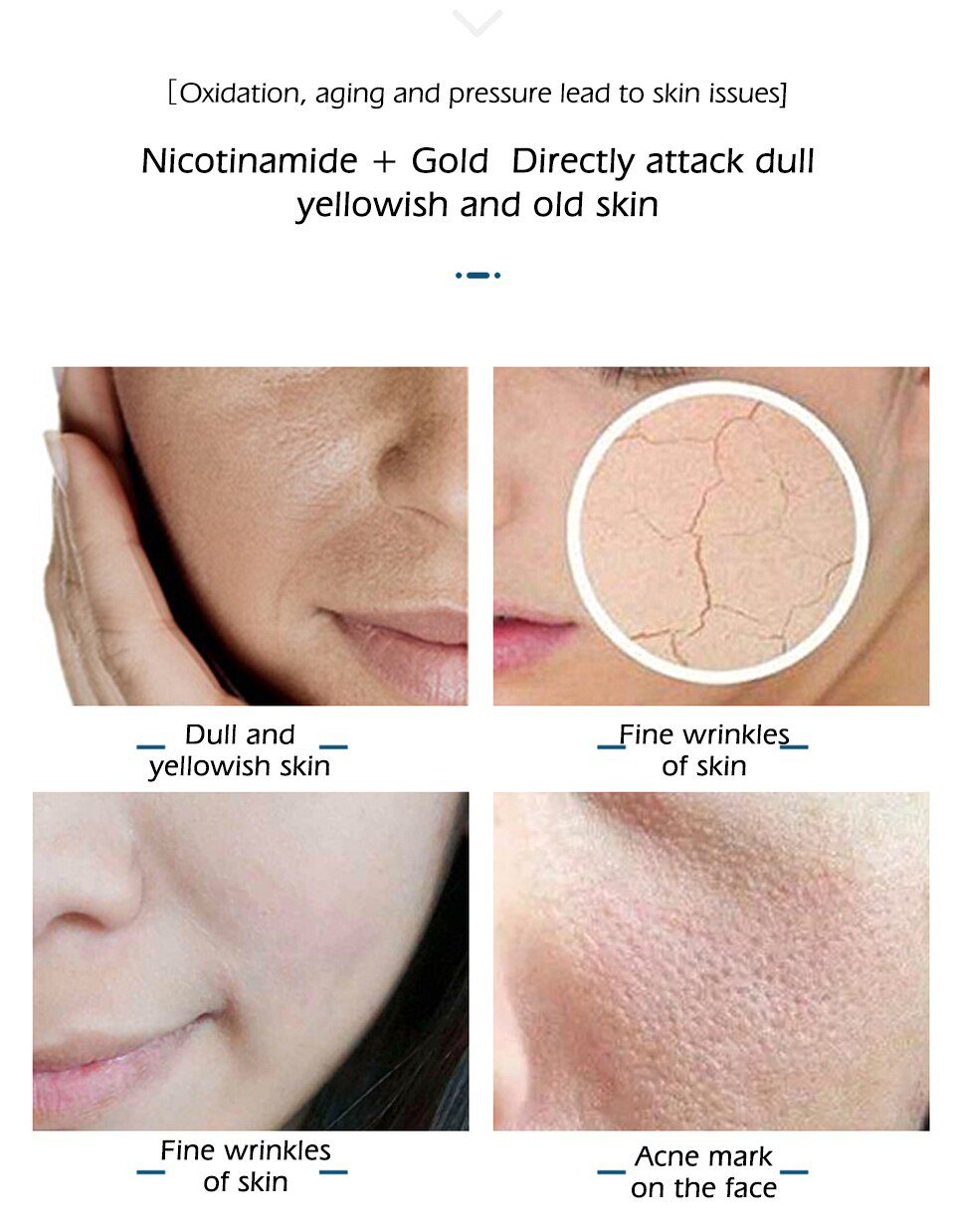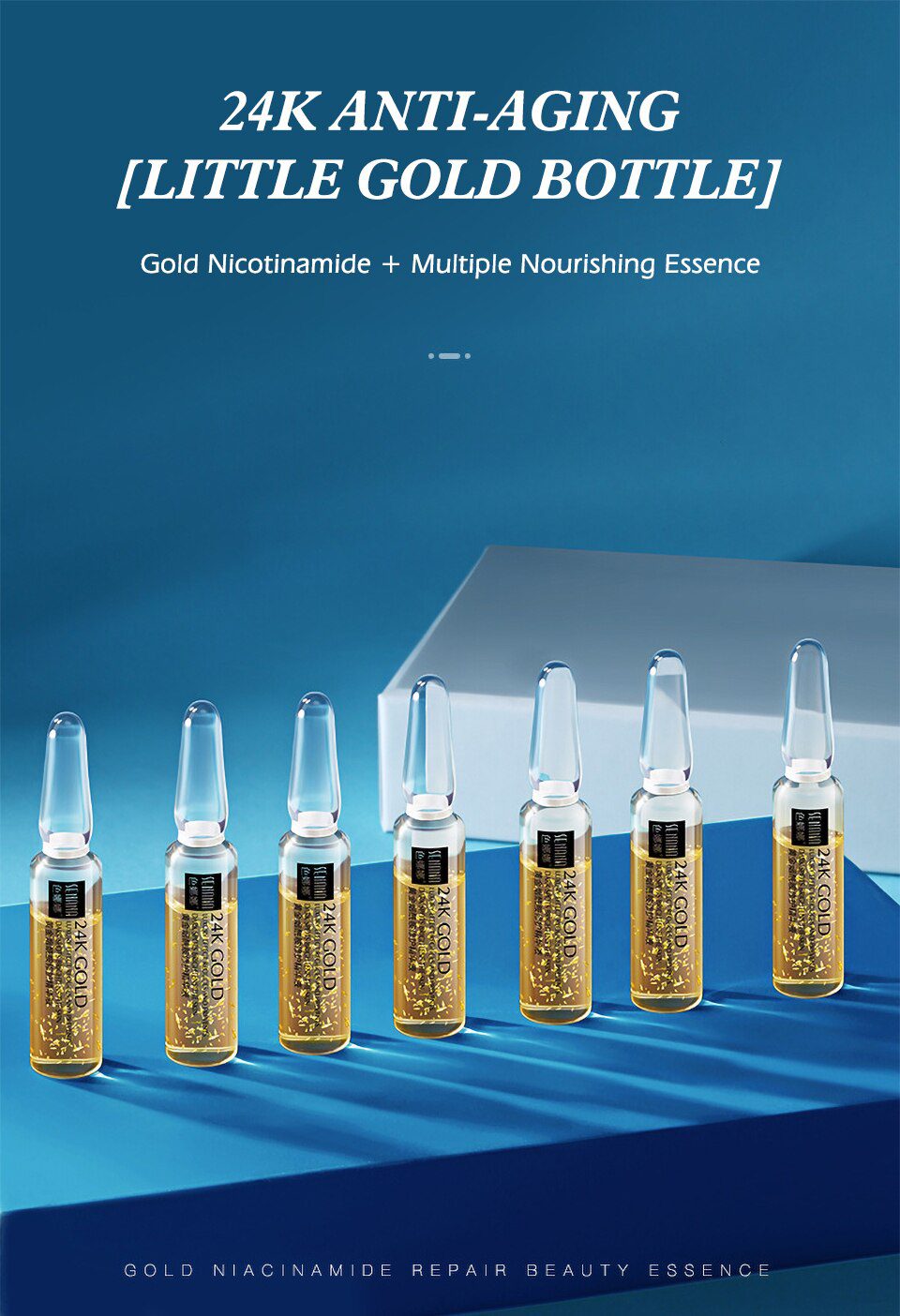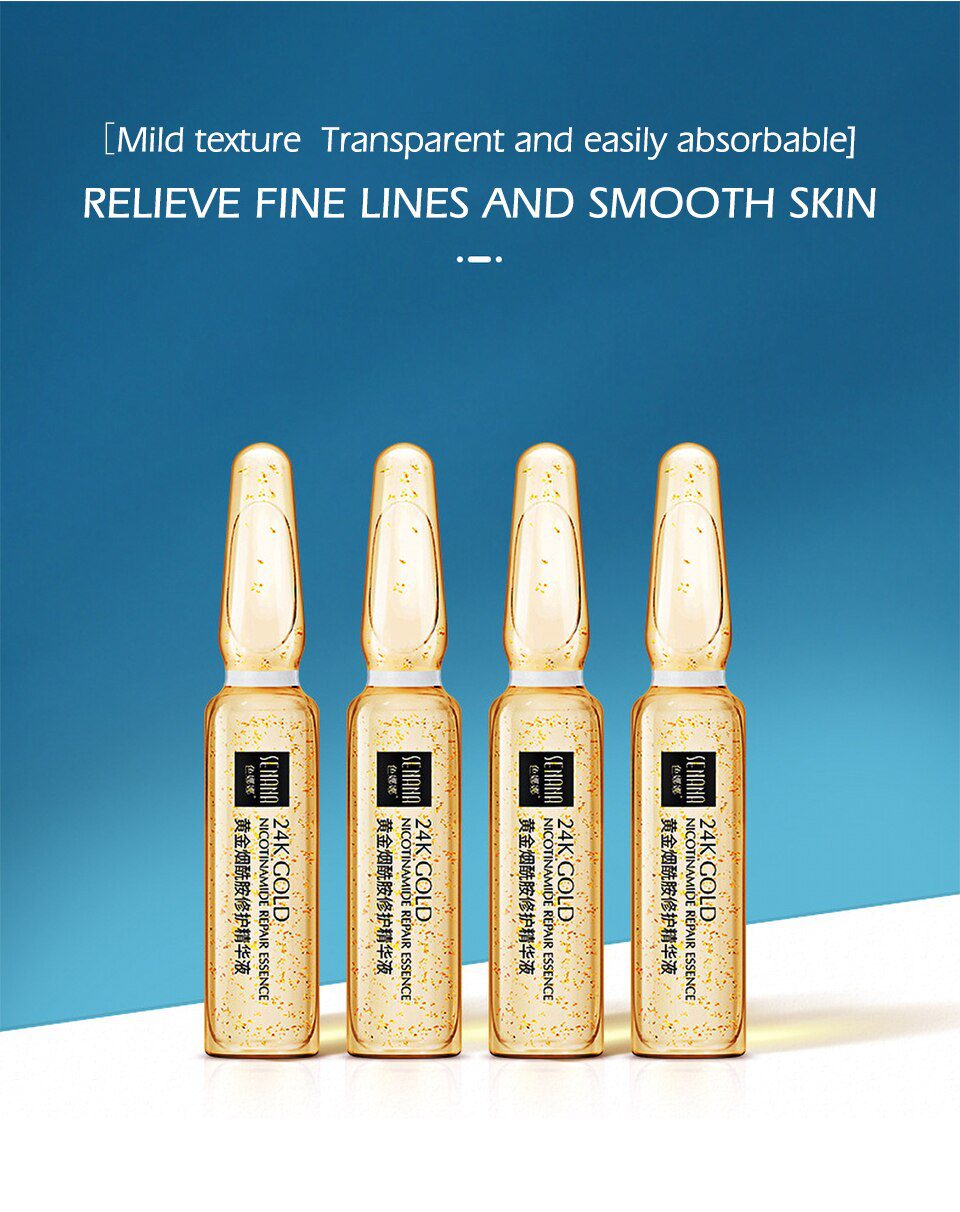 Oxidation, aging and pressure lead to skin issues
Nicotinamide + Gold Directly attack dull, yellowish and old skin
Dull and yellowish skin
Dry wrinkles of skin
Fine wrinkles of skin
Acne mark on the face
Anti-aging [Little Gold Bottle]
Gold Nicotinamide
Multiple Nourishing Essence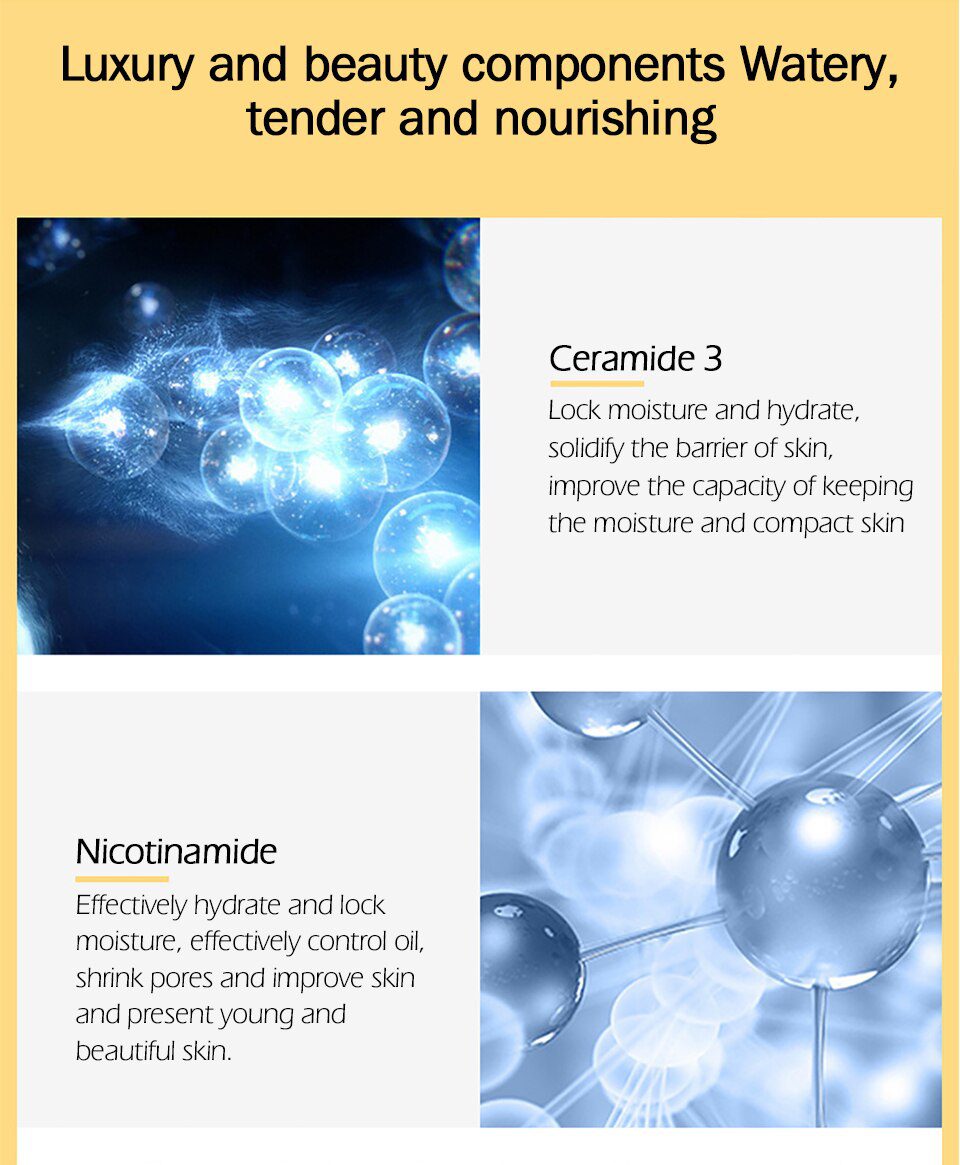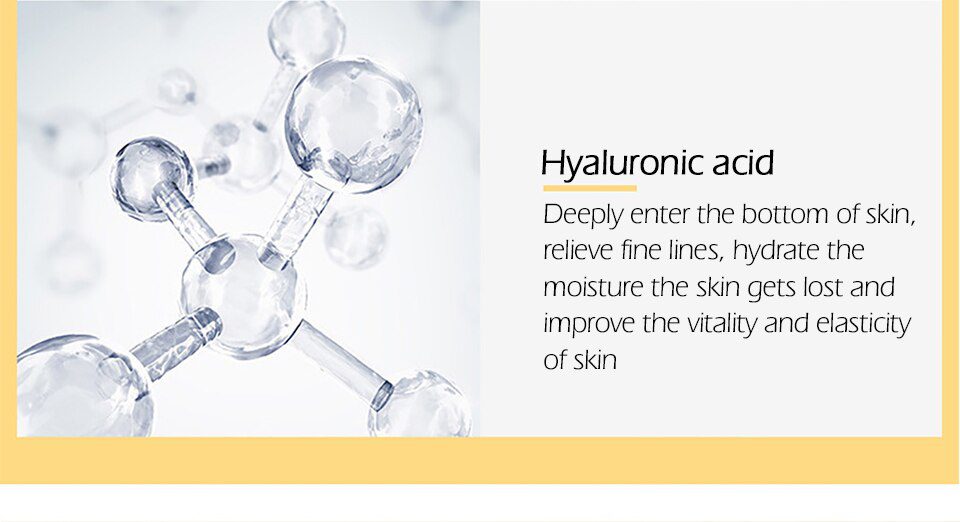 Luxury and beauty components Watery, tender and nourishing
●Ceramide 3
Lock moisture and hydrate, solidify the barrier of skin, improve the capacity of keeping the moisture and compact skin
●Nicotinamide
Effectively hydrate and lock moisture, effectively control oil, shrink pores and improve skin and present young and beautiful skin.
●Hyaluronic acid
Deeply enter the bottom of skin, relieve fine lines, hydrate the moisture the skin gets lost and improve the vitality and elasticity of skin