VENZEN Hyaluronic Acid Moisturizing Face Serum Remove Fine Lines Anti-Aging Anti-Wrinkle Firming Deep Skin Care15ml
[Main components]: Water , butanediol,soybean amino acid,palmitoyl hexapeptide-12trehalose,malt oligosaccharide,sodium hyaluronate,paeonia suffruticosa root extract,potassium sorbate, hydoxybenzoate
This hyaluronic acid essence is highly moisturizing, refreshing and not greasy. It can be completely absorbed after a few gentle massaging. The skin gets delicate and shiny, and it also has the effect of repairing light lines, which is really good!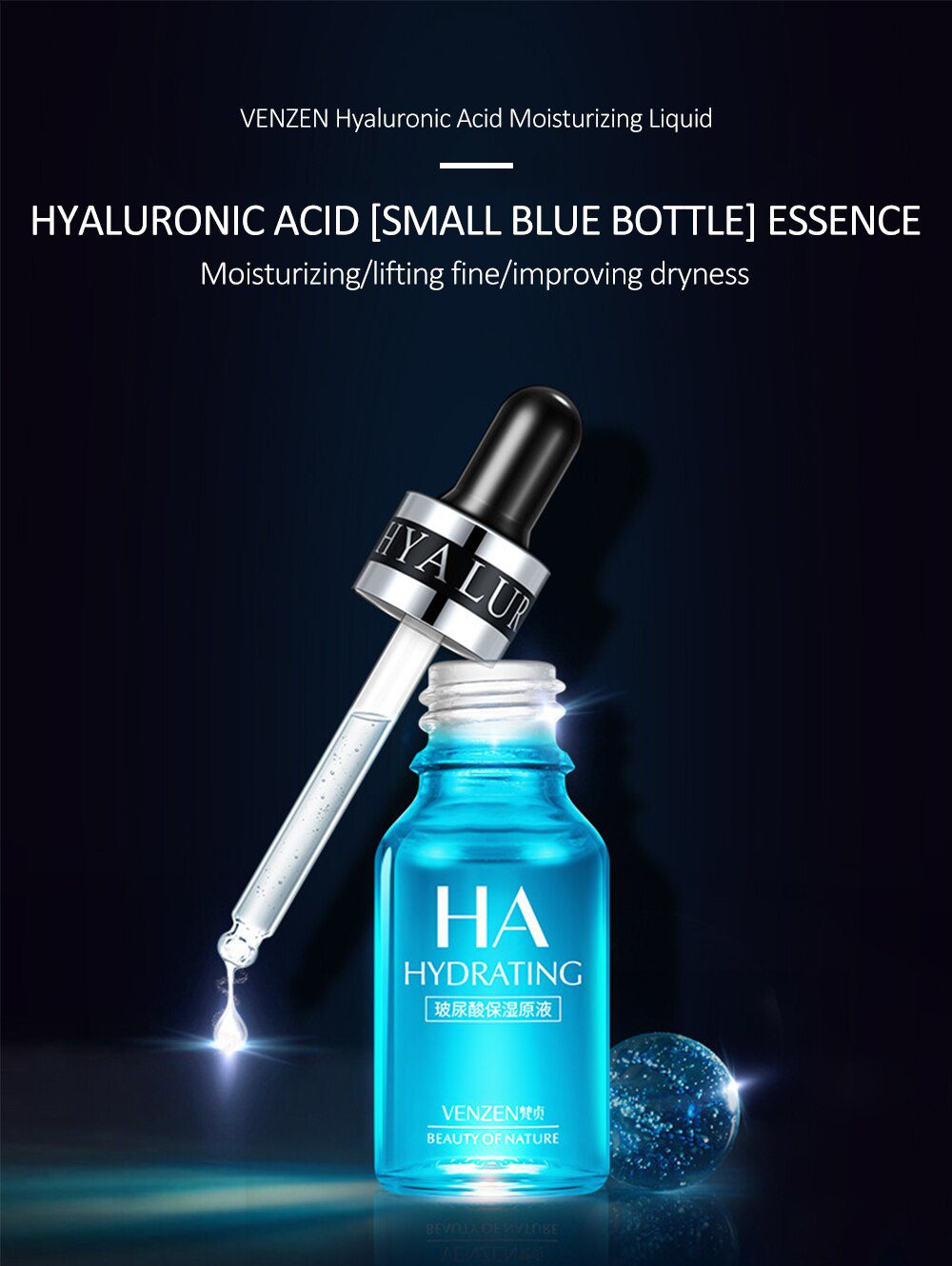 Hyaluronic Acid Moisturizing Liquid
Main ingredients: sodium hyaluronate, glycerin
Product specifications: 15ml
Product Efficacy: Refreshing and non-sticky, easy to replenish water, easy to absorb, give skin moisture and care
Warranty date: see package label
-Dry skin daily damage
"Your skin is slowly being damaged unknowingly"
Make-up removal residue/ sun damage/ dry skin
Overtime staying up late / mobile phone computer radiation / air pollution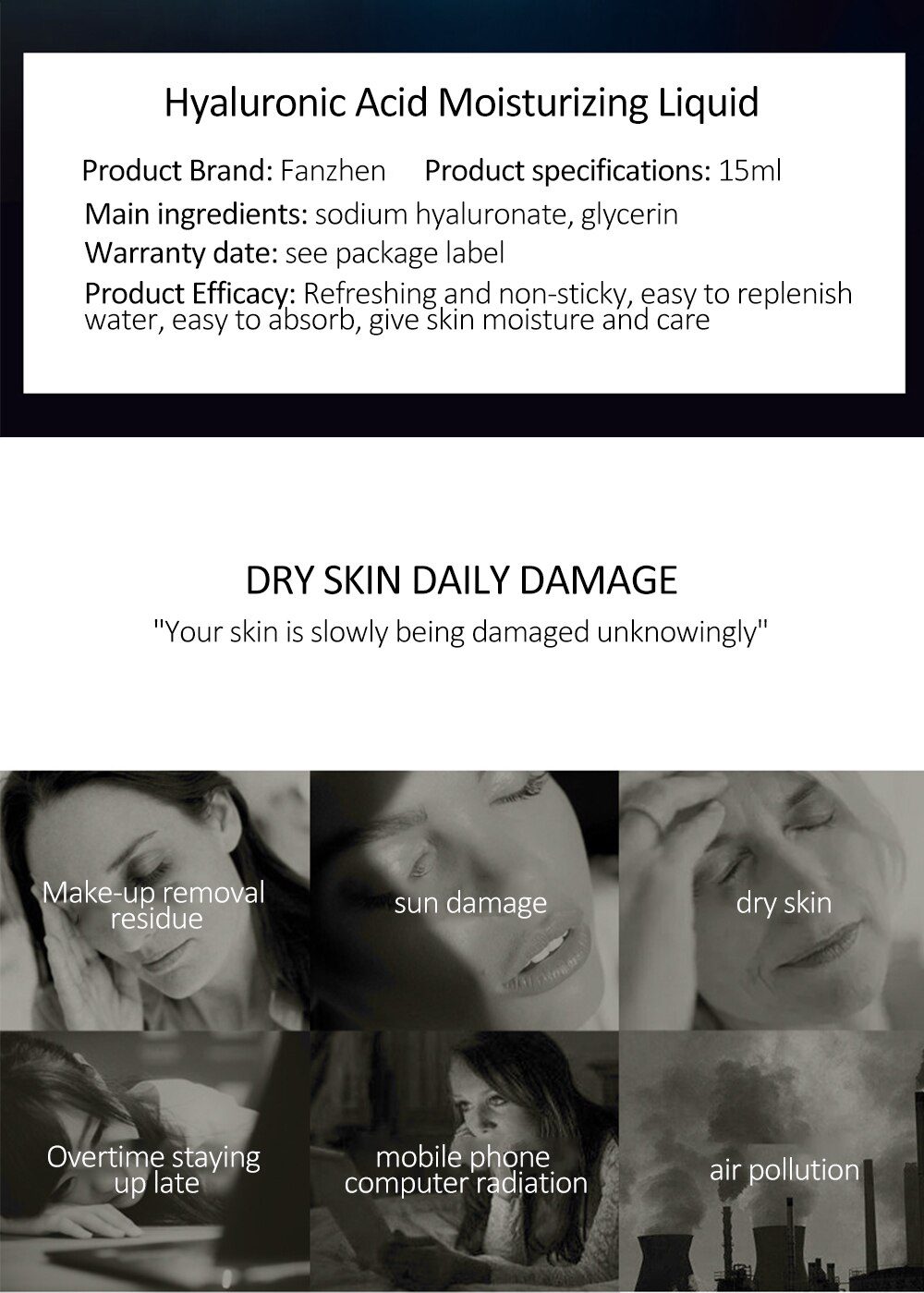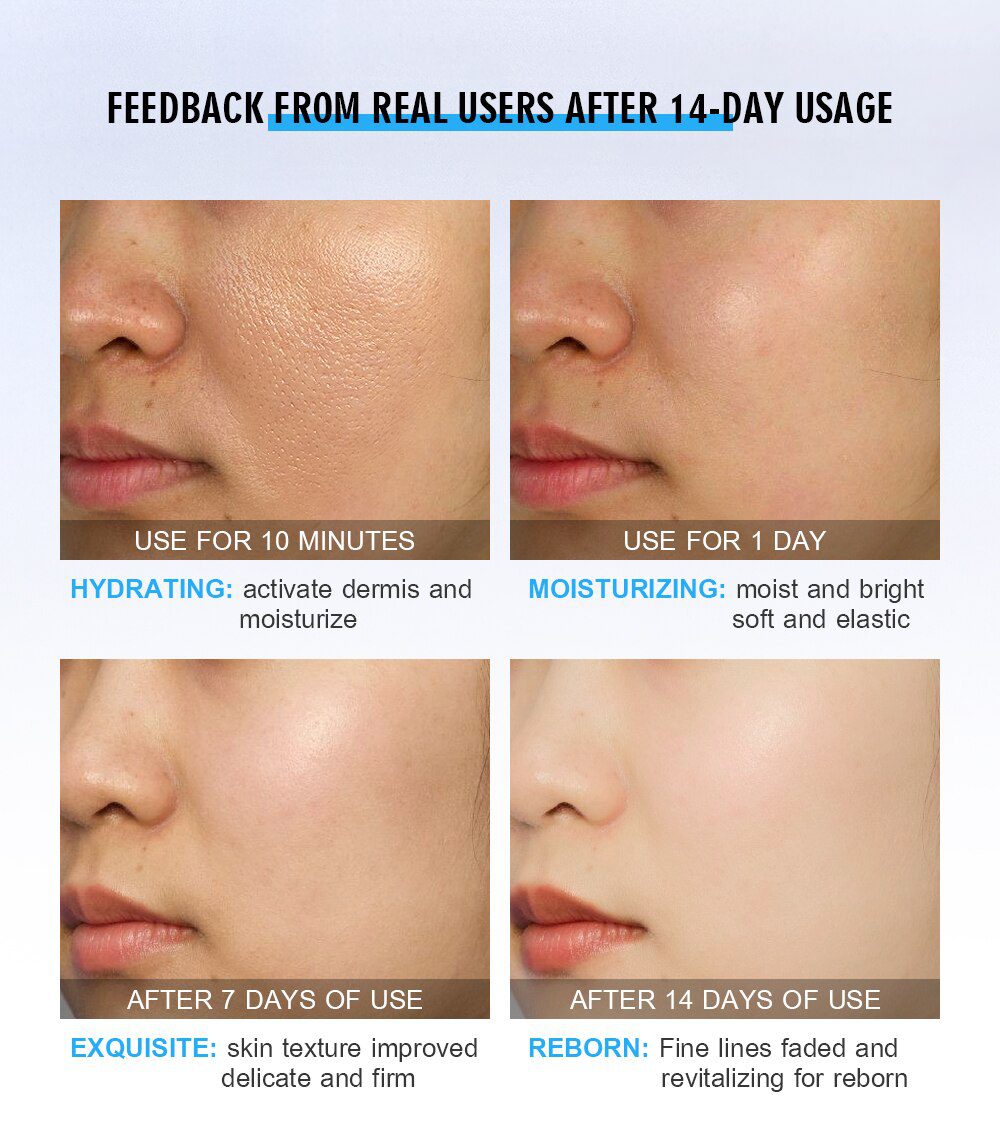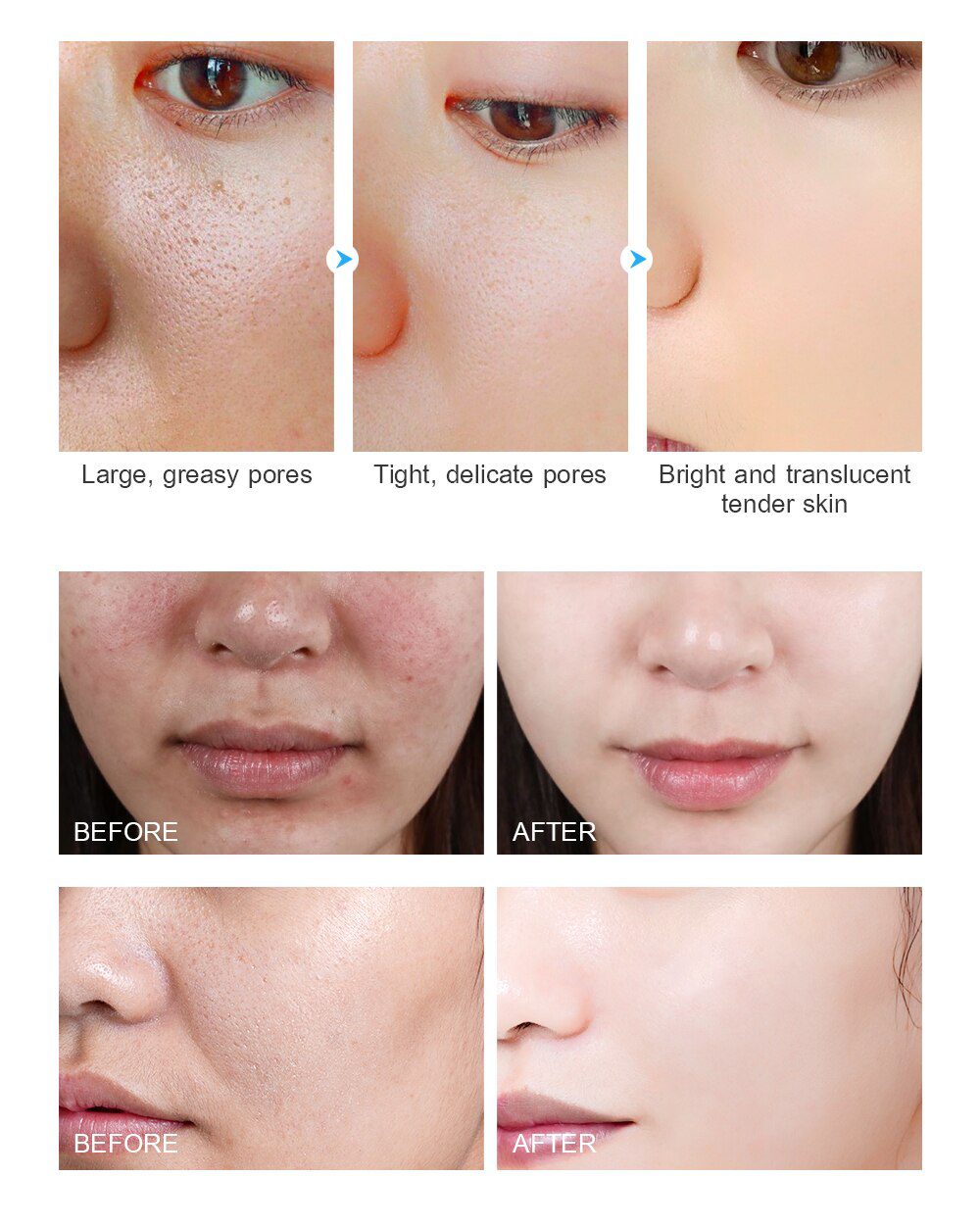 Dry and rough skin is always dry
Skin hydration is the key
-Hyaluronic acid hydration
A polysaccharide stored in human skin, has a good moisturizing effect, strengthens the skin's moisture barrier, makes the skin more elastic, and has the effect of making the skin smooth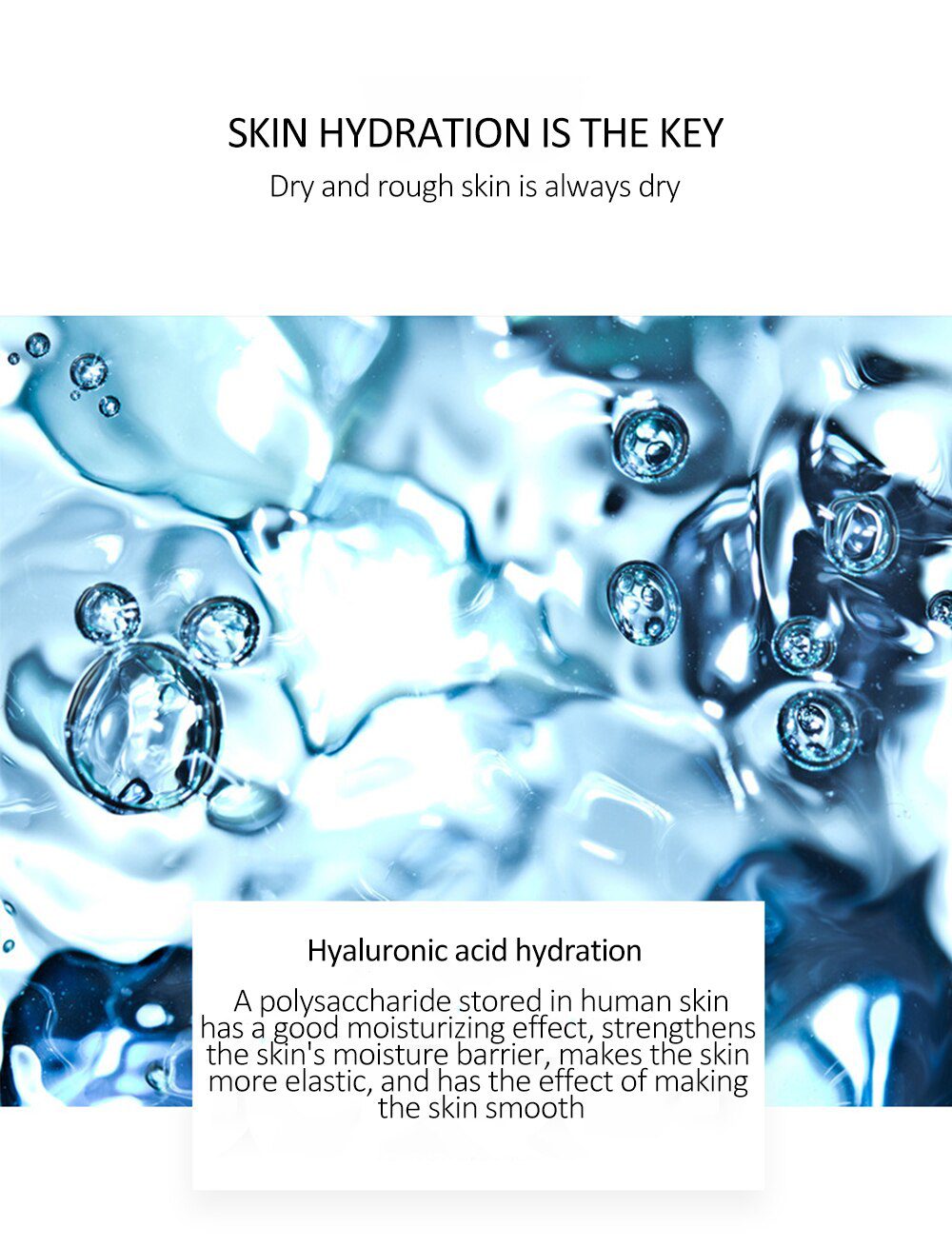 "The ideal moisturizing factor for hyaluronic acid beauty and moisturizing"
Elements required for hyaluronic acid
"The ideal moisturizing factor for hyaluronic acid beauty and moisturizing"
-The human body has hyaluronic acid, and as time goes by
-The human body's hyaluronic acid content is gradually decreasing, and human skin is aging, so it is determined
-The human body's hyaluronic acid content is related to skin undulation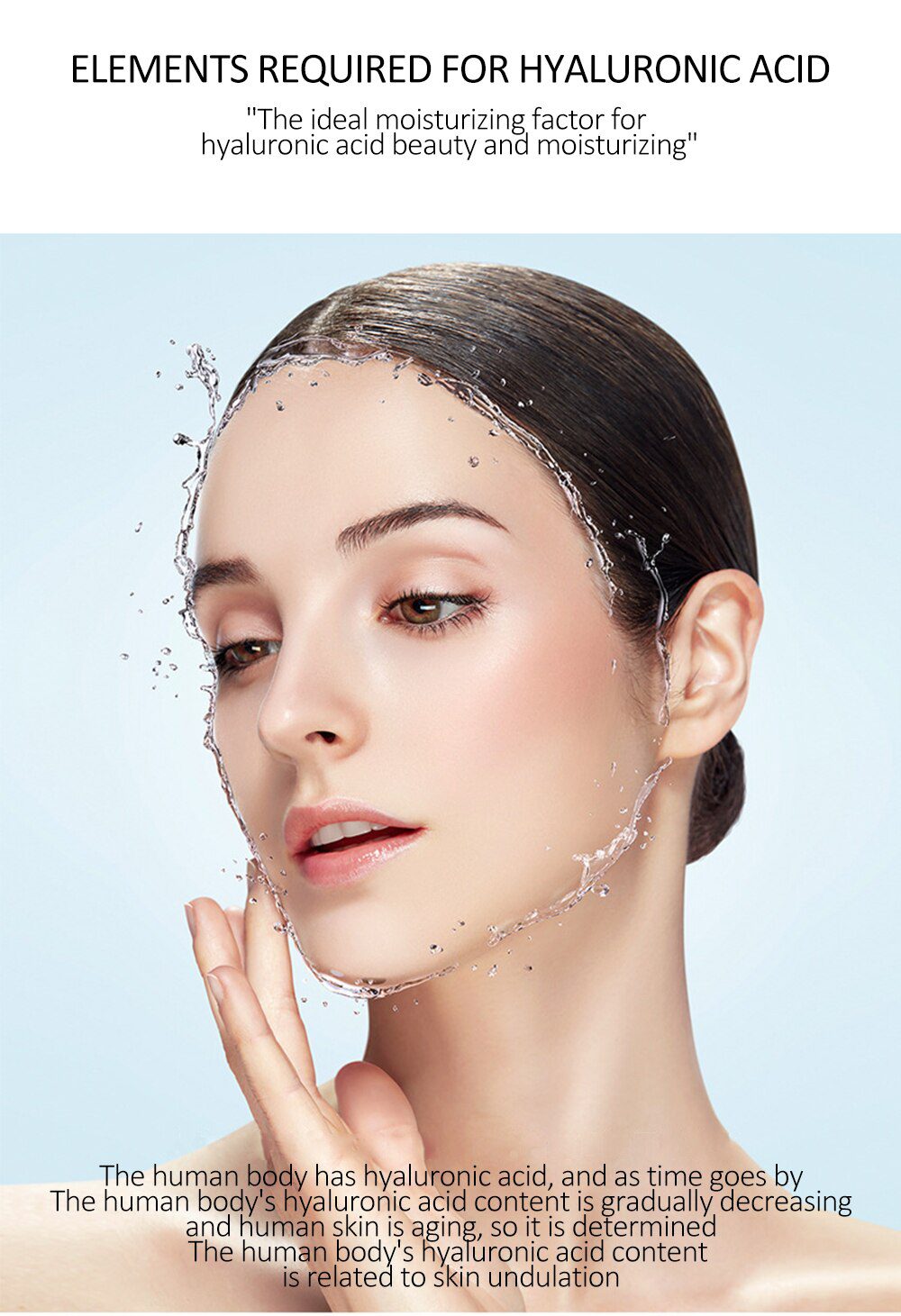 Using three molecular weight hyaluronic acid stock solutions
"Essence replenishes water and promotes absorption, providing effective skin care"
Matching makes moisturizing more effective
Hyaluronic acid can effectively reach all layers of the skin
Skin from the inside out, intensive hydration really changes
Good for the lack of water inside the skin and build a moisture barrier
-Small molecule hyaluronic acid
The skin surface forms a moisturizing protective film
-Middle molecule hyaluronic acid
Penetrates into the stratum corneum, moisturizes and cares for the skin
-Macromolecule hyaluronic acid
Penetrates into the dermis to replenish water and promote absorption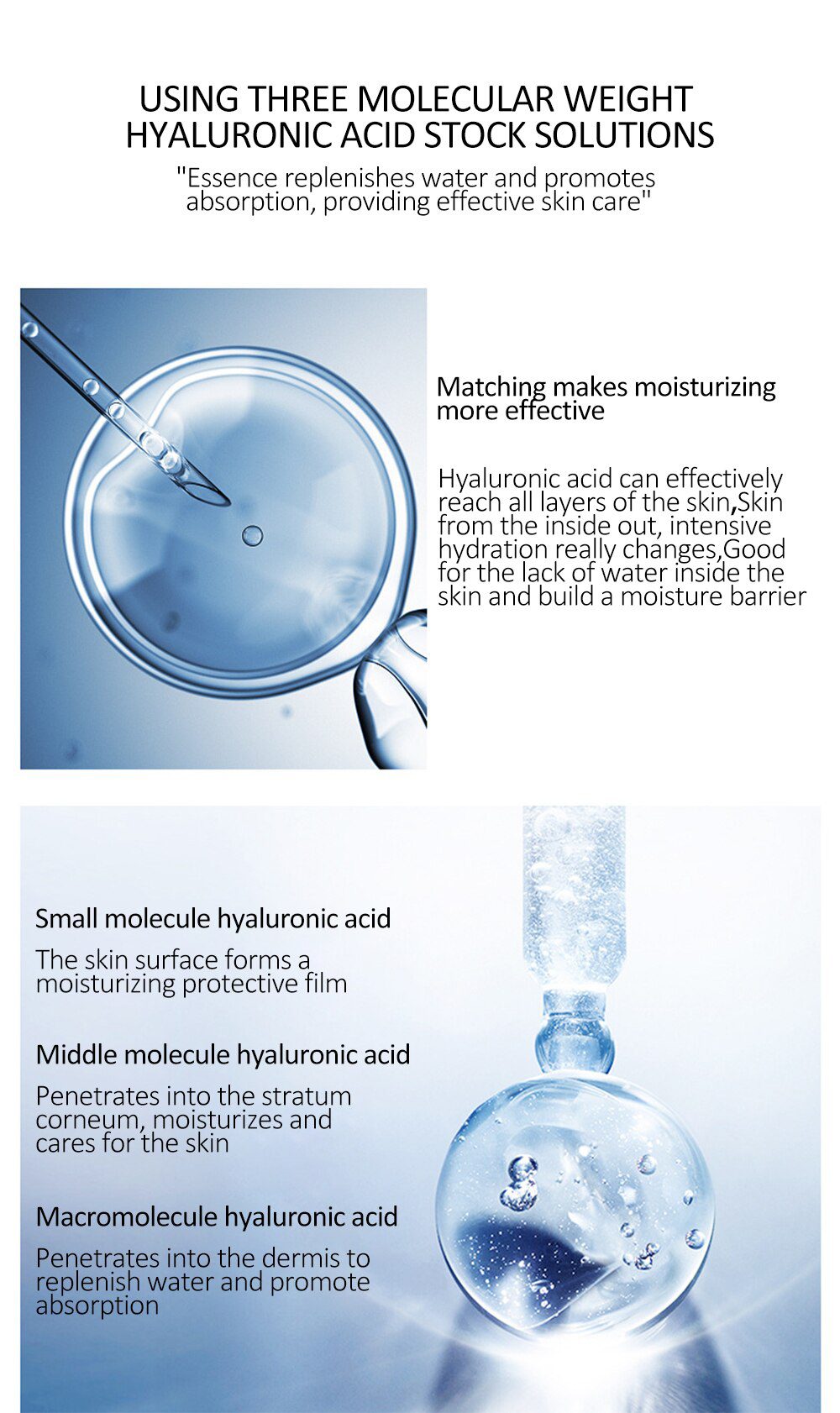 "Skin moisturizing and hydrating make the skin crystal and elastic"
A drop essence repairs the bottom of the skin
Moisturizing care
Moisturize dry skin and improve skin moisture balance
Refine your skin
Moisturize the skin and make the skin glow
Moisturizing and brightening
Help improve skin dullness and enhance skin gloss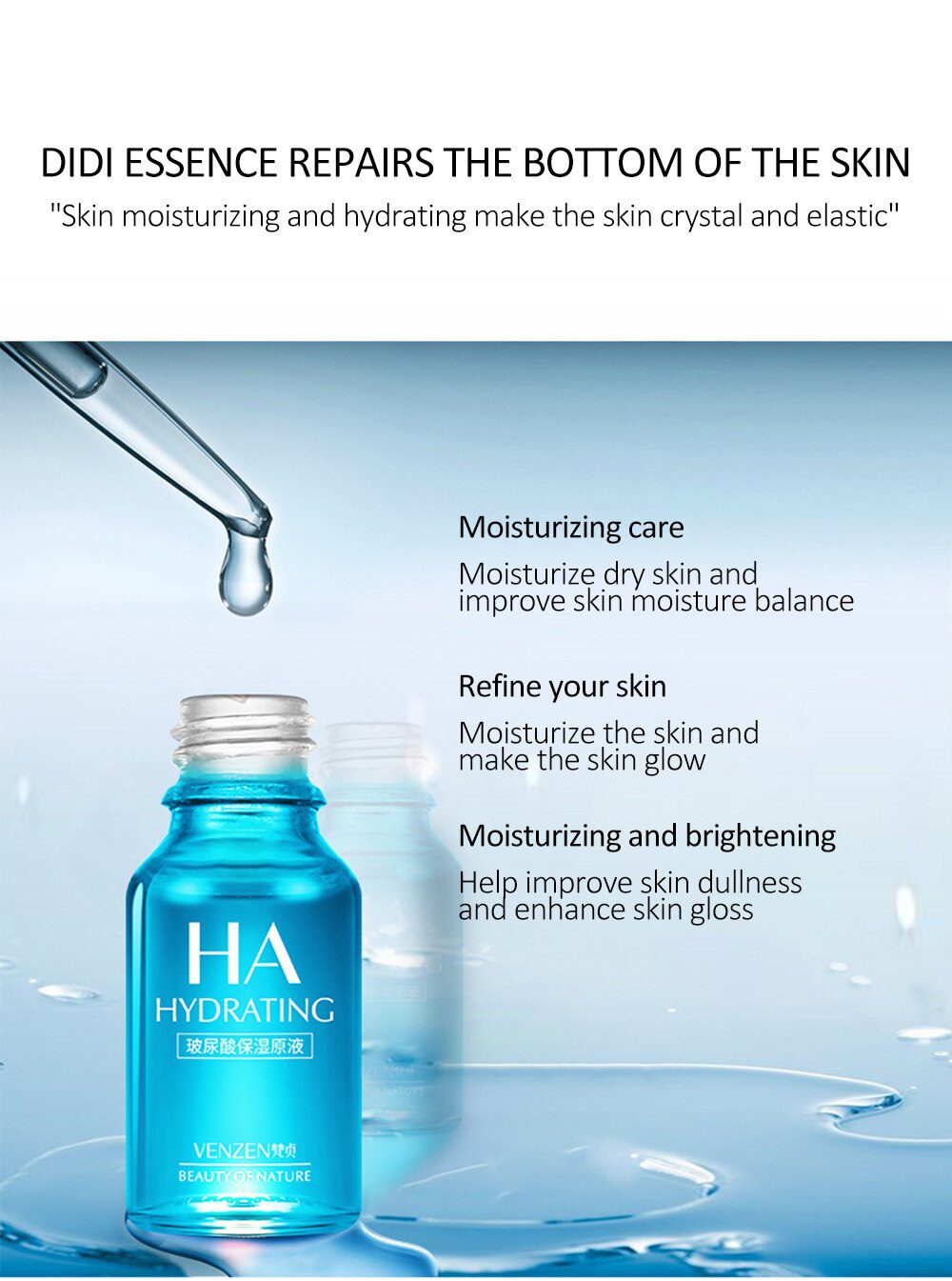 Small blue bottle water light moisturizing review
"Hyaluronic Acid Moisturizing Liquid"
The texture is not sticky, not thin, refreshing and easy to push away
Colorless and transparent for full face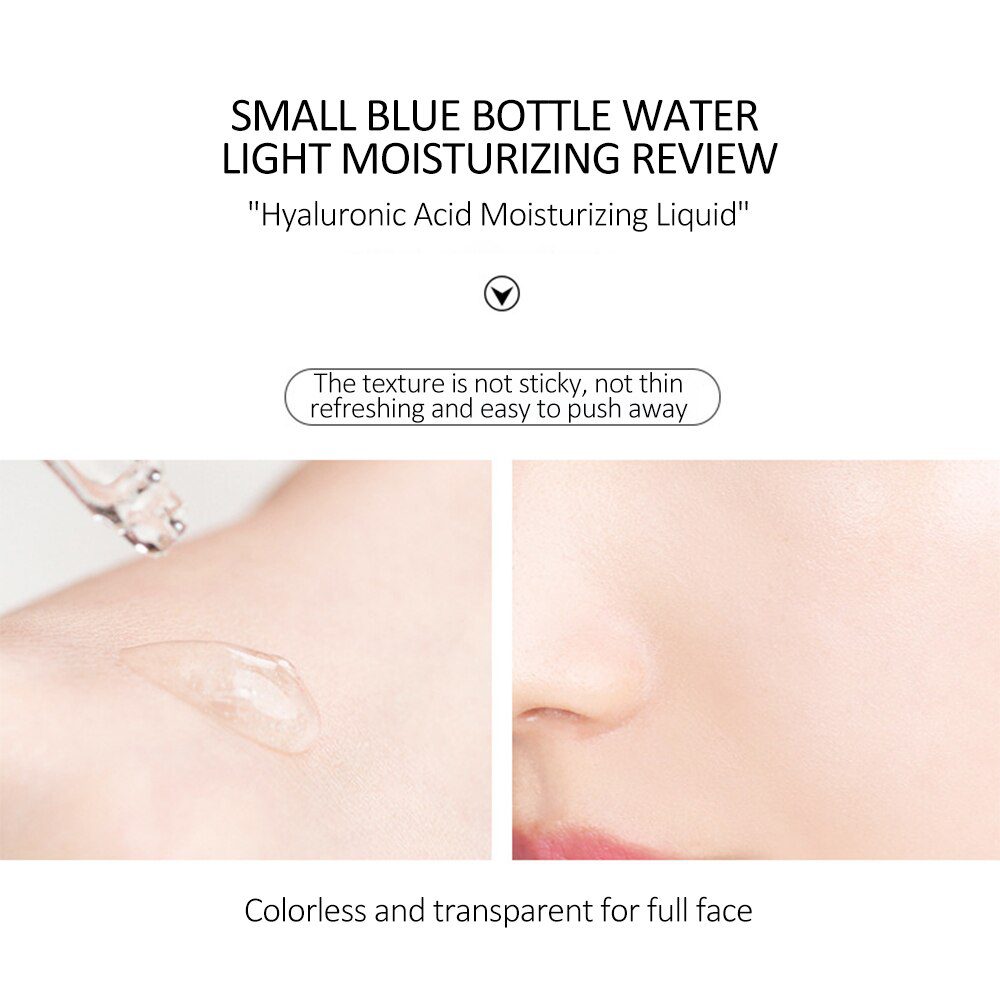 Moisturizes and brightens, leaving skin smooth and elastic
PH to weak acid
Mildly moisturizing
Hyaluronic acid essence, moisturizing and moisturizing skin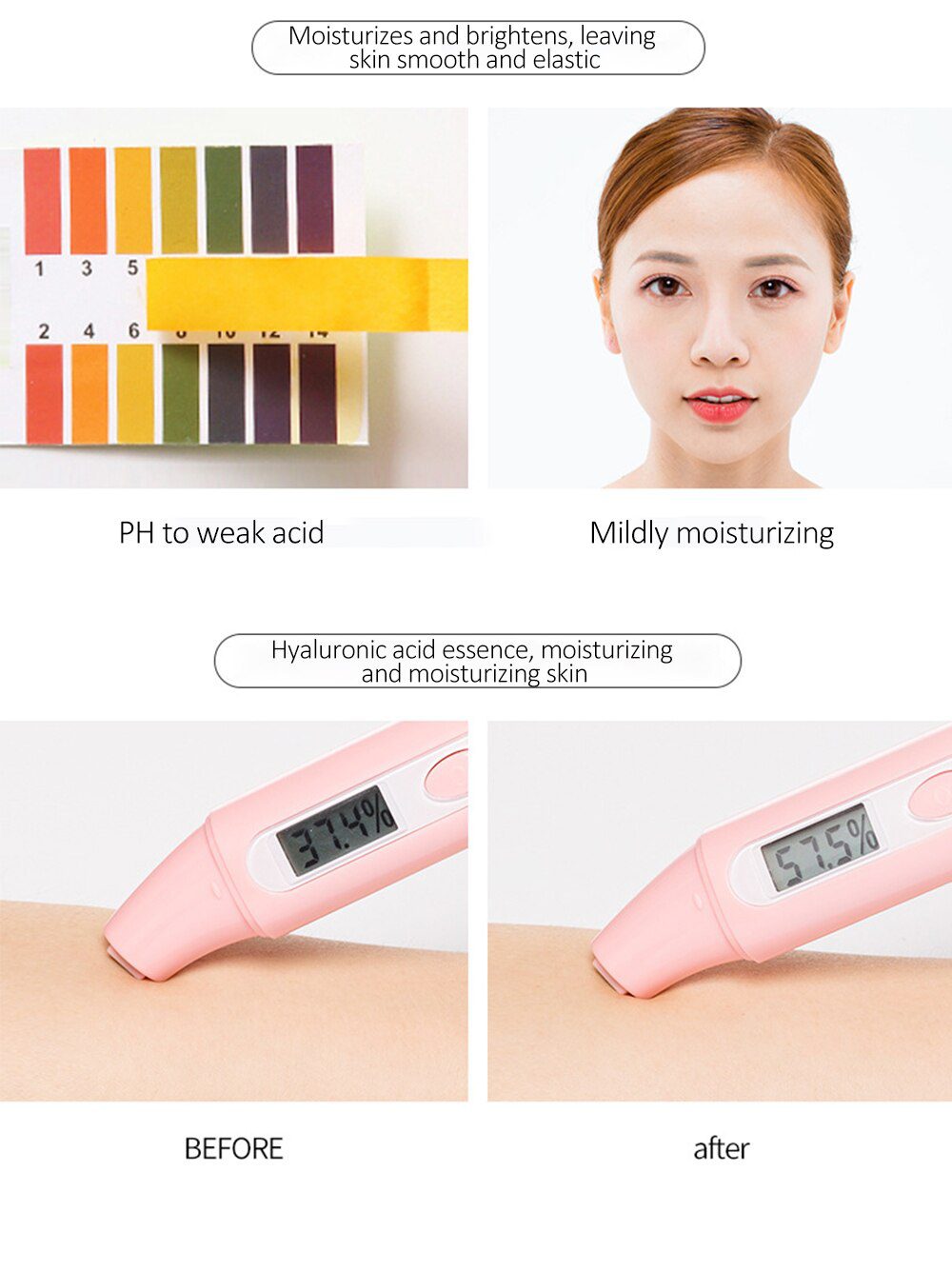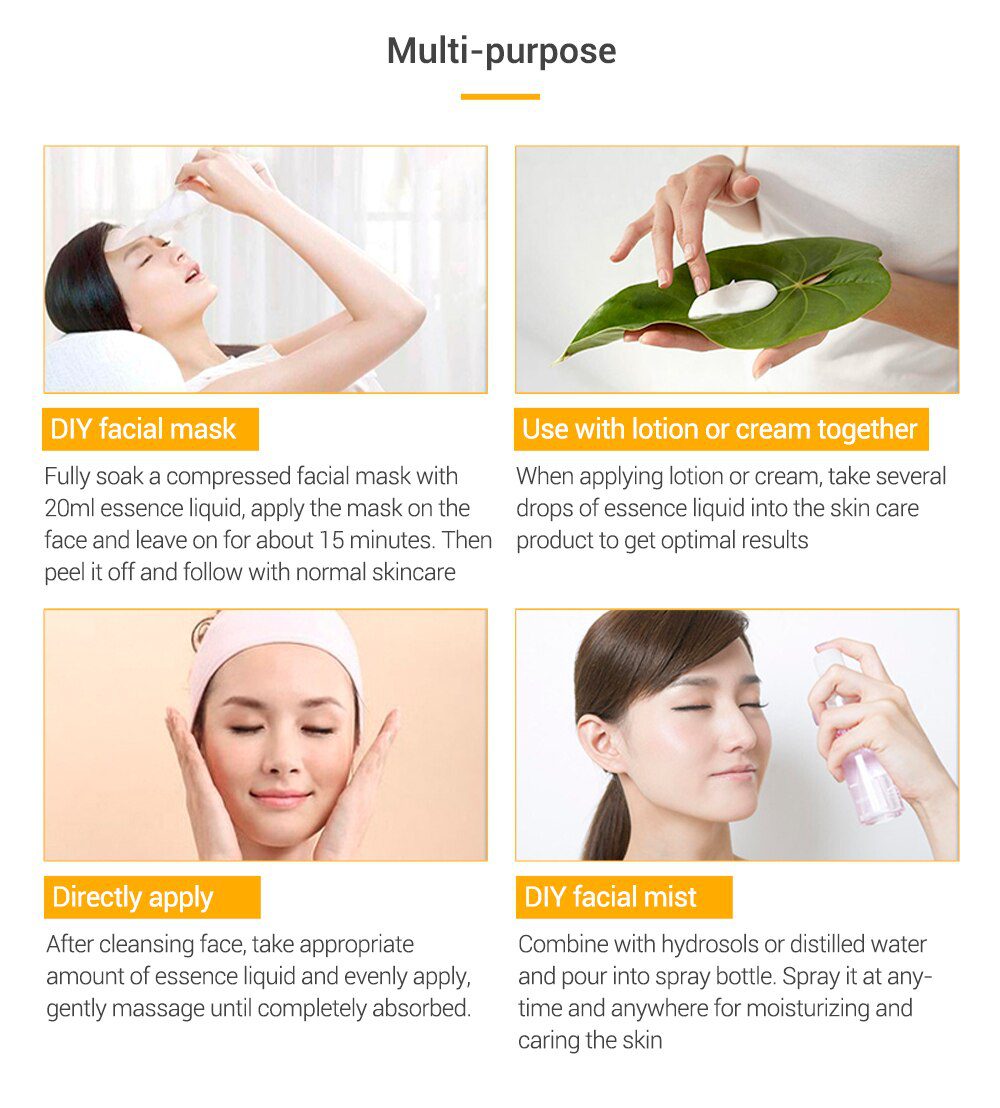 Multi-purpose
♥DIY facial mask
Fully soak a compressed facial mask with 20ml essence liquid, apply the mask on the face and leave on for about 1-5 minutes. Then peel it off and follow with normal skincare.
♥Use with lotion or cream together
When applying lotion or cream, take several drops of essence liquid into the skin care product to get optimal results.
♥Directly apply
After cleansing face, take appropriate amount of essence liquid and evenly apply, gently massage until completely absorbed.
♥DIY facial mist
Combine with hydrosols or distilled water and pour into spray bottle. Spray it at any-time and anywhere for moisturizing and caring the skin.