Letike M4 Fitness Tracker Heart Rate Monitor, Activity Tracker Smart Watch IP67 Waterproof SMS&SNS Reminder Tacking Sports Pedometer Watch with Sleep Monitor Step Tracker for Women Men IOS Android Phone

ღ MULTIFUNCATION BLUETOOTH SMART WATCH -Pedometer, Calories, Distance, blood pressure monitor ,Heart Rate Monitor, Blood pressure ,Sleep quality measurement, Call reminder, Alarm clock,Search bracelet and so on, these amazing features are available, do not hesitate; new App wearfit is more comprehensive, inside newest chip more stable faster and ,Besides, it is with high quality comfortable and fashion strap.
ღ ANDROID AND IOS PHONES COMPATIBLE – This smart watch is compatible with all Bluetooth enabled smartphones including Android and IOS phones. IOS phones such as iPhone X/8/8 Plus/7/7 Plus/6/6 Plus/6s; Android phones such as Samsung Galaxy S8/S8 Plus/S7/ S7 Edge/S6/S6 Edge/S5/S4/S3, iphone 6 or above ,Samsung Note 5/4/3/2, SONY, HTC, Huawei, Xiaomi, ZTE, Lenovo, OPPO,LG smart phones. not support 5/5s/SE
ღ DURABLE AND COMFORTABLE WATERPROOF SMART WATCH – Precision laminating process,Anti-sweat Nano TPU85 material watch strap, very light-weighted to wear, and the soft watch strap is comfortable to wear. Unique waterproof design, good for outdoor activity.
ღ Simple operation: Flip your wrist and the screen will be bright. Shake your arm and you can take photos, so that the self-portraits more conveniently. Set this function manually by APP.
ღ SMART GIFT FOR YOU,YOUR LOVERS AND YOUR FAMILY – This fashion and multifunctional smart watch,very easy and durable to use, it's suitable for any age people even your children and the elderly. We will offer you Lifetime Warranty of our Bluetooth smart watch, so just purchase it without any worries. Our Bluetooth smartwatch is a good gift for you,your family and your friends!
Main Features:
✔Full screen horizon,HD display brings you different visual experience mirror surface made of Super large arc 2.5D curved glass, mainstream curved glass grinding technology, new G+F full glass bonding process, sensitive and solid and scratch resistant and wear resistant
✔ All-day Activity Tracking: Accurately record all-day activities like steps, distance, calories burned, active minutes and sleep status.
✔ Bright Colorful Display and Waterproof: See your daily activity and time on 0.96 inches TFT Display screen. IP67 waterproof allows your washing hands, getting caught in the rain.
✔ Heart Rate & Sleep Monitoring: Tracks heart rate automatically and automatically tracks your sleep duration & consistency with comprehensive analysis of sleep quality data, helping you adjust yourself for a healthier lifestyle.
✔ See Calls & Messages on Your Wrist: Receive call, calendar, SMS and SNS (Facebook, WhatsApp,and Twitter) notifications on display; never miss the messages that matter.
General
Main material: Case: platic ; Strap: Silicone
Shape of the dial: Rectangle
Case material: PC
Band material: TPE
Product Size(mm):about
245*16*11.5mm
Product Net Weight (g): about 30g
Main Display : 0.96 "
Button: one-touch
Type of battery: li-ion battery
Battery Capacity: 90mAh
Standby time: 10 days
Normal use time : 3-5 days
Charging Time: About 2hours
Alarm group: 8
Alert type: Vibration
Function
Step counter: Support
12h/24h time format selection: support
Mileage: Support
Calories: Support
Sleep Monitoring: Support
Heart rate: support
Blood pressure : Support
Alarm: Support
Continuous Heart Rate Monitoring: Support
Sedentary reminder: Support
Blood Pressure: Support
Stopwatch: Support
Sports Mode: Support
Find bracelet: support
"Call, SMS, WeChat, QQ, skype, whatsapp, facebook, linkedin, twitter, viber,line notification alert": Support
Shake Photograph: Support
"Do not disturb mode (22:00-8:00 bracelet stop receiving notification, raise the hand bright screen function has no effect)": Support
Factory reset: Support
3-5 days for normal use ; 7 days long standby
Charging connector: usb
Package Contents
Package Contents: 1 x Smart Bracelet,1
x
English User Manual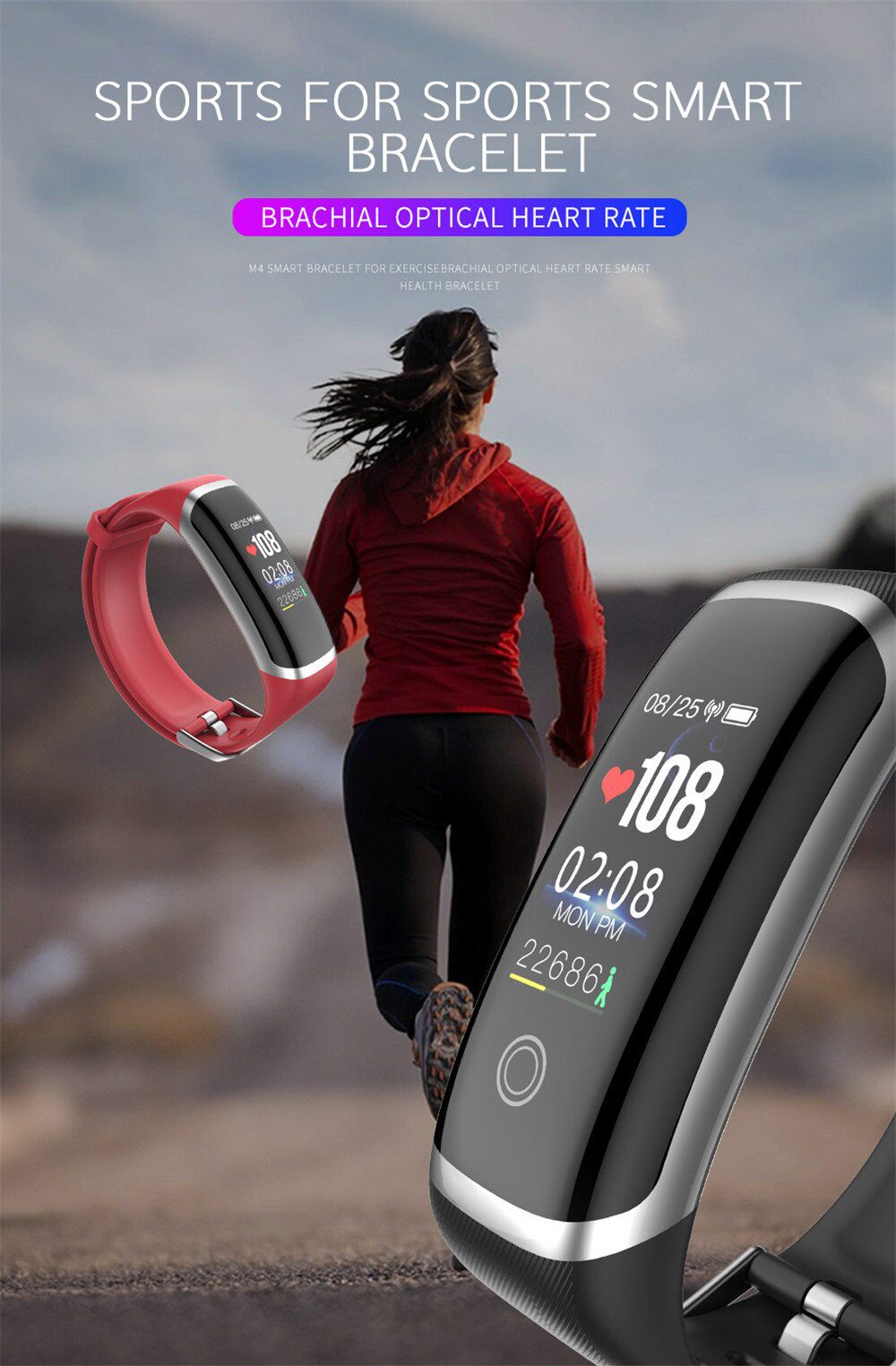 Born for sports simple but not simple
The combination of square and round design is strong and soft. Micro-arc body design with soft TPU strap, perfect fit to the wrist, more comfortable to wear, breathable wicking groove, non-slip clasp, no sense of lightness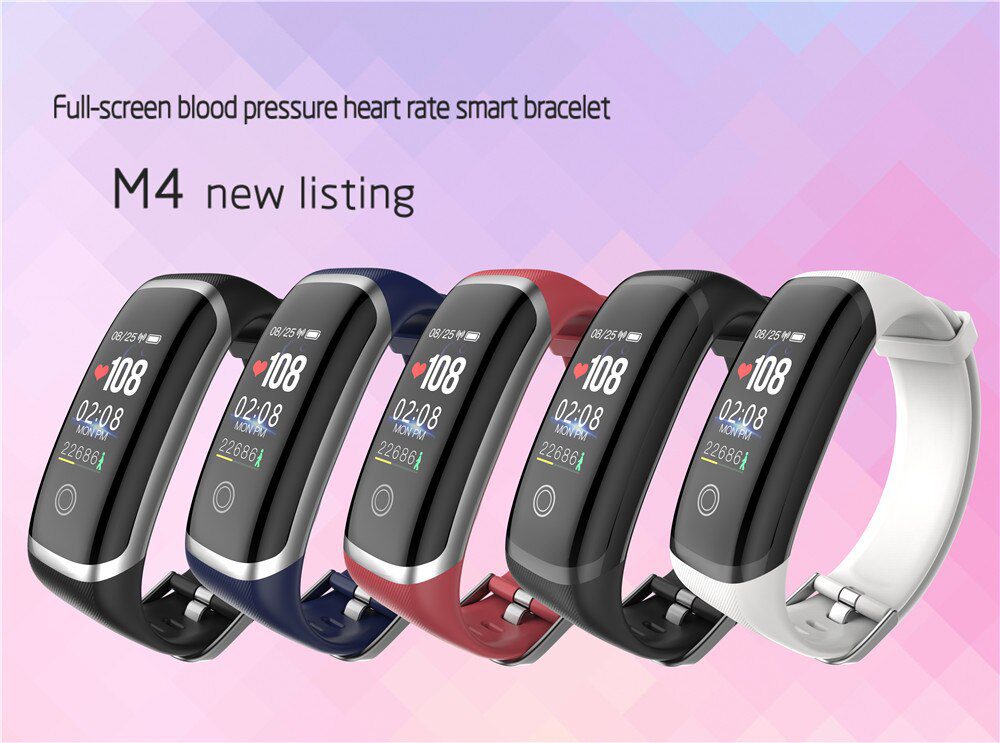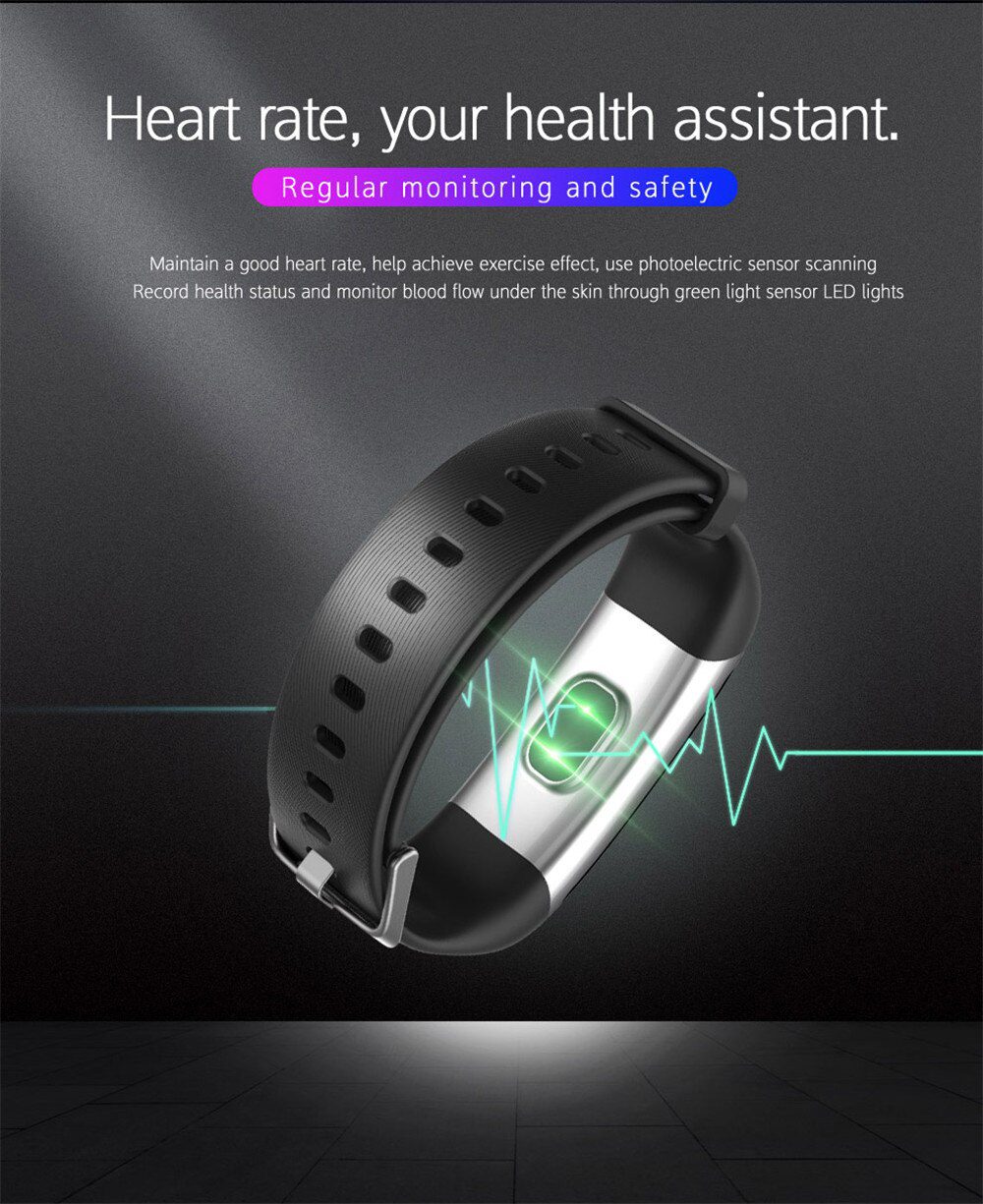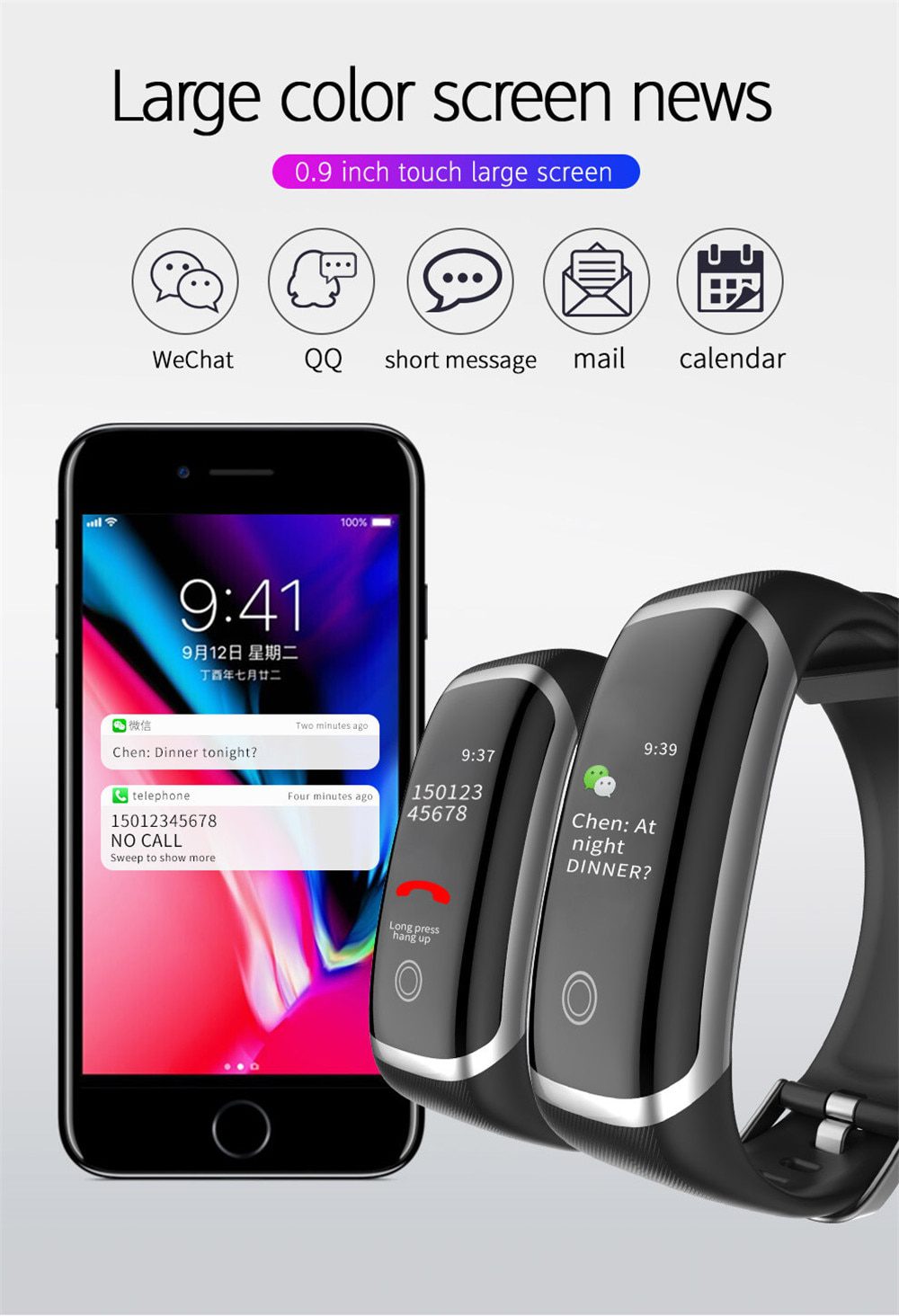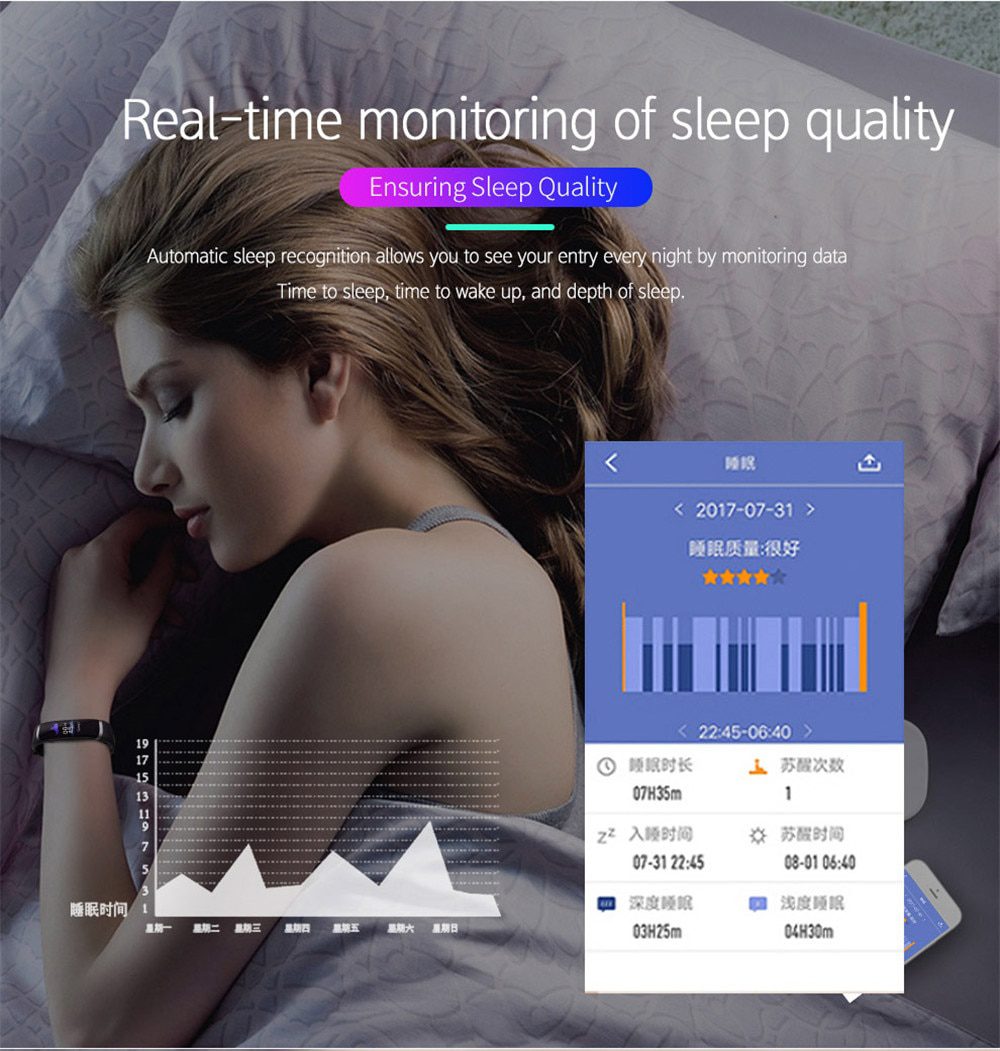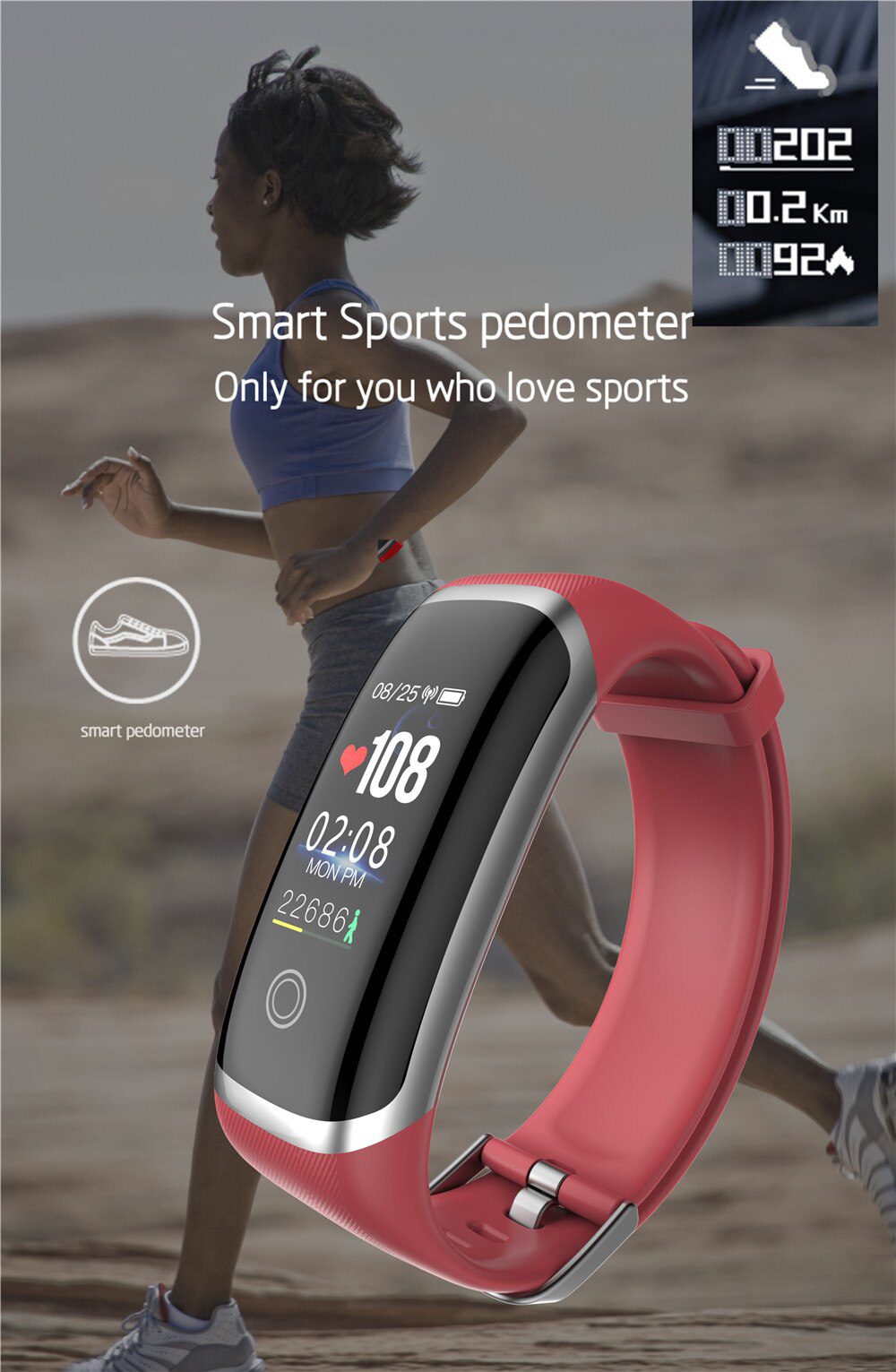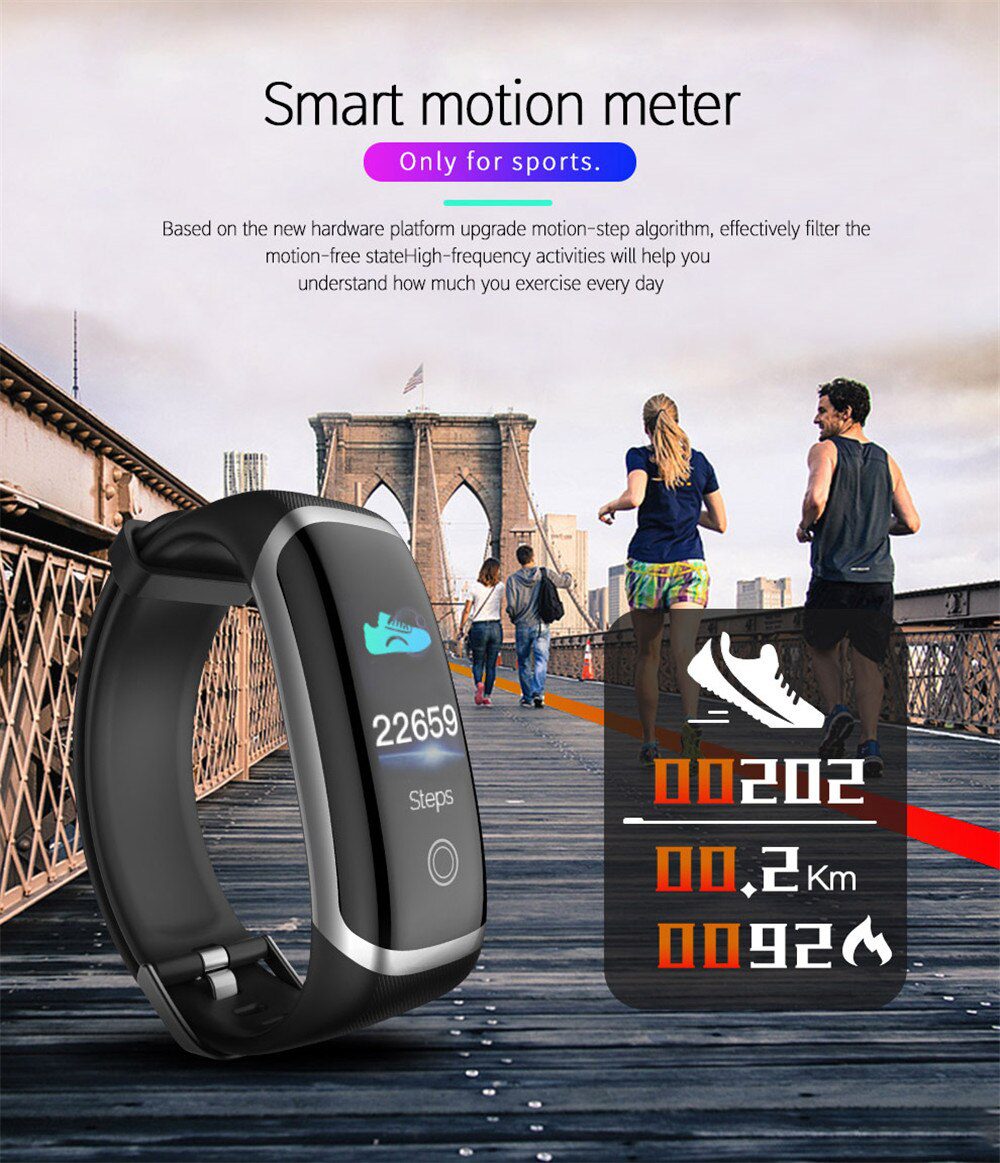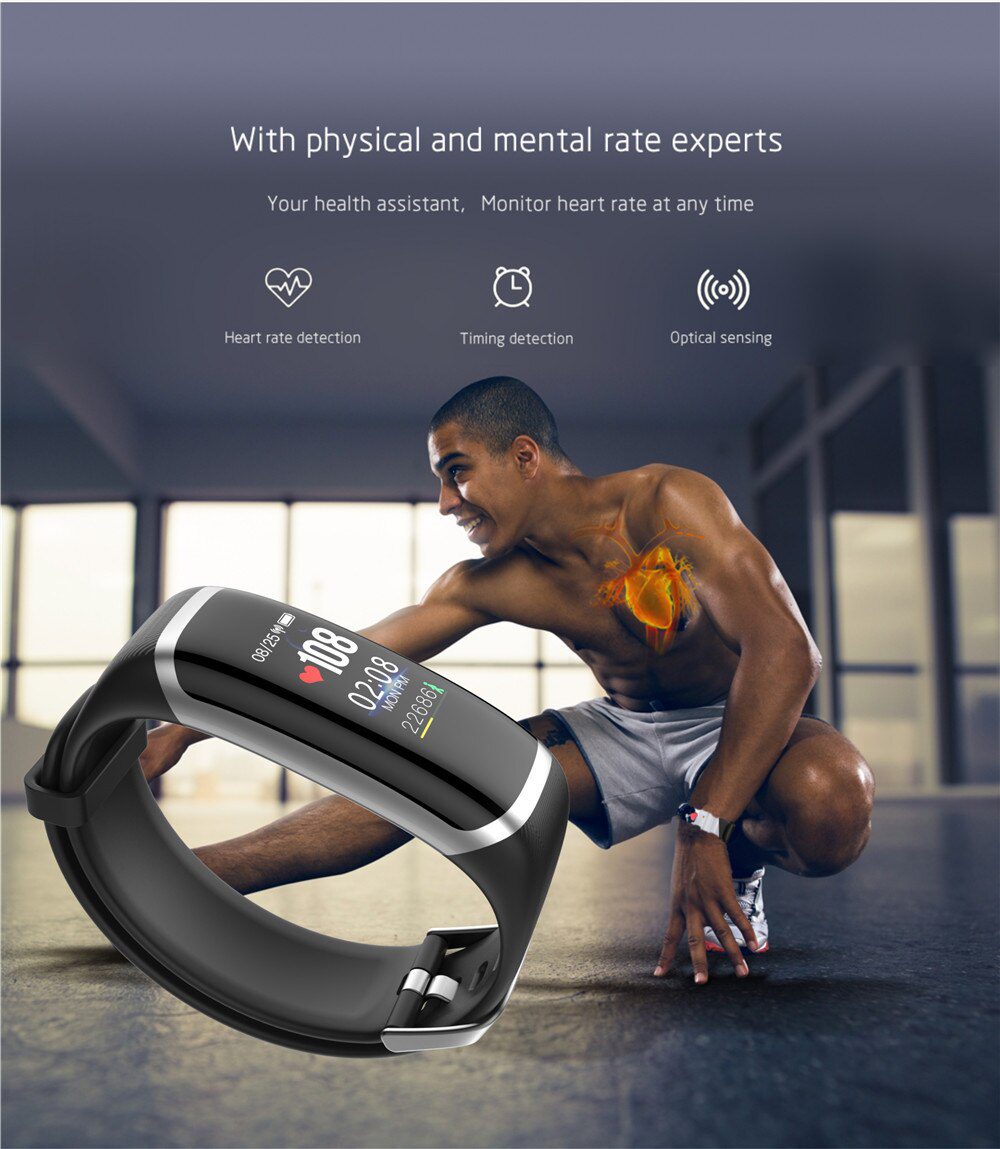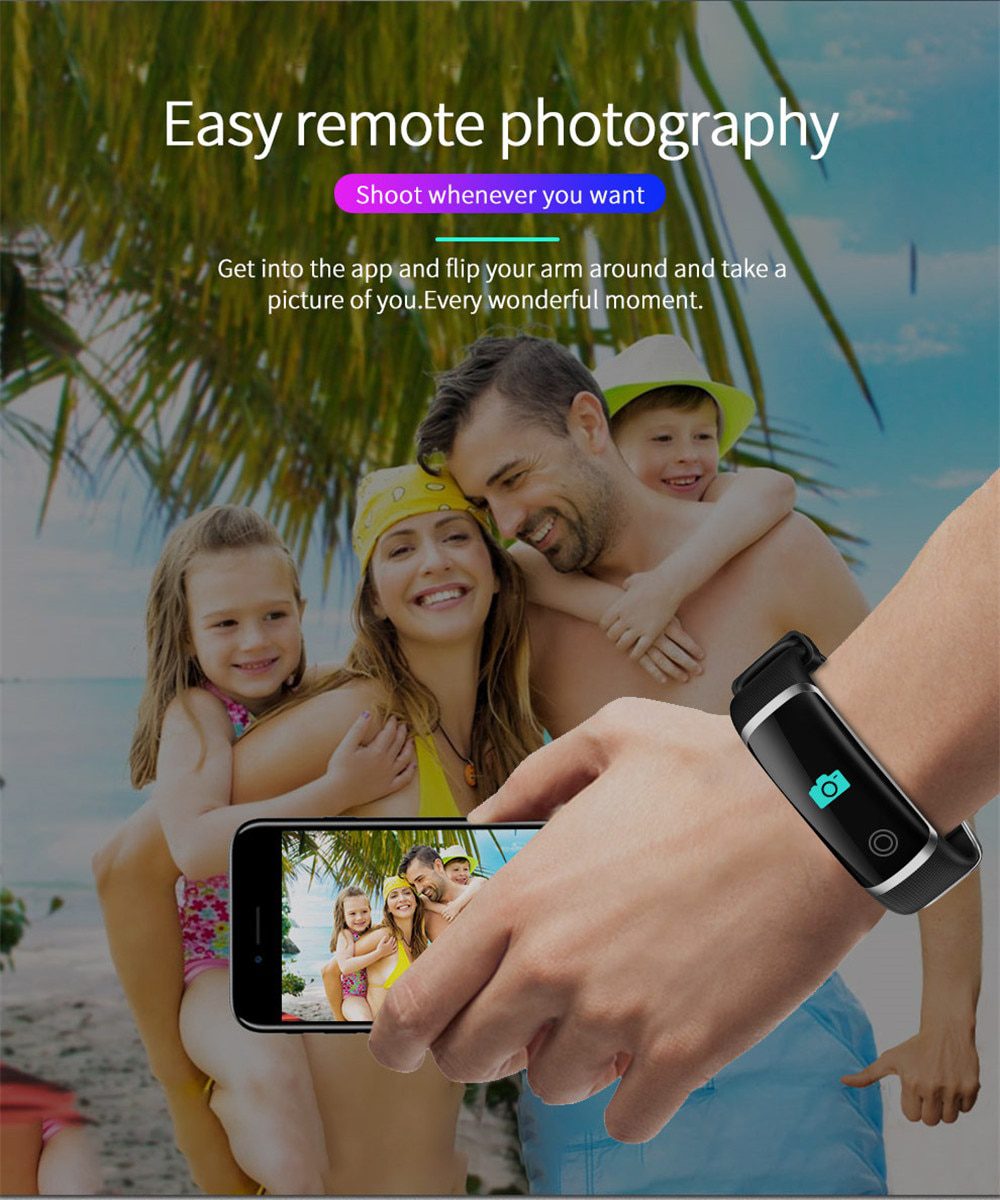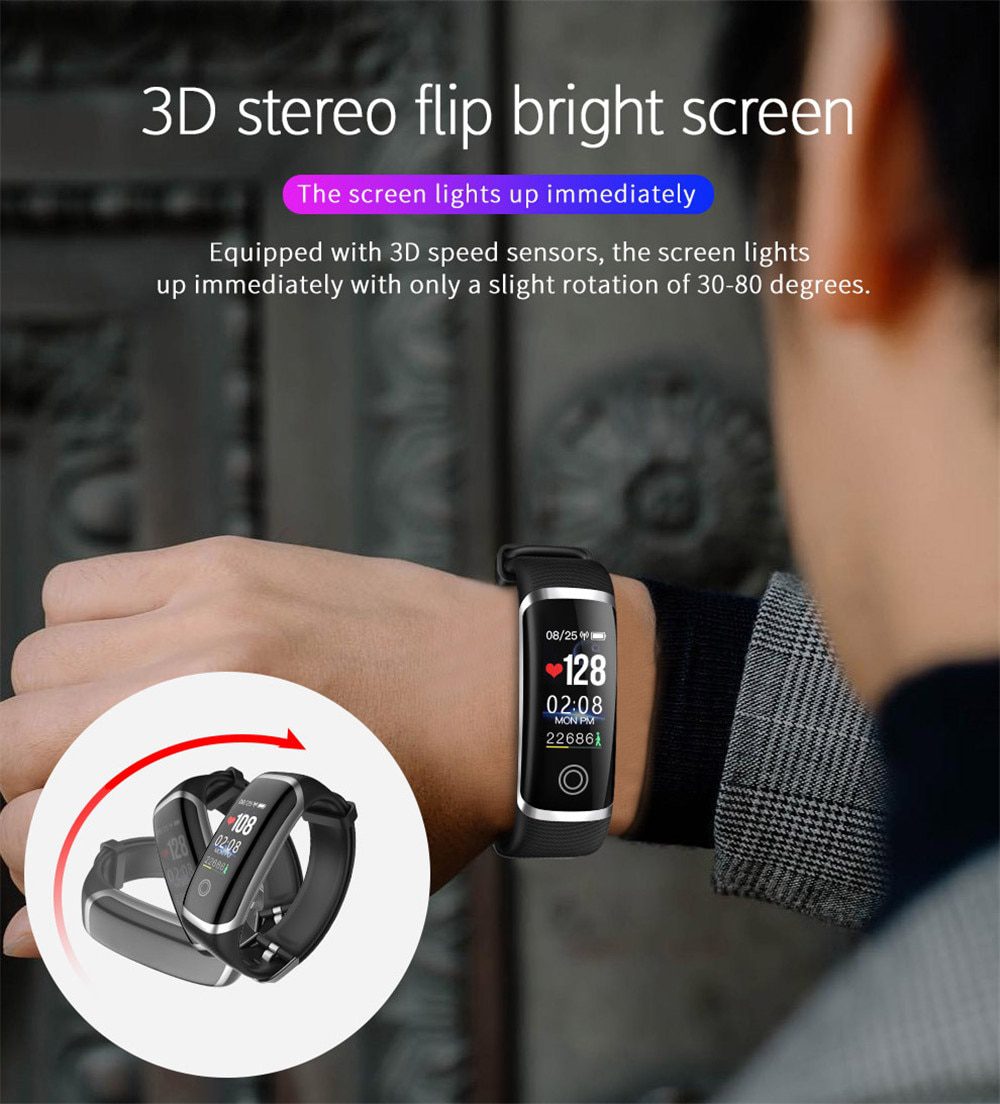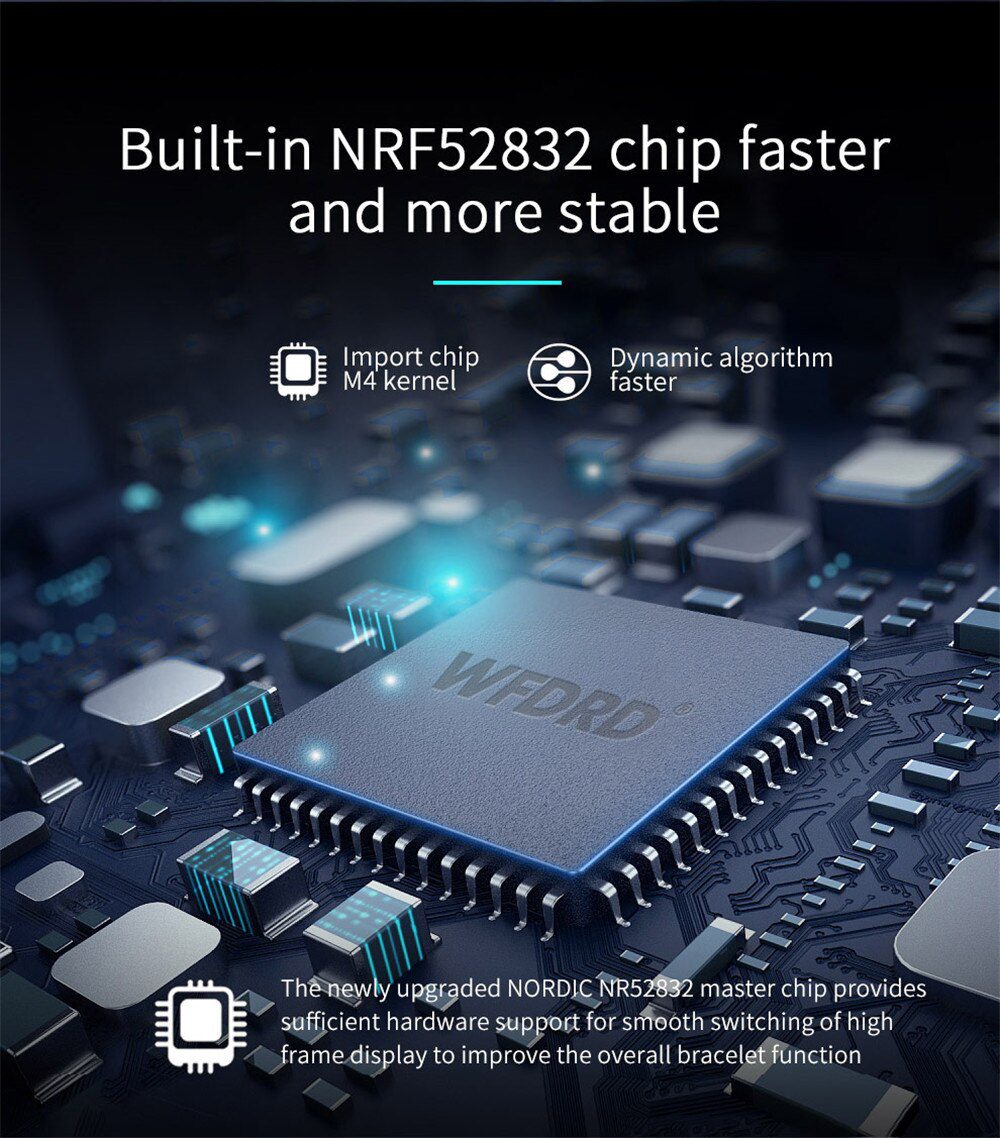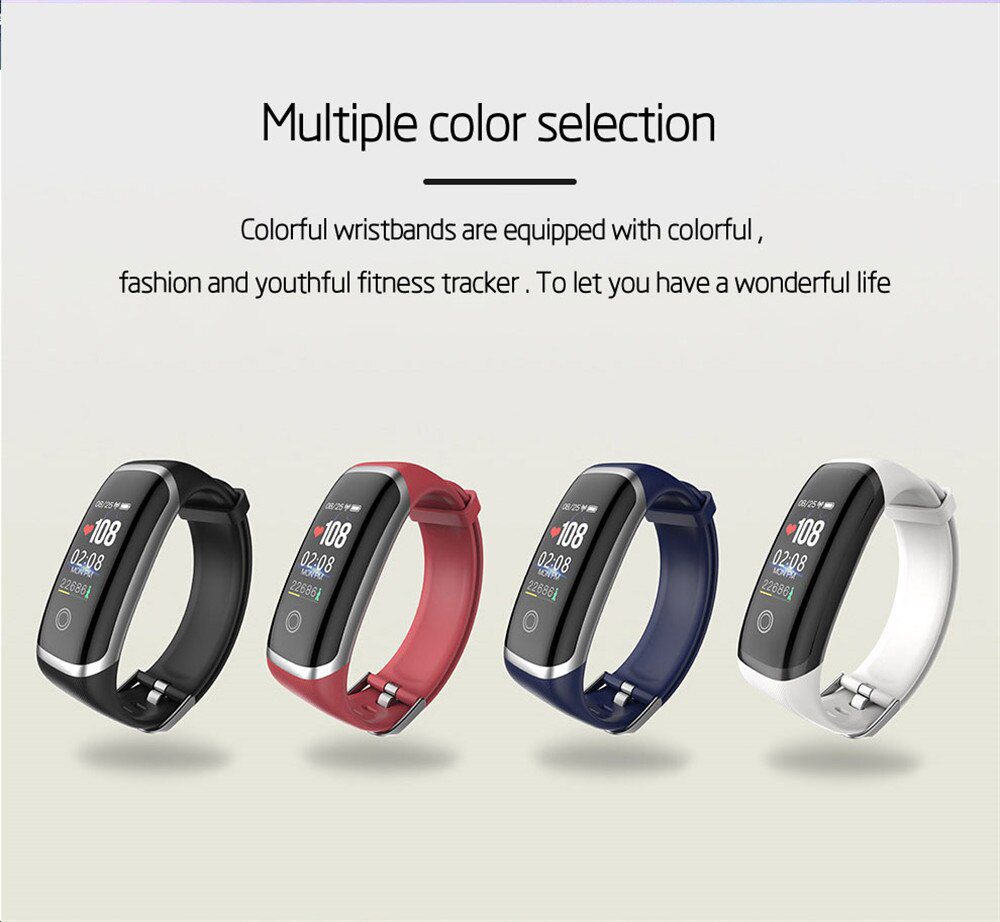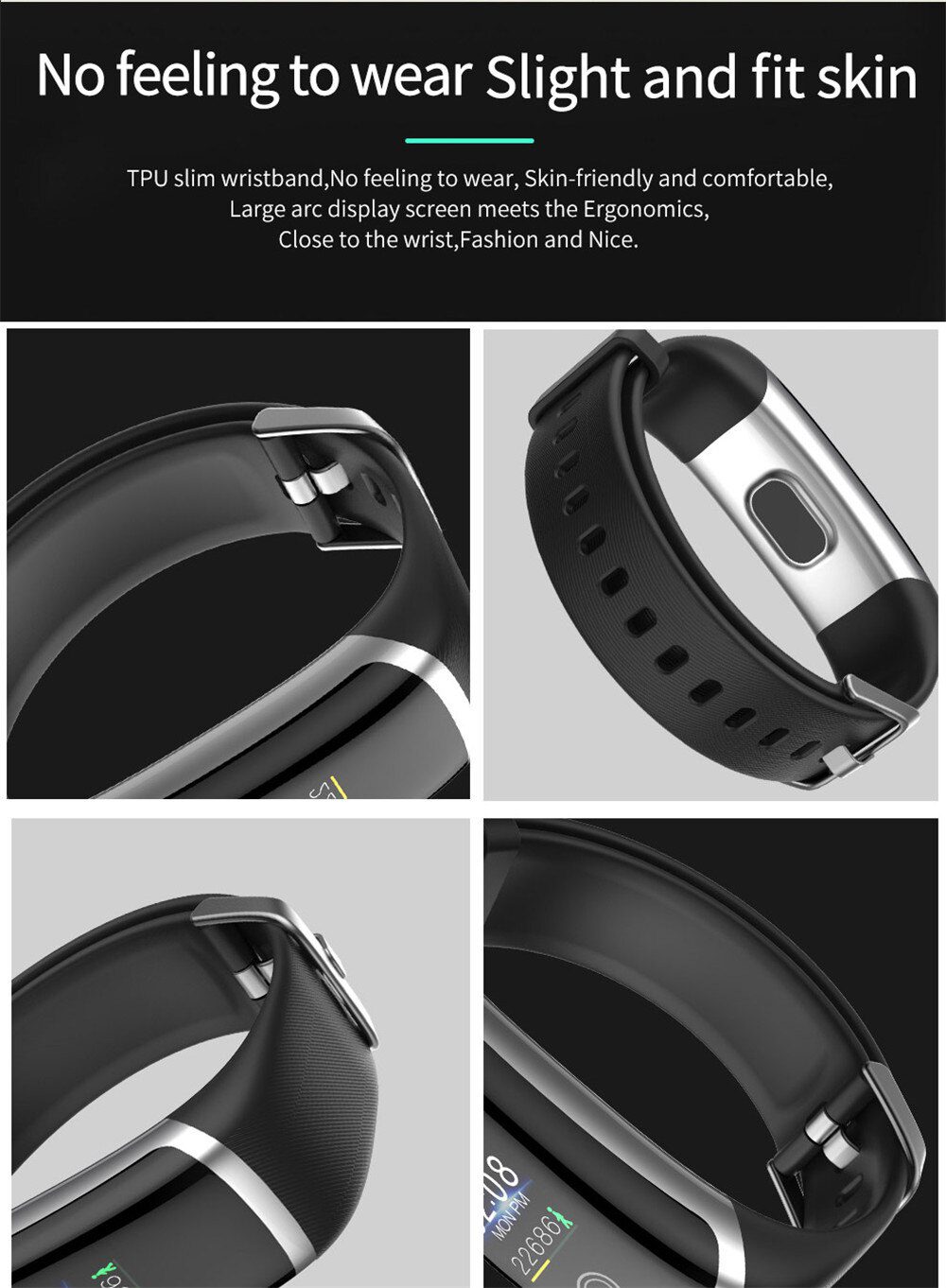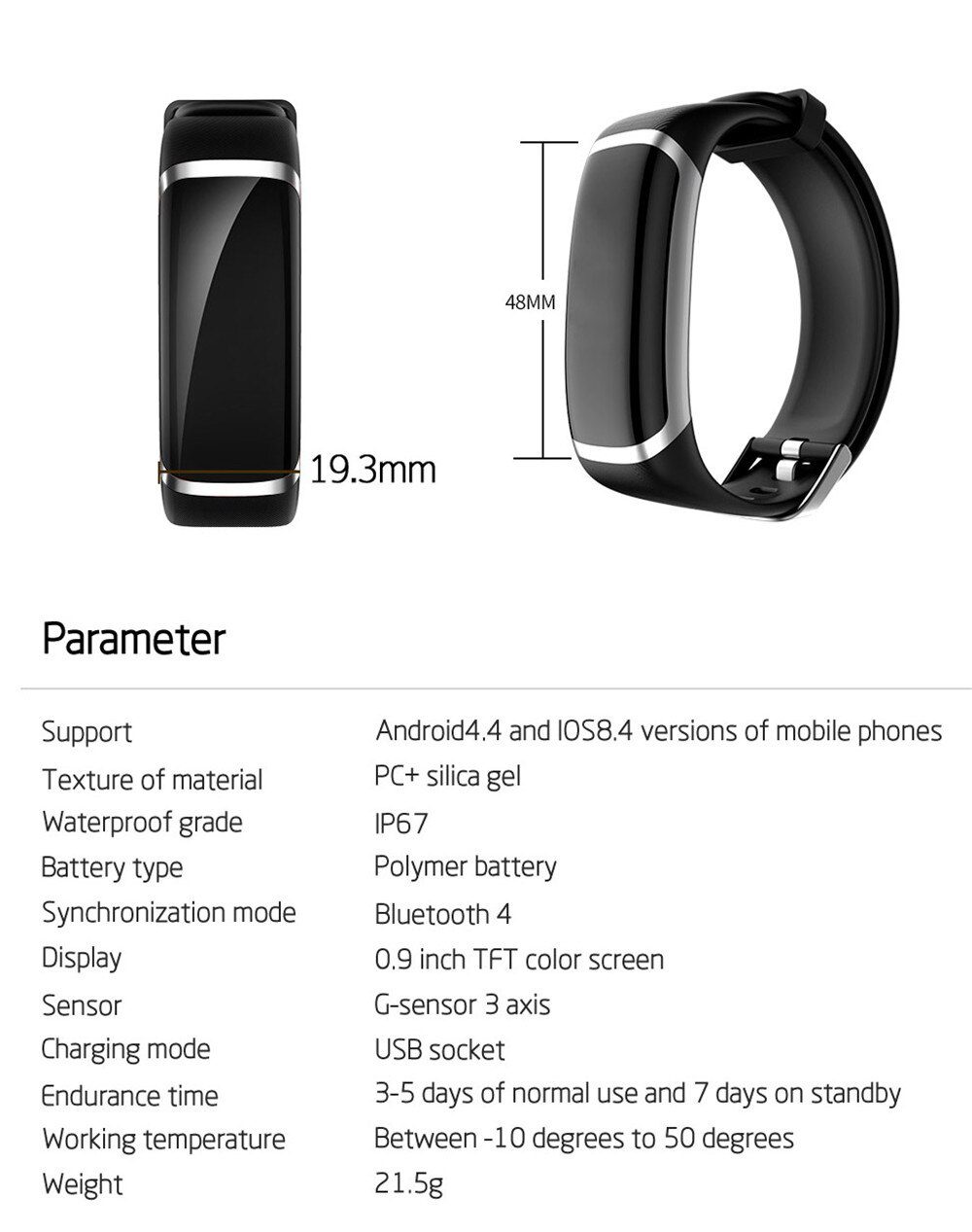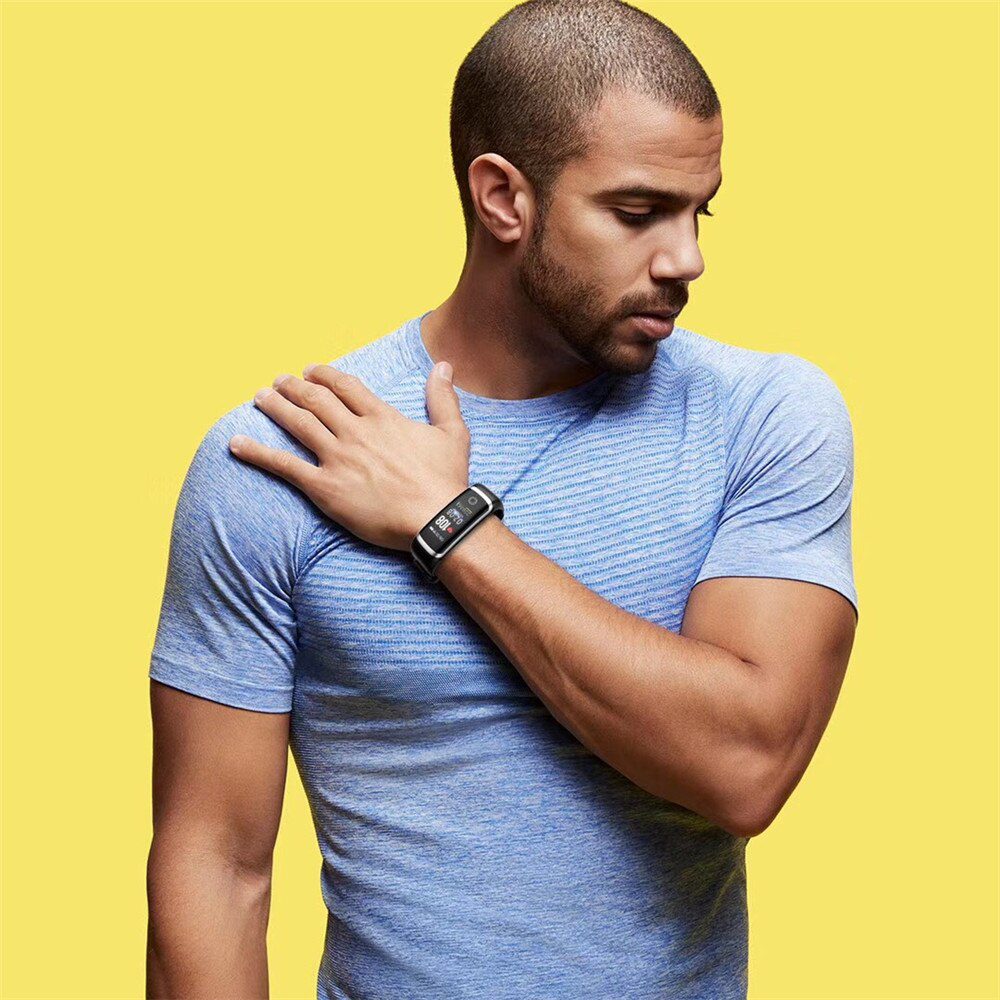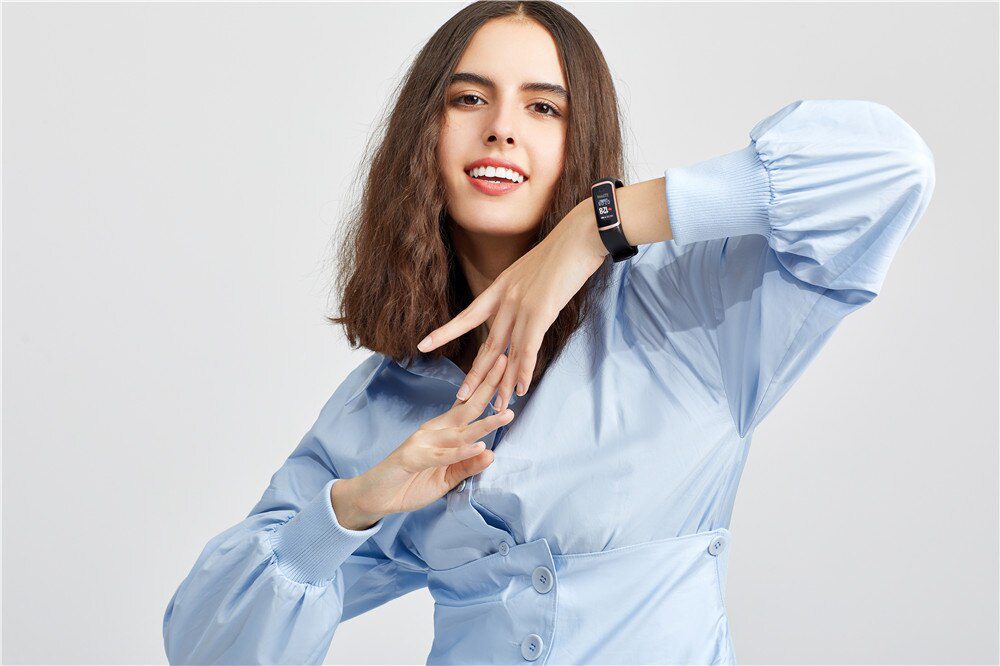 For the problem that the bracelet can measure the heart rate in things and in the air, the following explanation is made:
1.At present, the mainstream heart rate bracelets on the market adopt the same measurement method. The principle is not complicated, that is, the PMG signal of the radial artery is obtained by the reflective photoelectric measurement method, and the fast Fourier transform is performed on the PPG signal to analyze the frequency domain. To achieve the detection of the human heart rate. To put it simply, it is to use a light to the artery and then reflect it back. Based on the change of the reflected light, the heart rate of the human body is calculated.
2.Due to many factors such as the physiological structure of the human body, the color of muscles and blood, green light is the color with the highest passing rate in the human body. Therefore, the light source of the heart rate sensor uses green light to achieve minimum loss and interference.
3.Heart rate wristband detection focuses on human tissue. Some data is also read for non-human objects. This is a known and normal phenomenon. After the data is based on the principle of light reflection, the heart rate detection will have a reading. This situation cannot be All avoided, so there will be problems with heart rate data in the case of heart rate bracelet (table) in the case of "air test".
How to use it >>
step 1 : Please charge your new device for at least 10 minutes or more before the first usage, this ensures normal device boot and optimal operation.
step 2 : Power on ( long-press 5-7 sec this button to power on )
tips : long-press button you can Switch to power on /off page , back to home
step 3 : download app ,Please search "Wearfit 2.0 " in your APP store and android market . and then download it ,and then Bind Bracelet ,(first time open APP ,click bind bracelet ) your device bluetooth ID name is "M4**"
step 4: open phone bluetooth ; search bluetooth in APP ,and connect bluetooth M4
step 5 : once your bleutooth has been connected, the Data will be Sync , and watches time will Sync with your phone
step 6: you can click mine ,to fill in your information
step 7: you can click device management , setting call reminder / message reminder etc function
FQA for M4 fitness tracker
>>
Why does the pedometer not count steps when I have already started walking?
To reduce errors, smart watch usually sets an initial value of 10, it will count steps when we walk more than 10 steps. The APP will show the real walking steps and start counting from step 10.
What application is used when connecting to a smart phone?
The app is designed by the supplier. You can scan the QR code on the package or manual to download it when you get the item.
Why the device cannot boot or start up properly?
Please charge your new device for at least 10 minutes or more before the first usage, this ensures normal device boot and optimal operation. For devices with removable batteries, ensure they are properly installed before charging.
Can this item be shipped to my country?
We can deliver orders to most countries. For a detailed explanation of each shipping method, destination and approximate delivery time, please check our website
Can not find device when pairing device?
Please make sure the distance between phone and device less than 0.5m
Please make sure the device is not under low battey.if there is still problem after 1.5hours charging,Please cantact us.
Can not connect the device with app?
Some smart phone bluetooth service will be abnormal when reboot.Please reboot the smart phone for pairing device.
Why the android mobile disconnect?
Android mobile phone system memory management will be forced to turn off the background app,you need to turn off the power saving mode or pull the app into the ayatem housekeeping green background inside,app will not be forced to close.app must be running in the background,bluetooth will not automatically disconnect.
No incomming call or message notification?
A:Please see the solution of the app into "setting"-"FAQ" to find how to solve this problem