Notes and considerations:
1. Due to many factors such as the brightness of the display and the brightness of the light, the color of the real object may be slightly different from the picture displayed on the website.
2. Please allow a slight deviation in the measurement data.
3. Please allow an error of 1-2 cm.
Q&A
1. How many languages does the machine have?
The seller answers: The machine displays two languages, Chinese and English. The instructions are also in Chinese and English. We also provide instructions for using electronic pictures in Russian and Spanish.
2. There are several lights, what effect does each light have?
The seller answers: There are 4 lights, red light is used to repair damaged skin, blue light is used to lighten acne, calm skin and anti-inflammatory, orange light is used to brighten skin and reduce pigmentation, and color light is used to whiten and rejuvenate
Specifications
Brand: AmazeFan
100% brand new!
Mode: 7 modes
Rated power: 4W
Battery capacity: 750mAh
Size: 166 * 50 * 47mm / 6.64x2x1.88 inches
Charging voltage: 5V / 1A
Charging time: about 3 hours
The package includes:
1 * Electric facial instrument
1 * USB cable
1*base
1 *Manual (Chinese, English)
[Positive and negative ions] Using the principle of mutual attraction between positive and negative ions, the dirt in the deep holes is washed away by the biological current and thoroughly cleaned. Cosmetic ingredients penetrate into the lower layers of the skin through iontophoresis.
[Vibration] Mechanical vibration and tension stimulation can tighten human skin, increase elasticity and improve skin cell metabolism.
[Warm] Hot massage promotes absorption, stretches the skin texture, and makes the skin plump.
[Three-color function] Red and bright; orange and blue maintenance lights.
[7 modes] firm skin, lighten skin tone, resist wrinkles, remove wrinkles, remove face, cleanse and detox.
Safety Precautions:
1. It is not suitable for facial plastic surgery, subcutaneous metal implantation and pregnancy.
2. Wipe the massage head with paper towels, do not wash with water, and do not touch metal objects.
3. Do not place it in a humid place such as a bathroom to avoid short circuit.
4. It can only care for the face and neck. It is not recommended to use it every day for sensitive skin. It can be used once a week.
There is a specific introduction to the usage of each mode at the bottom of the details page introduction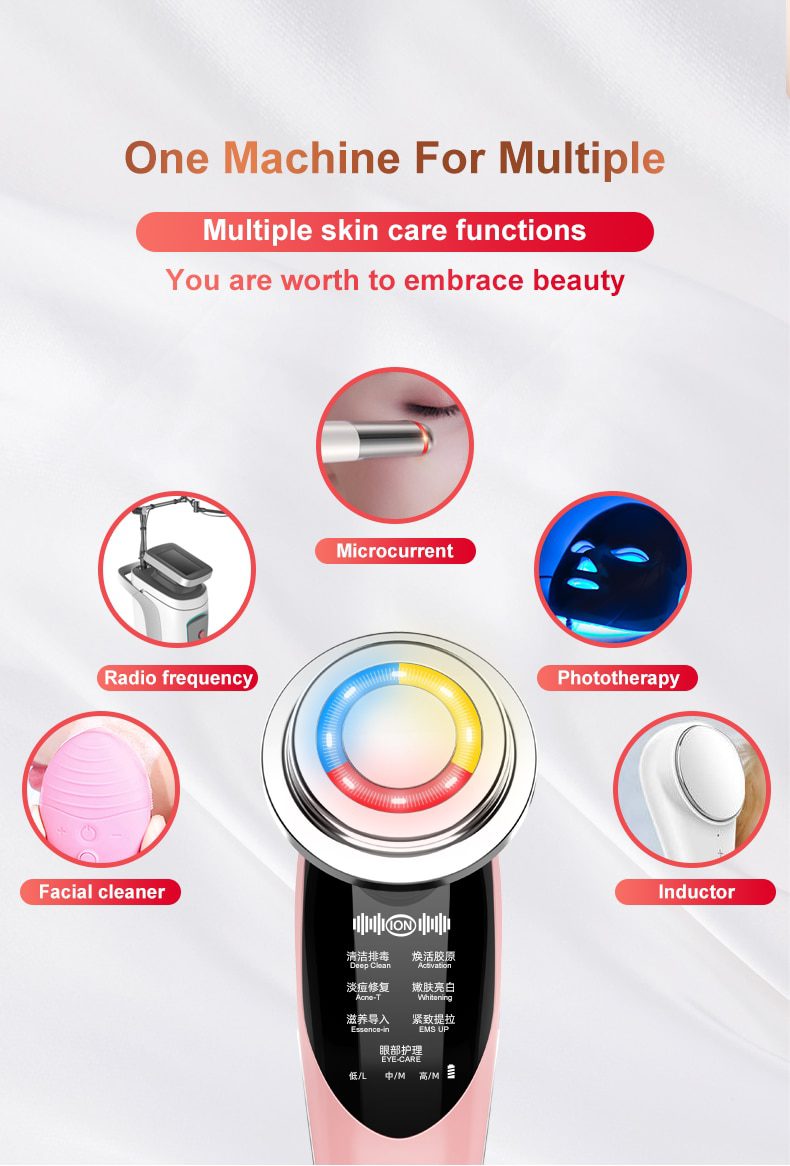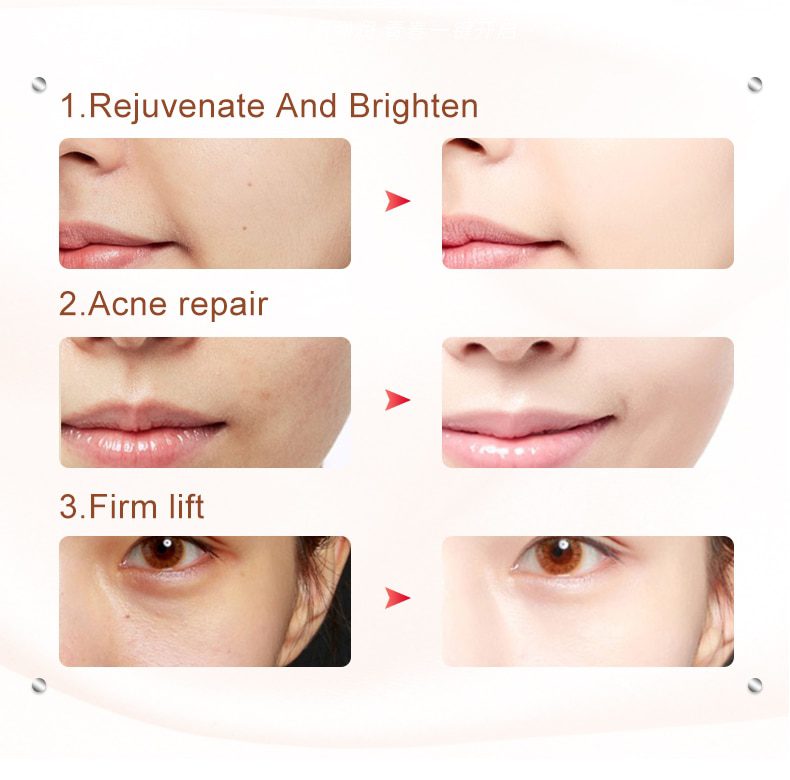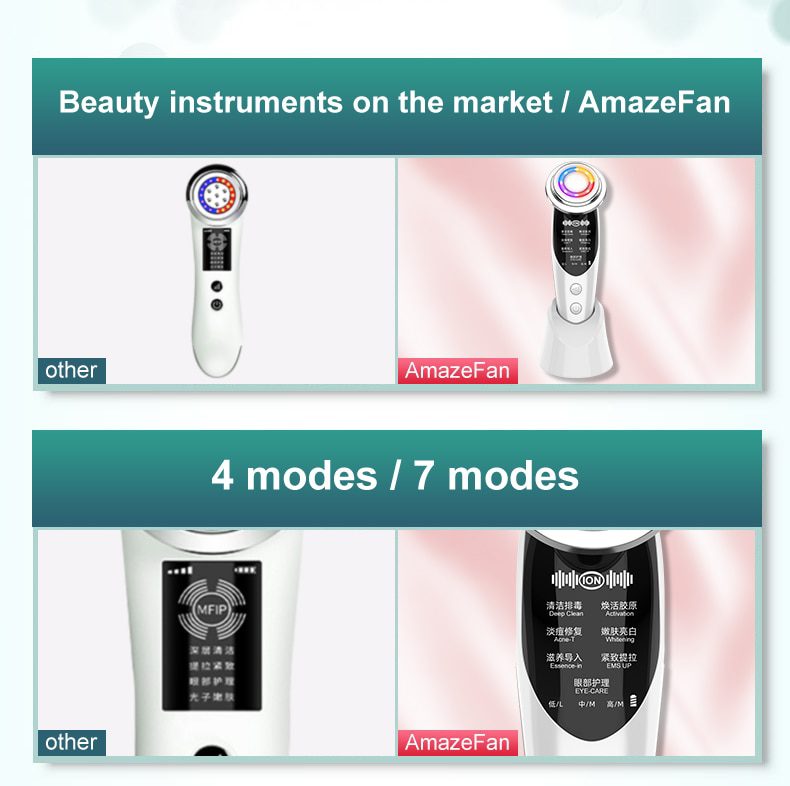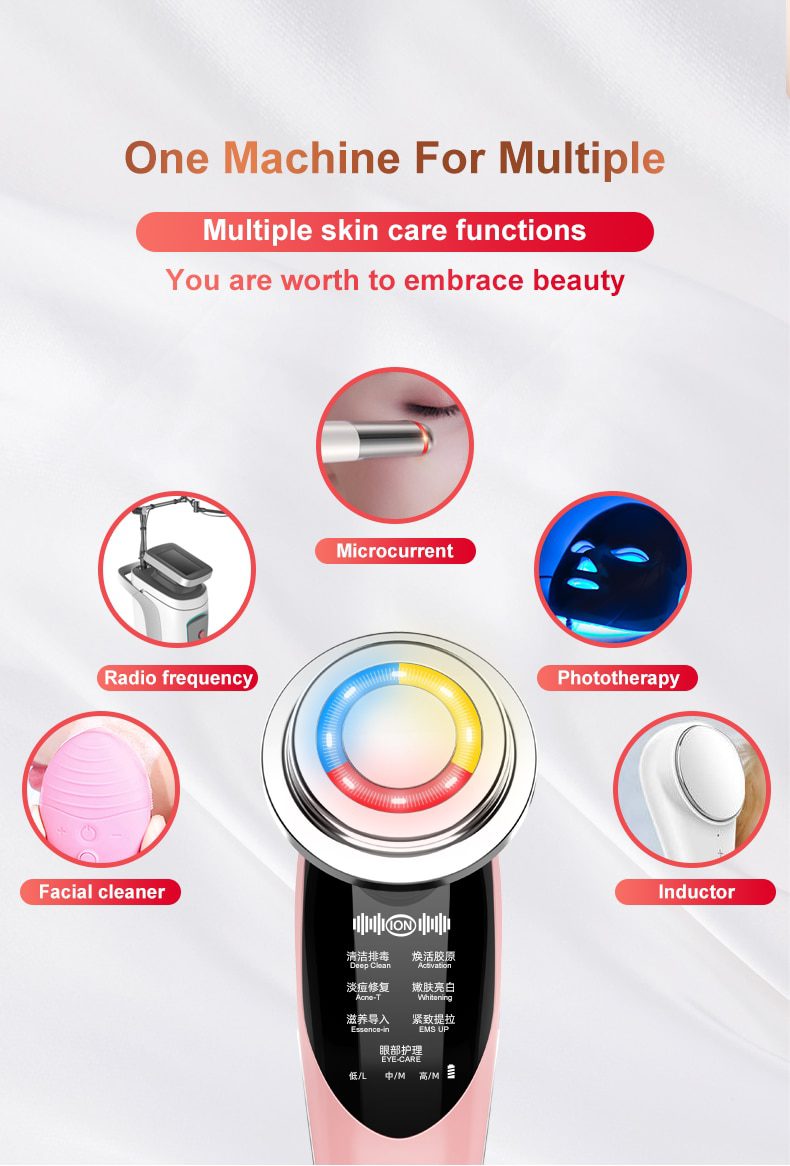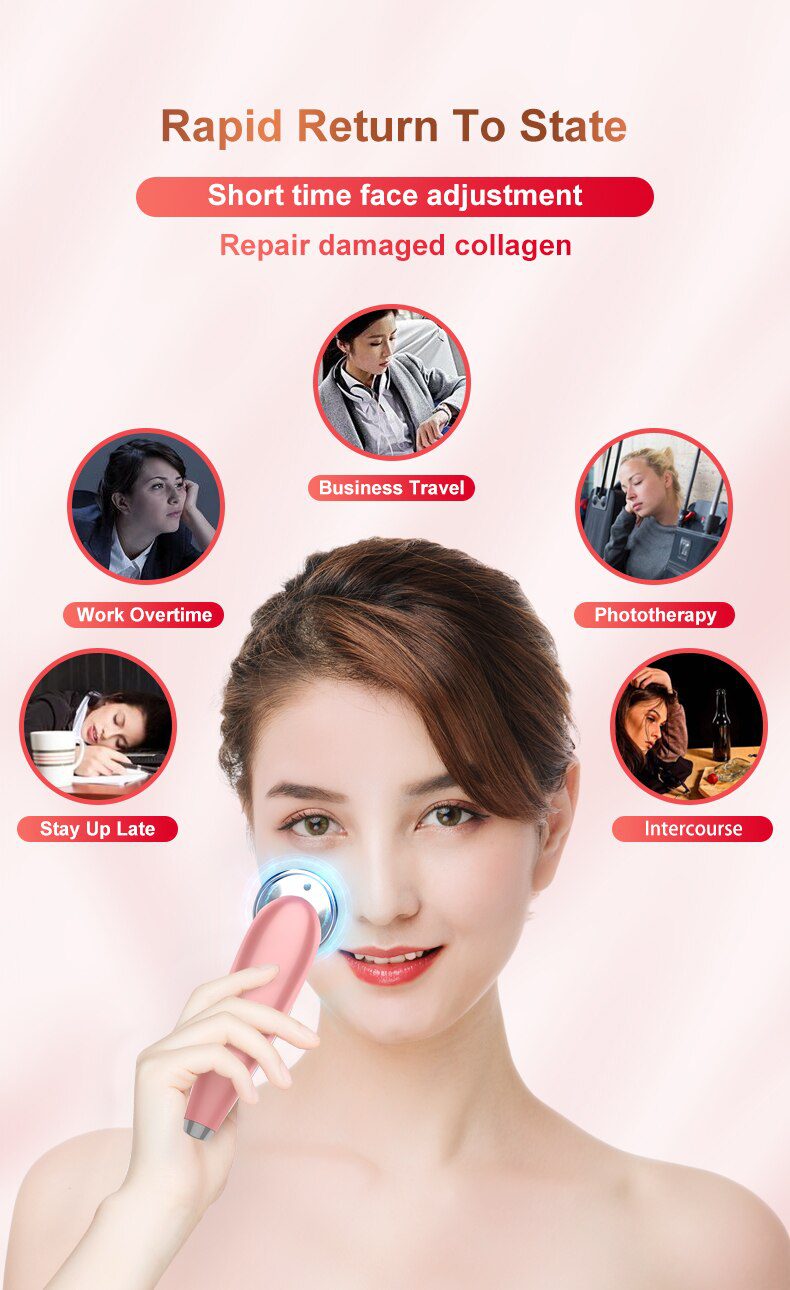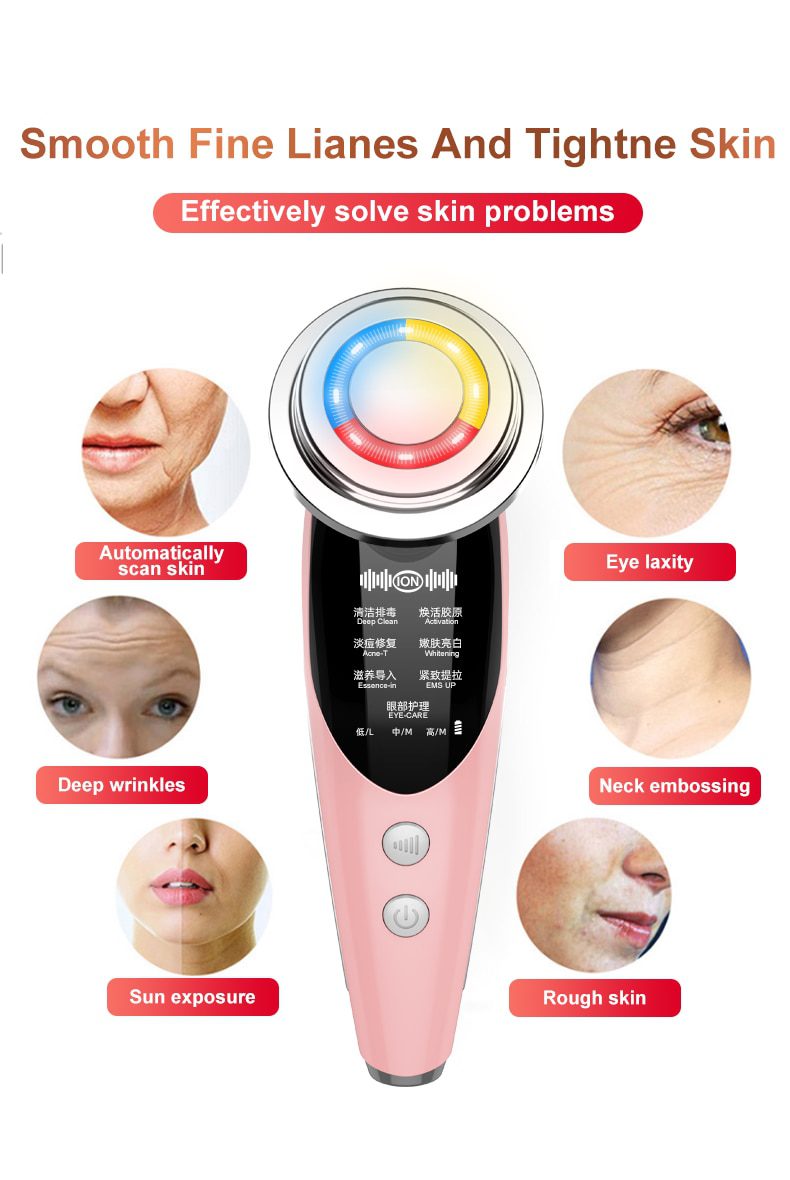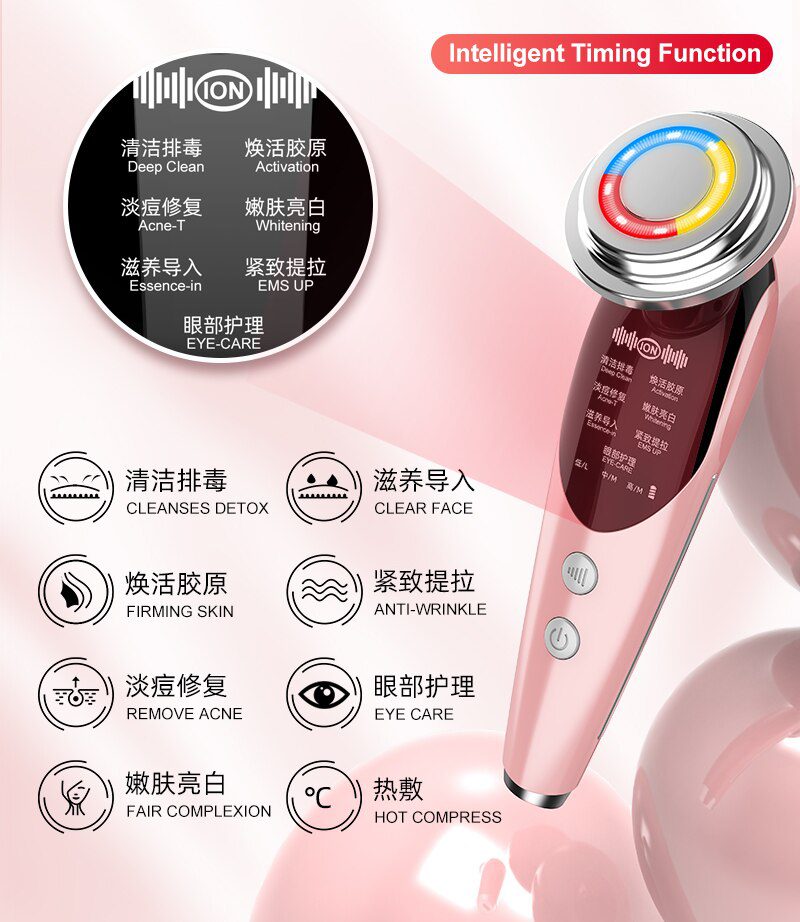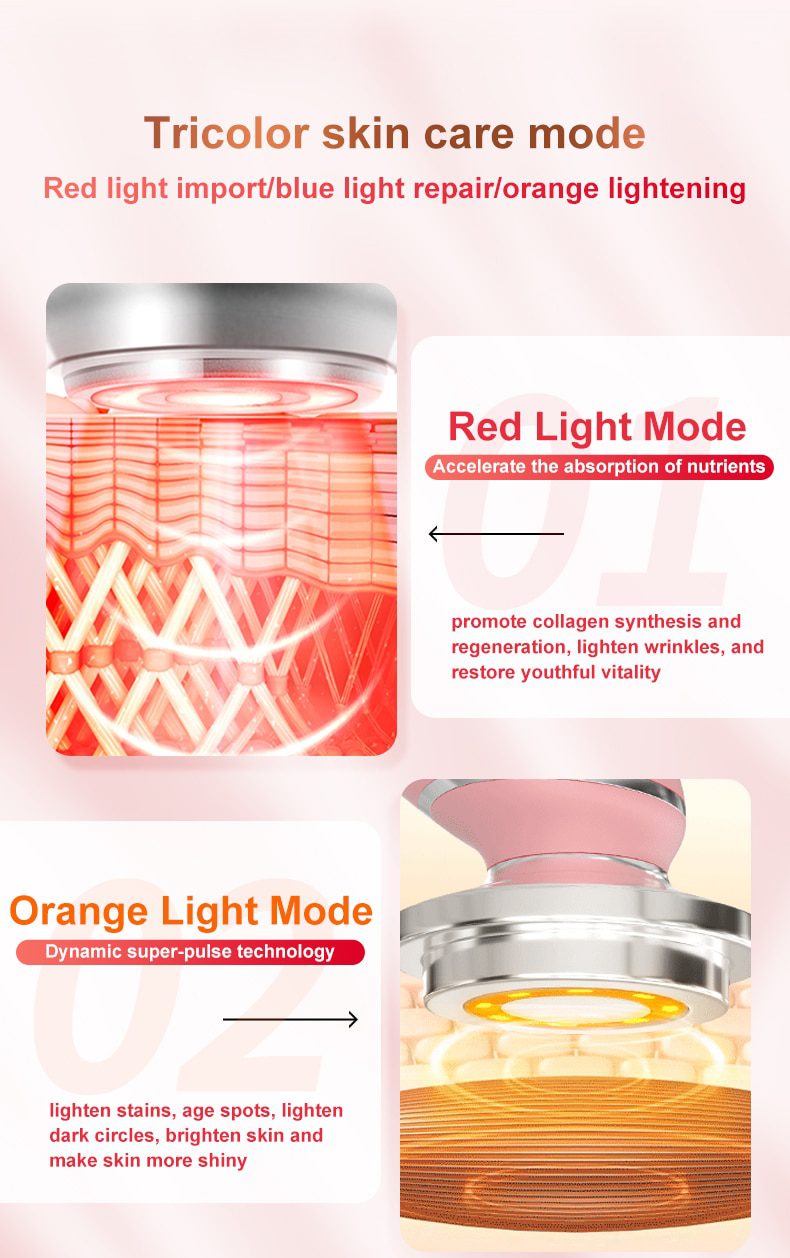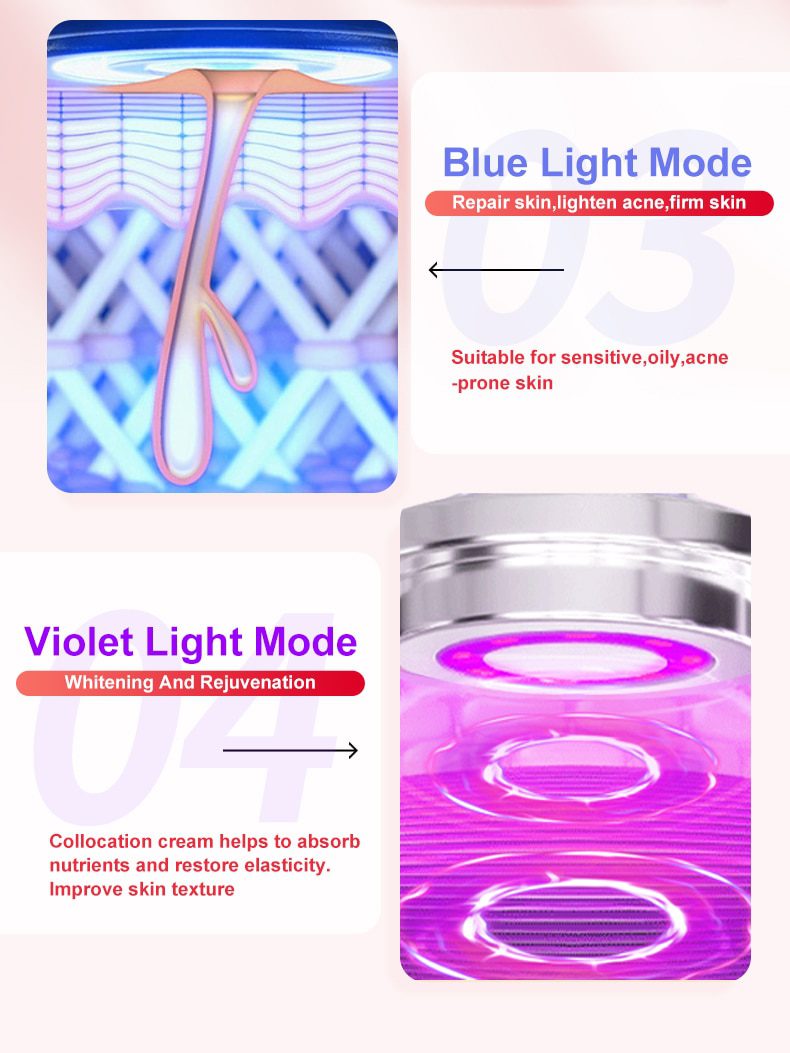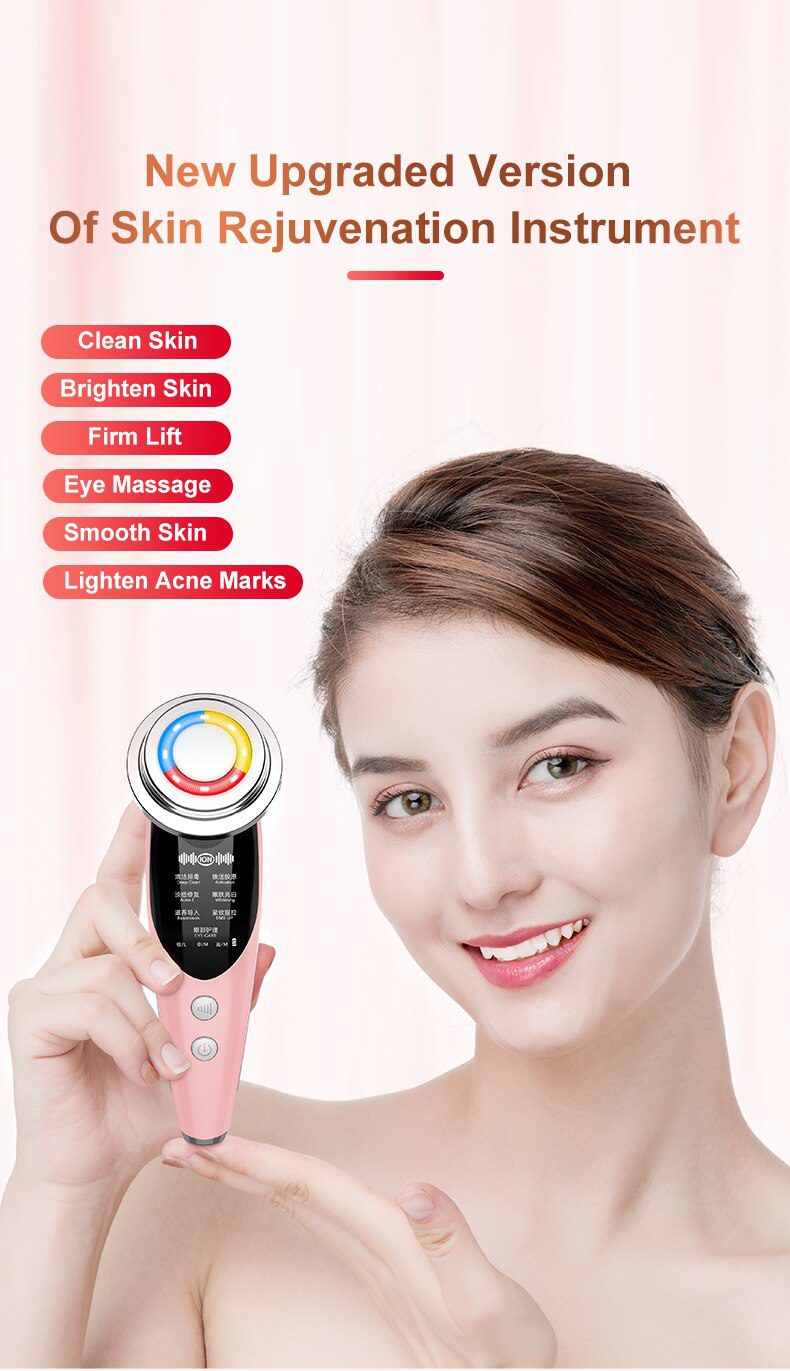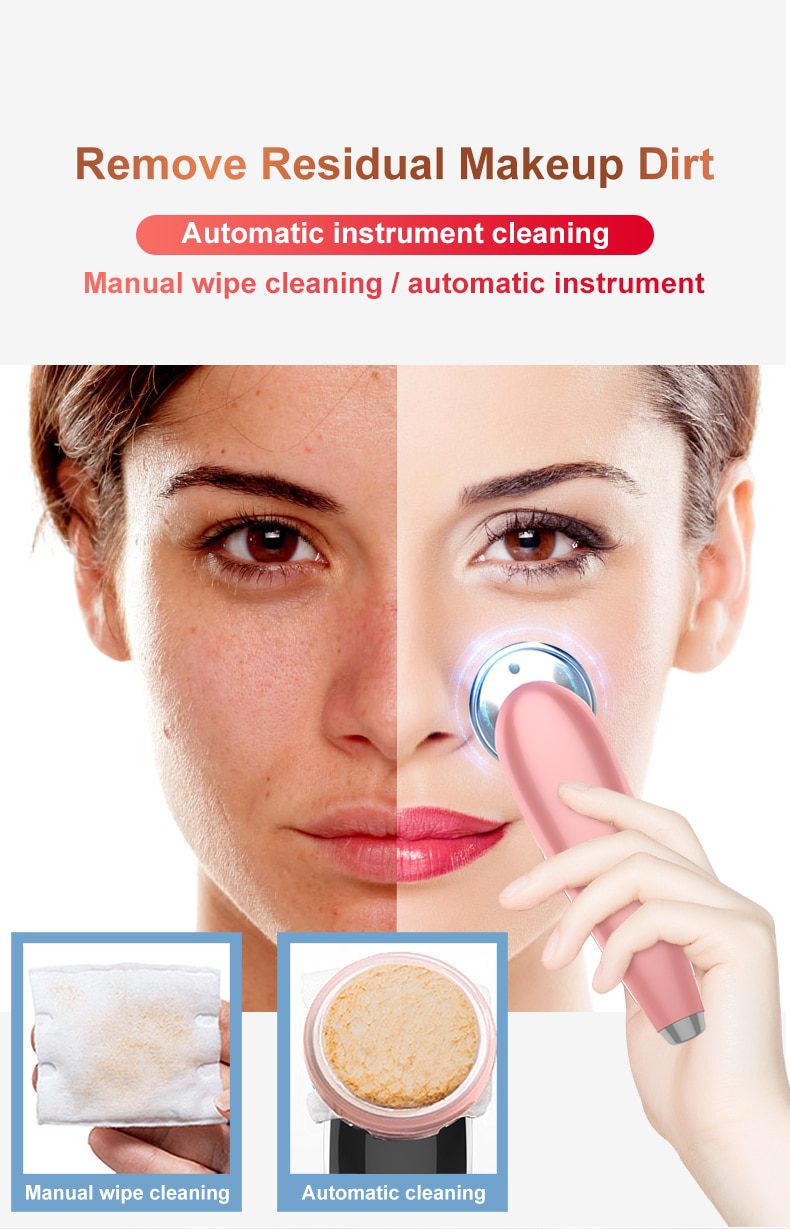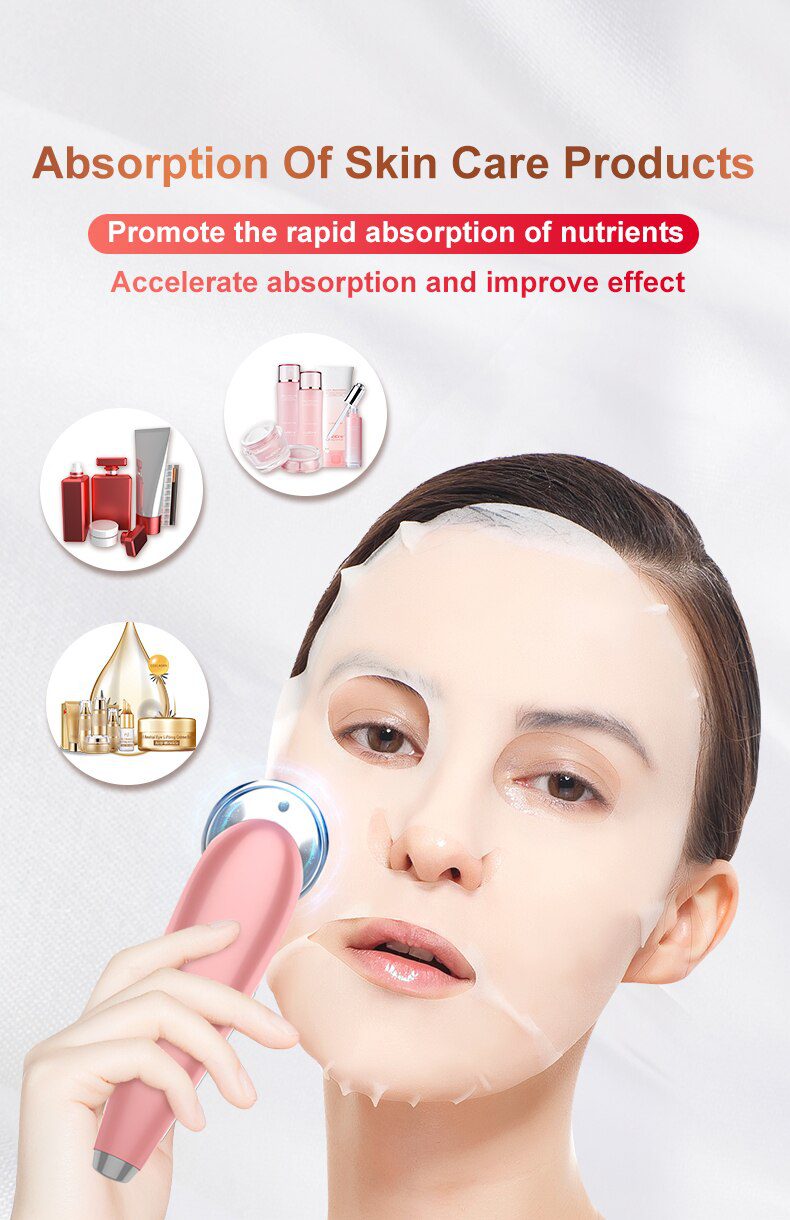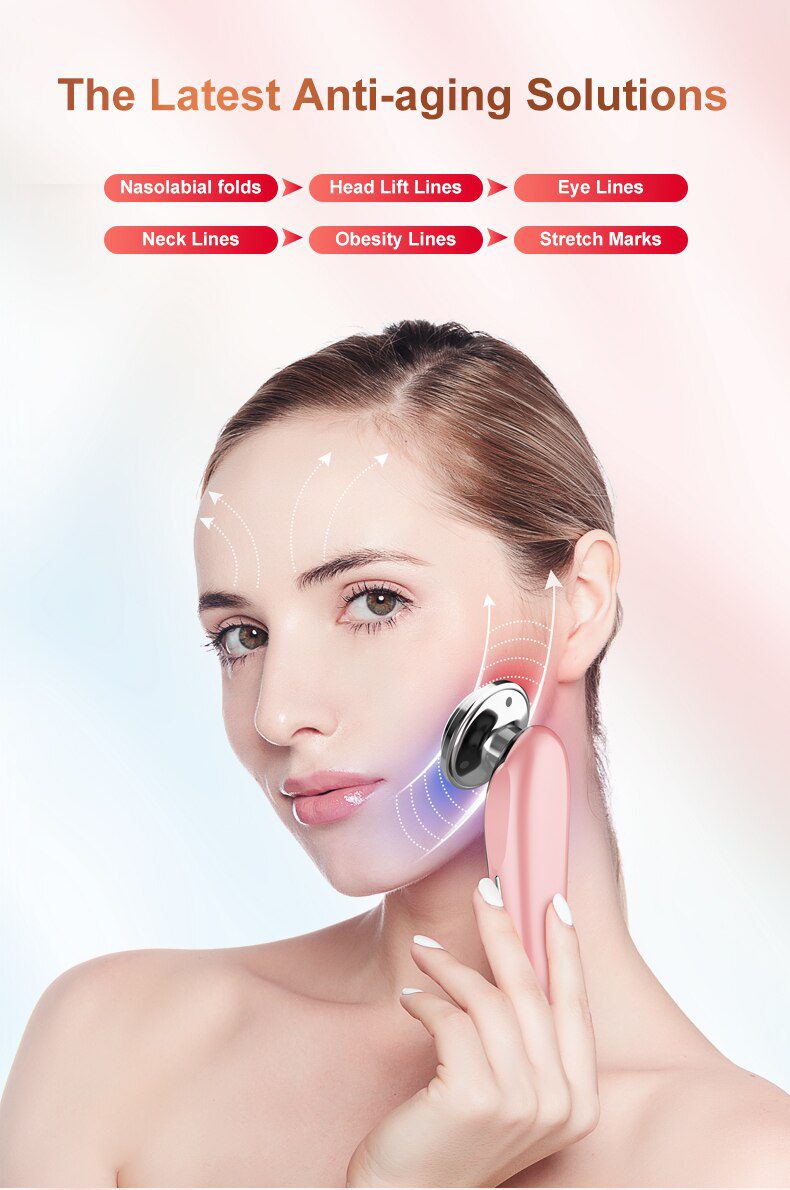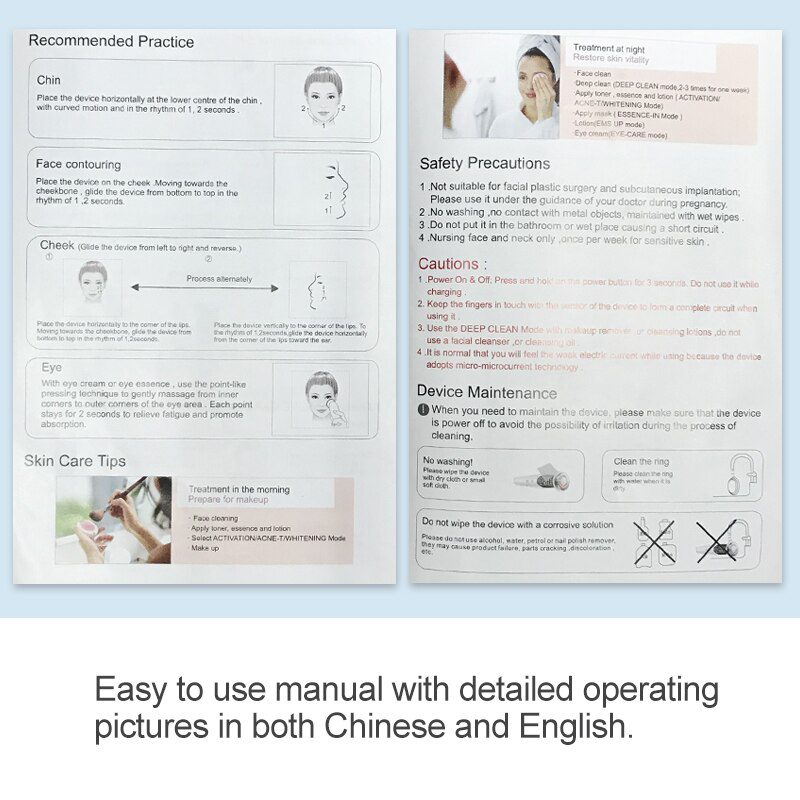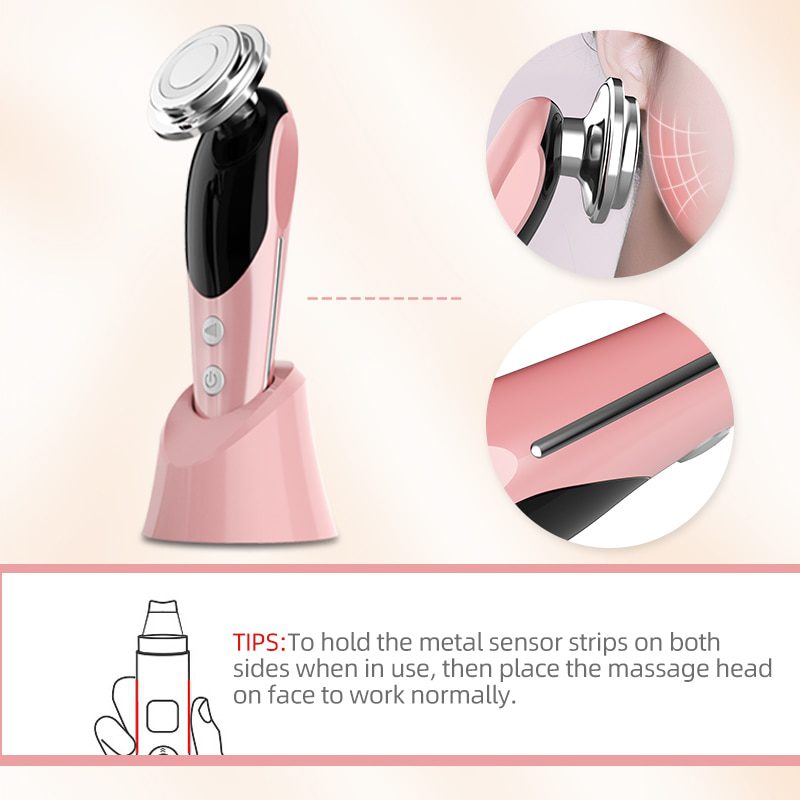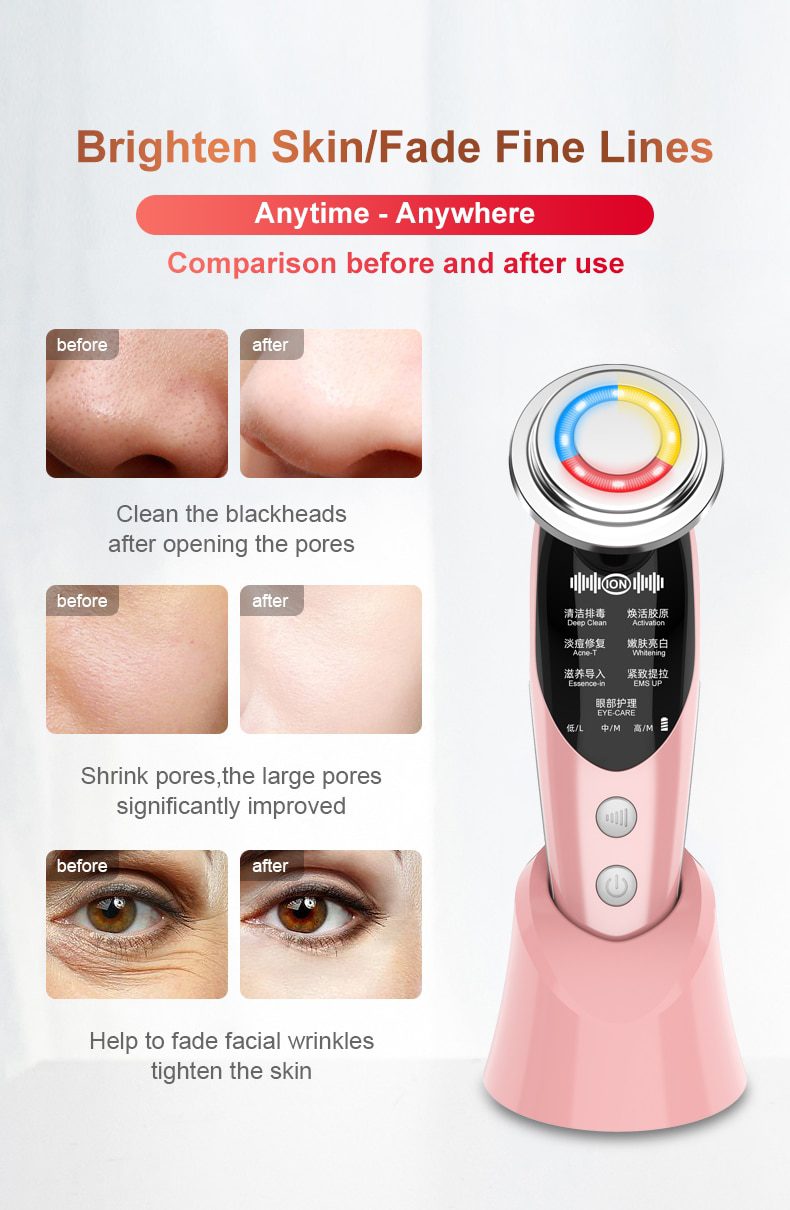 The old packaging will be sold in succession and will all be replaced with new packaging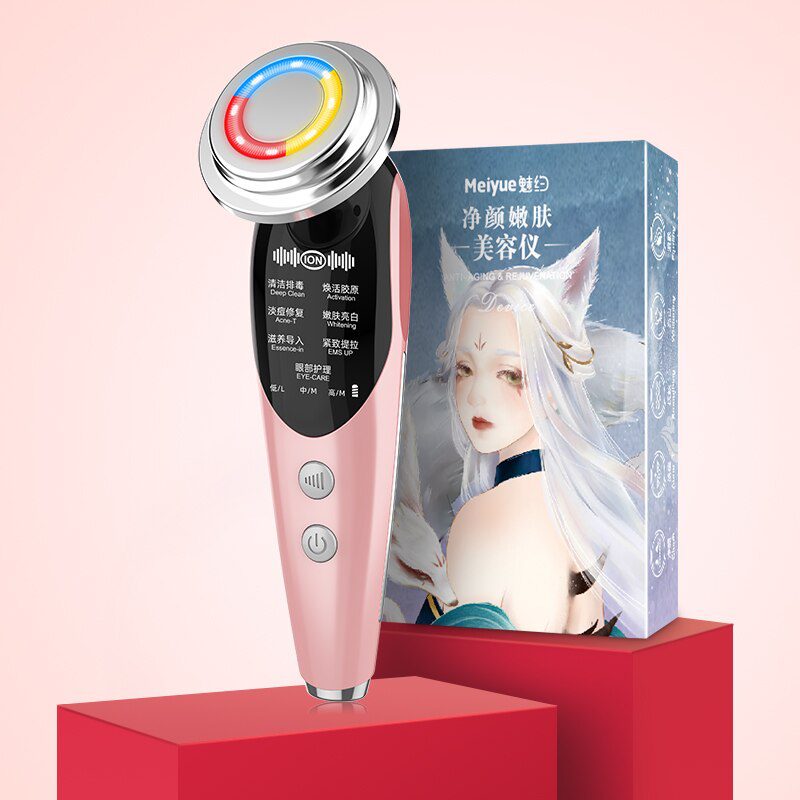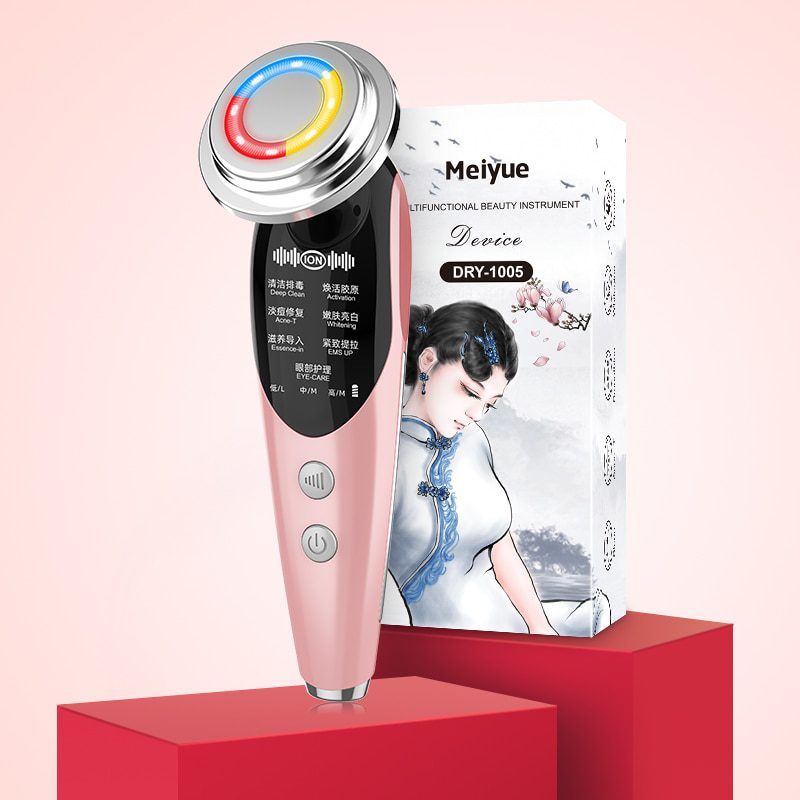 New upgraded version in English packaging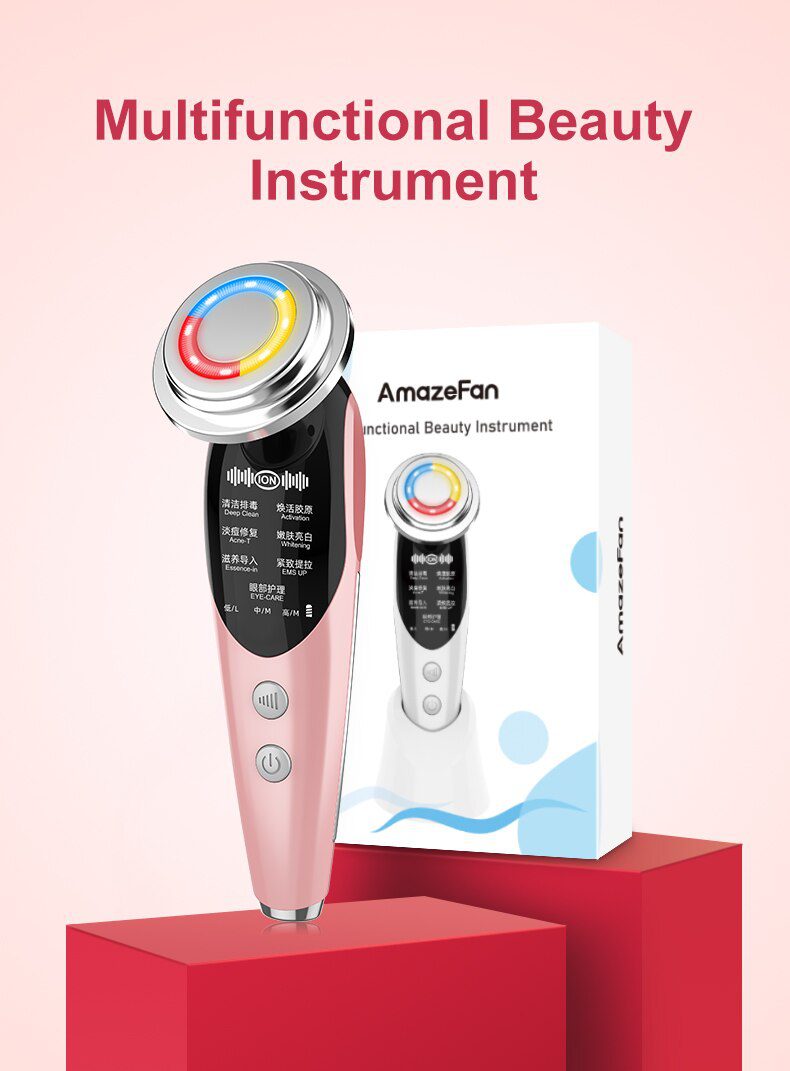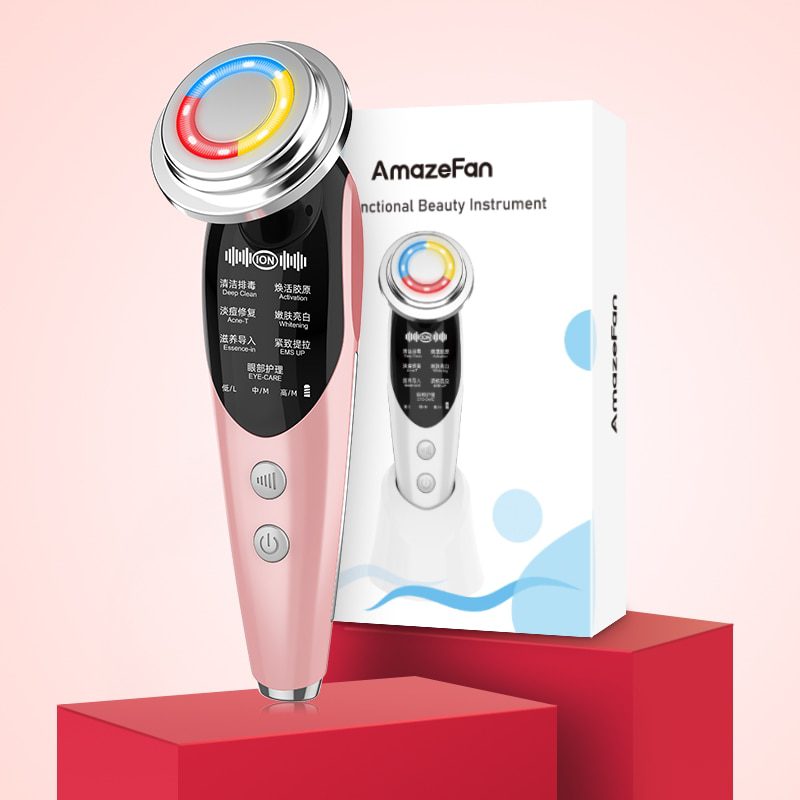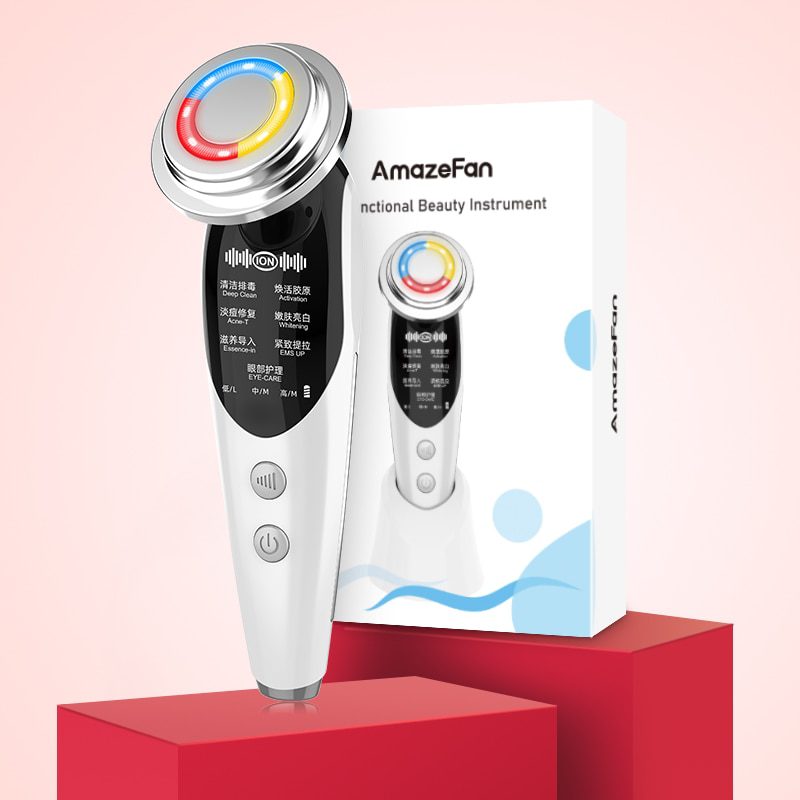 Note for 7 massage methods
1Deep clean mode (need to be used with cotton pad)
45°C + vibration + positive ion
Use with makeup remover
Clean residual deep dirt
2/3/4Activation/Acne-T/whitening mode (no need to use with cotton pad)
45°C + vibration + negative ion + red light/blue light/orange
Use with skin care products that repair skin / reduce acne / brighten skin
Repair damaged skin and activate collagen regeneration
5. Essence-in mode (no need to use with cotton pad)
45°C + vibration + negative ion + color light
Use with moisturizing and nourishing skin care products
Deeply moisturizing, soothing and firming
6. EMS UP mode (no need to use with cotton pad)
45°C + vibration + EMS micro current
Use with gel or essence, or use it with mask
Lift the skin, tighten the contours of the face and remove wrinkles
7. Eye care (no need to use with cotton pad)
45°C + vibration + EMS micro current (micro current can be turned off by pressing the gear button again)
Use with eye cream
Remove eye wrinkles, dilute dark circles, remove eye bags, and reduce eye puffiness. Massage to relax